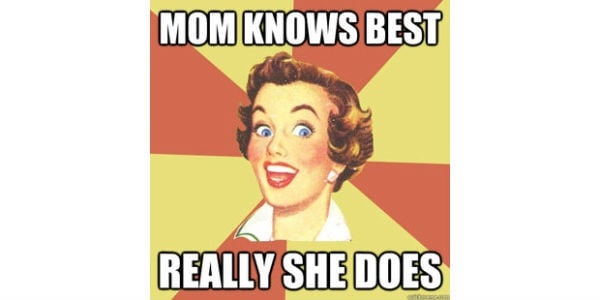 The saying "Mother Knows Best" as some of us hate to admit it, really is the truth.  So true that credit unions and companies alike should also listen.  Depending on the study you are looking at, mom makes 83-85% of the buying decisions in the household spending $20 trillion annually across the globe.  Reports also show that over the next decade, women will control two thirds of consumer wealth in the United States and will be the beneficiaries of the largest transference of wealth in our country's history.  The new question for all should be whether you are selling groceries, or want a new account, how do you get mom into your doors?
Moms also rank number one for influence in their child's decisions including where they do their banking.  Ask any millennial why they opened their account at their particular financial institution and many will mention good old mom. According to Shari Storm, Senior Vice President of Marketing,  Verity Credit Union in Seattle Washington mom's influence, her buying power, and cohort moms are three compelling arguments for credit unions to market to moms.
Says Storm, "Moms are also a huge referral system.   Whether they are seeking a good chiropractor, a kid friendly place to eat, or where to do their banking, moms seek advice among their friends and actually take it.   Moms have embraced the social networks congregating online, reading blogs, joining groups, and liking pages. Social Media is a very inexpensive way for credit unions to reach them." Verity Mom's online presence has not only increased public awareness of Verity Credit Union but credit unions in general.  Danielle, Verity Mom 2013 has a Facebook page, twitter account and blog-all avenues providing a place for area moms to have a voice, be empowered, connect, share advice and resources. Verity Credit Union seeks advice from these same moms on services and products to better suit their needs.
Tim McAlpine, President & Creative Director of Currency Marketing and founder of Young & Free and Money Moms agrees that moms are a natural untapped niche-especially women online. According to a recent BlogHer study, Women comprise one of the fastest growing demographics of Internet and technology users, with some 87 million women between 18 and 76 online.   Since working with Verity Mom, Currency has launched Money Mom to the credit union world.  The Money Mom campaign is a conscience decision to focus solely on moms. "This type of marketing needs to be done in an authentic way, explains McAlpine.  It isn't a three month campaign.  It takes time and effort.  There needs to be a strategic initiative where it becomes part of your credit union's culture whether its stroller parking, branch design, or the types of products you offer." McAlpine also mentioned as with the young adults, the engagement and dialogue among moms has been extremely high and has even lowered the credit union age of participating credit unions.
Another highly successful campaign launched by Verity Credit Union was the Cartwheel Campaign Contest-focusing on the charities moms care about.  Moms submitted videos of their charities and were to implement a cartwheel somewhere in the video. Similar to the Verity Mom campaign, videos are narrowed down and then viewed and voted on by the general public.  The Grand Prize entry receives $5,000 to their charity and a $1,000 cash prize.  Says Storm-"Amazing things happen with this contest.  Even charities that don't win receive unexpected donations as they gained exposure.  We also had new accounts or moving accounts over to us because they knew someone who was involved with the contest."
Verity Mom and Money Mom are doing more than just delivering value beyond the functional aspects of their products or services.   They are creating the people helping people experience by engaging moms and as well as showing they understand and care.  In the long run, they are the winners earning the most important prize of all-mom's long-term loyalty and trust.