Your credit union doesn't need an Apple Watch app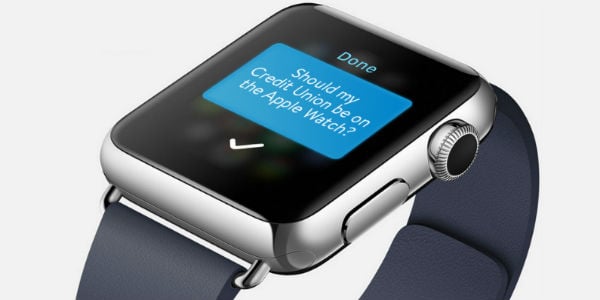 But you might want to consider text notifications and Apple Pay for this wearable.
by: Tim McAlpine
My Apple Watch arrived in early June. I ordered it on the release date (don't judge me), and waited and waited for it to arrive. Meanwhile, I read the good, the tepid and the bad reviews. I did my best to reserve judgment.
When it came, I installed many of the available watch apps, tried them once and haven't been back. The capabilities of most apps are limited and, in most cases, navigating the tiny screen is harder than just grabbing your iPhone. This will likely change with operating system upgrades.
For now, I find myself using the clock (go figure), notifications, and the built-in health and fitness tracking capabilities the most. I've worn a Fitbit on my wrist for the past couple of years, and I do like the Apple Watch better for basic step and calorie-counting. Having a built-in heart-rate monitor is a nice bonus.
continue reading »