Online banking crime confronted by "case management cops"
Don't shoot the messenger, but the threat of banking cybercrimes is projected to dramatically increase.  
In fact, fraudulent online transactions will double by 2020, according to a recent study by Juniper Research. The study, Online Payment Fraud: Key Vertical Strategies & Management 2016 – 2020, identified three hot areas for online fraud and yes, banking was one of those areas.
As the institutions people trust to protect their savings, what can we do?
Protect and serve
Your members trust you. Protecting their personal information with robust security measures is crucial to maintaining their long-term business. So is acting quickly and efficiently in potential fraudulent situations.
That's why financial institutions need to stop relying on inefficient spreadsheets. The inefficiency of spreadsheets leads to time-consuming and disorganized investigations that are frustrating for members.
A financial institution's fraud department can sometimes have up to a dozen different spreadsheets to identify and monitor fraud reports.
Really? This is the 21st Century! We're supposed to be flying around with jetpacks!
Investigators need a better alternative to basic Excel spreadsheets. They need a simple way to organize, access and connect each piece of critical information, including information across different technology applications.
That's where case management software comes into play.
Streamline investigations
The right case management solution frees you from the constraints of spreadsheets. It also allows investigators to easily log, access and interact with the critical data involved in a fraud investigation.
By increasing visibility and control – including audit trails of all activities to increase transparency – your institution can proactively identify threats and opportunities for improvement.
Leveraging an enterprise content management (ECM) case management solution for fraud investigations gives employees a 360-degree view of all case-related information – including data records, documents, forms and history. It also gives them the ability to easily share that information with investigators.
The right case management solution allows financial institutions and investigators to:
Simplify the entry, organization and reporting of information surrounding a fraudulent case file
Provide instant and simultaneous access to case files for multiple users
Identify where fraud is coming from
Streamline investigations with easy access to information from disparate systems
Easily find what they need with advanced search capabilities
There are smart people out there who apparently aren't worried that their "business plan" is based on theft. Our job is to make sure they don't get away with it.
Case closed.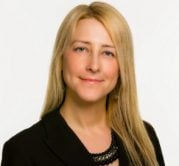 Michelle Shapiro has more than a 15 years of experience in the banking industry to her role as Financial Services Industry Expert at Hyland Software. Her mission is to share ...
Web: www.onbase.com
Details