Onsite Coverage of the 2013 World Credit Union Conference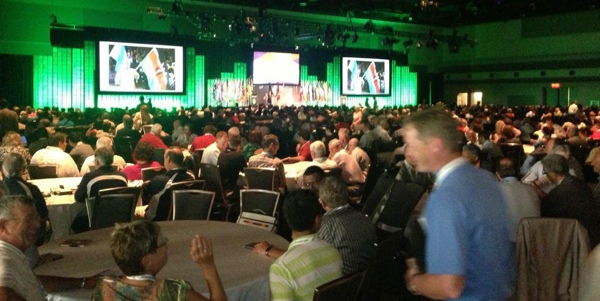 The World Credit Union Community Ascends on Ottawa
Nearly 2,400 attendees from 61 countries have gathered in Ottawa, Canada for the 2013 World Credit Union Conference. This year's conference looks at the growing community of credit unions and the effect of new technology on member relationships.
The conference kicked off Sunday evening with an opening ceremony and a parade of flags and continues through to Wednesday's closing celebration.
Unite for Good
Globally, there are 56,000 credit unions in 101 countries and according to Bill Cheney, President and CEO of CUNA, 97 million people in America alone are members of credit unions. Cheney shared the Unite for Good campaign with the global credit union community.
The Growth of Digital
The overriding theme of Monday's sessions was the growth of technology and digital banking around the world. According to Brian Branch, President and CEO of the World Council of Credit Unions, one-third of the world had internet access in 2011 and by 2015 that number will have reached 60 percent. Branch believes that this new technology will be beneficial for both members and their credit unions, in that greater access for members will deepen their relationships with their credit unions.
Don't Miss the Retail Revolution
Expert Ian Shelley spoke on mobile technology, the deep effect it has had on both our personal and professional lives, and how it has blurred the distinction between the two. Shelley believes that mobile payments will change the way we buy and sell but cites concerns of many who are still skeptical of security risks. Shelley described America's relationship with mobile technology as a "retail revolution", with many retailers, such as Starbucks, on board with creating their own payment methods ahead of financial institutions in the US.
CUInsight.com will be in Ottawa all week continuing to bring you coverage of everything happening at the 2013 World Credit Union Conference. Live updates are available on twitter by following #WCUC2013.
John Pettit is the Managing Editor for CUInsight.com. Through news, community, press, jobs and events, he keeps credit unions digitally informed throughout the day.
Web: www.cuinsight.com
Details