Onsite: CUNA Councils Annual Technology, Operations, Sales & Service Conference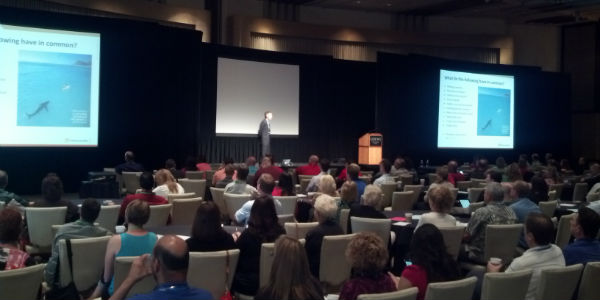 CUNA Councils annual Technology / Operations, Sales & Service conference just concluded in Hollywood California. The two councils came together for an outstanding conference. Attendees were permitted to attend sessions from both councils. Additionally, they shared the same vendor exhibit hall and networking opportunities. The combination was well received by attendees. Everyone I spoke to enjoyed the opportunity to learn more about other business functions.
Sunday's pre conference workshop was very informative. The topic was "Transforming The Branch Experience".  Diebold presented a very interactive session on how the branch model is changing. They discussed how current trends are transforming the way members think about branches.  Branch facilities will not only be changing in physical design and size but also the way the facility is used. Efficient traffic flow is a big concern with new branch design.
The first time attendee orientation is always a fun session. New combers are so full of energy and passion to learn that they can't help but be engaging. The orientation was standing room only as first timers, returning conference attendees, and executive committee members networked and discussed the conference agenda.
The keynote address was delivered by New York Times besting selling author and professor at Stanford Graduate School of Business, Chip Heath. His topic was "Being Decisive". He explained how we all can be distracted by short term emotions while making decisions.  Attendees were speechless when he compared the decision making processes of some executives to those of a teenager. Very eye opening thoughts and ideas. Everyone left feeling like they were better equipped to tackle any problem.
The speed rounds were back and everyone enjoyed them.  Vendors were allotted a few minutes to talk about their innovative ideas and products. Followed by a couple minutes for questions and answers. This was a great format. The speakers were dynamic and received great questions about their products.
The conference provided a packed agenda. Multiple breakout sessions ran each day. Presentations were delivered by both vendors and credit union employees. There was never a dull moment. There were several great technology presentations related to mobile technology, disaster recovery, and cloud technology. The operations side discussed topics ranging from how to cultivate new employees, problem solving/leading ethically, and EMV.
This conference consistently provides valuable information for all attendees. The topics are relevant and timely. Credit unions will be able to immediately implement the technologies, techniques, and management practices. For those topics that take time and planning, the knowledge obtained here will most certainly plant the seed to help create an effective framework.
David Miller is one of the founders of CUinsight.com, your one stop place for all things credit union. He has been involved with the credit union community for over ...
Web: www.CUInsight.com
Details