Post-pandemic growth opportunities: Don't miss out
In many ways, society is now looking at the curtain rising on a post-coronavirus environment. Most states are in some stage of gradual reopening, retail entities (restaurants, shopping, financial institutions, etc.) are following suit and the general economy is showing at least a few positive early signs of recovery.
Your credit union has likely been operating under some kind of modified member experience delivery model for the last several months. However, as the reopening continues, while many things will return to what we call "normal," others will not. One of these is the level of service consumers expect from retail providers. This absolutely applies to credit unions as retail entities, as well.
According to information from the American Customer Satisfaction Index, "Consumers will get better service after the coronavirus crisis." Consumers' trust, your members' trust, is critical, with 62% of respondents in a recent study indicating brands must play a pivotal role in addressing post-coronavirus economic and societal changes. Even more compelling, 55% of consumers say brands are responding more quickly and effectively than the government and 71% say if they perceive a brand places profit over people, they will lose trust in that brand forever.
Forever. Let that sink in. Brands are forever, including the brand of your credit union and the way it ensures the delivery of consistently excellent member service.
Credit unions did an amazing job rising to the challenges stemming from the pandemic, from operations and logistics to leadership and human resources (care of/for employees). Members came to us in a time of challenge and we were there for them. As the murky waters of coronavirus recede, however, credit unions cannot go back to "business as usual." Members will continue to expect more from brands, including their credit union. What can your credit union do now to ensure it continues delivering this high rate of member experience delivery and not lose ground in the post-pandemic environment? Here are three growth opportunities to consider.
Training
Now is not the time to take your foot off the pedal when it comes to investing in brand and member experience training. As noted above, your members will expect even higher levels of wow-factor service from your staff as the virus passes. Pulling back now is like promising to take your kids to Disney World but instead taking the highway exit for the Antique Washing Machine Museum instead (yes, it's a real place and no offense meant if antique washing machines are your thing).
Adam Stewart, VP of Marketing with Belco Community Credit Union (Harrisburg, Pennsylvania) said of the virtual member experience training his team conducted while the credit union operated under pandemic restrictions:
"Remembering why we established the brand vision and why we are so focused on our internal culture, we didn't want to lose sight of what we worked so hard to build. We've had great success with our overall member and employee experience as well as positive results from member satisfaction surveys. We realized we had to keep the brand vision and what we built with our member experience investment in front of staff so they, in turn, remember why we're here and the foundation we built to better serve our members."
The world after coronavirus provides the opportunity to fine-tune and recommit to the investment in employee training. Don't miss out.
Communication
Communicate. Communicate. Communicate. Members will continue to rely on your credit union for enhanced communication on all fronts. This includes any modifications to the member service experience due to the virus (changed hours, social distancing, reduced lobby capacity, etc.). By all means, keep pressing ahead with your marketing and brand messages. This also applies to discussions about products and services (yes, cross-sales). Now is not the time to stop talking about the amazing benefits your products and services can provide in the lives of your members. If anything, in a sincere, unique and member-centric way, talk about them more. You do your members a disservice by not communicating these things.
Ron Belle, President/CEO of AmeriCU (Rome, New York) said of the communication and member relationship dynamic while operating under pandemic conditions:
"We believe that long-term relationships are the backbone of our brand and proactively reinforcing those relationships differentiates us from our competitors. Our members seem to agree. Across the organization, everyone quickly mobilized with an 'all hands on deck' mentality. It was exactly what you'd hope to see; a strong reminder to me that our brand, our brand promise and our commitment to each other as well as our communities is just who we are."
The world after coronavirus provides the opportunity to fine-tune and recommit to member communication and relationships. Don't miss out.
Stewardship
Credit unions have always placed people over profits. That's a key tenet of our industry and has been for over a century. It's always mattered and matters now more than ever. Take a quick peek five paragraphs above for a refresher as to why. Post-coronavirus consumer sentiment says that 71% of your members will lose trust in your brand forever, if they perceive your brand placing profit over people. Let them know the many ways, both on individual levels and credit union-wide, that you are helping the people and communities you serve. The world after coronavirus provides the opportunity to fine-tune and recommit to advancing the message of credit union stewardship. Don't miss out.
In the classic film The Shawshank Redemption, the character Andy Dufresne reminds us "Hope is a good thing; maybe the best of things and no good thing ever dies." After months of pandemic clouds, the skies are clearing and your credit union stands as a beacon of hope for its members. Don't let them down. Work now to not merely ensure your credit union's post-pandemic recovery but boldly look at accelerating its relevancy and growth.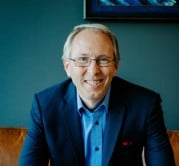 Mark Arnold is an acclaimed speaker, brand expert and strategic planner helping businesses such as credit unions and banks achieve their goals with strategic marketing insights and energized training. Mark ...
Web: www.markarnold.com
Details