Should in-person business development events be a thing of the past?
As credit unions and community banks struggle to compete with the latest and greatest in digital banking (think Apple Card and SoFi…), time and again we continue to see valuable internal resources going toward in-person networking opportunities. Whether these are home shows, SEG networking events, booths at local community outings, or job fairs, the list of examples goes on and on. It's not uncommon for marketing and business development staff members to attend 100s of these kinds of events each year.
While these kinds of in-person interactions are valuable, it's essential to understand how to better leverage them to better track their impact and drive real growth to your institution's bottom line. 
What's Not Working Now with In-Person Business Events
Lack of Strategy
If your institution is sending staff to in-person events without a plan of action for following up with leads gathered, you're missing valuable business development opportunities. While the mission of CUs is to serve members and provide positive impacts in the community, if your FI goes out of business in 10 years because you haven't kept up with competition and membership is shrinking, you won't be able to positively impact anyone in the long term!
Just participating in community events won't be enough to sustain your institution's community impacts. You also need to generate actionable opportunities for follow up and further involvement, AFTER these events are over.
Labor Intensive and Expensive
Even when staff are gathering contact details at community events, all too often these processes are completely manual and lack consistent follow-up efforts. Typically your staff will spend a large amount of time preparing for and attending these events, which adds up to costly work hours over the course of many events in a year.
Furthermore, FIs tend to spend a bundle on promotional items and materials in the process of preparing for and participating in business development and community events. But how are you measuring the impacts of this kind of investment? 
Senior teams have no problem questioning where every marketing advertising dollar is spent and wanting to see ROI on that spending. So how are they able to justify spending $1000's on tchotchkes that are all too often thrown away or given mindlessly to people who have little or no intention of doing any business with your CU? Not to mention the valuable staff time and talent used to prepare and attend all of these affairs. 
Participating in these kinds of events without a strategy behind these efforts simply must stop! Here's how…
How to Make In-Person Events More Impactful for your Financial Institution
Create a Giving Policy
First and foremost, we recommend your FI have a formal giving policy to help guide your community impacts. While it's great to say 'yes' to supporting community events and groups whenever asked, your staff and financial resources for sponsoring and participating in community events are not infinite. 
Instead, create a giving policy that is in-line with your brand. Use these guidelines as an opportunity to define three or four key areas of impact your FI would like to make in the community. Consider focusing on areas like wellness, housing, environmental or green initiatives, or financial education. Then when approached for donations or event participation, your team members can more easily evaluate whether the request fits within the culture and larger mission of your institution.
Leverage your Email and CRM to Automate Follow-up
A good email program or customer relationship management (CRM) program is essential at in-person events. You can set up landing pages or other forms for lead capture and have staff members or visitors entering their details right on the spot at events. This makes follow-up more efficient and will promote consistency once the event is concluded. 
Consider setting up sequences of helpful information to run for event follow-up and make sure you personalize the messages and include relevant content based on anything you were able to learn about the lead at the in-person event. At these kinds of events you might consider asking people what their top three financial priorities are for the next 12 months and then structure sequences and follow-up content around these answers.

When member service staff are reaching out individually they should utilize templates to speed up the process of reaching back out to people. No reason to be writing emails from scratch. And make sure these follow-ups happen within three days of the event and then again three to five days later.
Don't Rely on Free STUFF – Participate Don't Just Set Up a Booth and Sell

Overuse of free give-a-ways is a big no-no if you truly want in-person events to be successful. Your interactions with the community MUST be more authentic. Instead we recommend moving away from just setting up a booth to give away promotional materials. Rather, ditch the table and get involved. 
Have several employees actively participating, wearing shirts that say "Another event sponsored by ABC Credit Union." This is way more powerful and impactful. People don't want to have to decide if the free t-shirt or water bottle is worth the sales-pitch they're going to have to endure to get it. If you want to give stuff away just have it available at the door.
Your goal should be to have a valuable impact by being there. Get involved and really participate. Avoid the sales pitches, and instead promote your institution by having staff working alongside other community members and helping with whatever event is taking place. Let your employees be the good people they are. This will build your brand and make a difference all at the same time!
Want to learn more? Visit our FI GROW Blog or Contact Us for help implementing your own in-person brand strategy.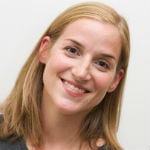 Meredith Olmstead is the CEO and Founder of FI GROW Solutions, which provides Digital Marketing & Sales services to Community Financial Institutions. With experience working with FIs in markets of ...
Web: www.figrow.com
Details