The CUInsight Experience podcast: Gigi Hyland – Leveraging empathy (#120)
"We are much stronger together than we are apart."- Gigi Hyland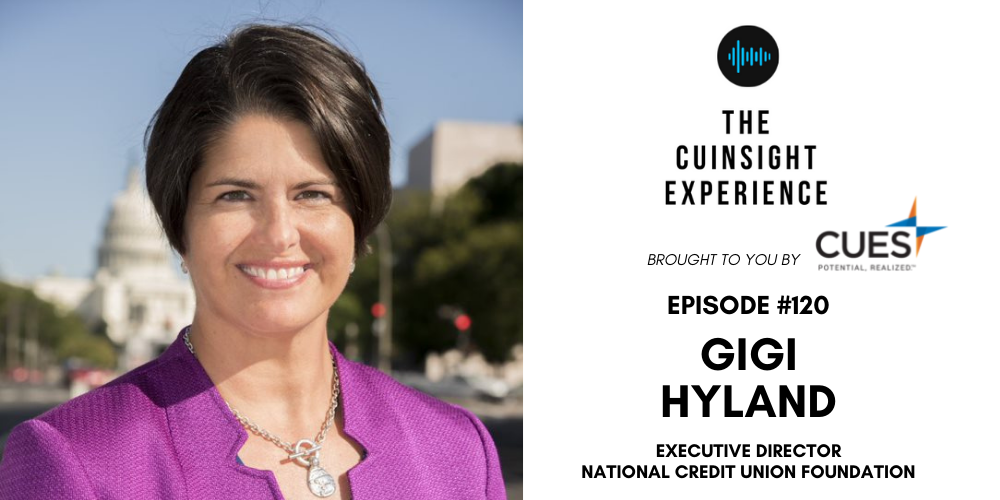 Thank you for tuning in to episode 120 of The CUInsight Experience podcast with your host, Randy Smith, co-founder of CUInsight.com. This episode is brought to you by our friends at CUES. CUES is the leading talent development solutions provider to the credit union industry.
My guest on today's show is Gigi Hyland, Executive Director of The National Credit Union Foundation and no stranger to the podcast! We chat about being intentional and how leaders can refocus on their "why." Gigi shares how she maintains purpose both personally and professionally and the importance of showing up for people where they need us the most. 
We talk about intentionality and the power credit unions have to help members experience financial well-being. Gigi shares that leaders must be mindful that we all have different realities, and in order to best serve members we have to slow down and listen. She believes that we can use this global crisis to return back to our "why."
Gigi and I also chat about her career journey and the many leadership lessons she's learned along the way. She believes there is no one way to be a leader, and it takes a vulnerable leader to push a team forward. We discuss her introduction to credit unions through her career in law and her transition from the NCUA to The Foundation.     
As we wrap up the show, we learn that Gigi enjoys nature and is an avid "birder." Although the pandemic has been challenging, she is grateful for the opportunity to spend more time with her family and discover new skills. Listen in as Gigi describes her recent and most exciting purchase and shares encouragement in moving forward with intention as an industry. Enjoy my conversation with Gigi Hyland! 
Subscribe on: Apple Podcasts, Spotify, Google Play, Stitcher 
Books mentioned on The CUInsight Experience podcast: Book List 
How to find Gigi:
Gigi Hyland, Executive Director of The National Credit Union Foundation
ghyland@ncuf.coop
www.ncuf.coop
LinkedIn | Twitter | Instagram | Facebook | YouTube   
Show notes from this episode:
A big shout-out to our friends at CUES, an amazing sponsor of The CUInsight Experience podcast. Thank you!
After listening to our show, check out the CUES podcast here.
Check out all that Gigi and her team are doing at The Foundation here.
Want to hear more from Gigi? Click here.
Get more information on The Foundation's initiative for Financial
Well-being for All.
Save your spot for Empathy eSchool and Exploring Why Workshops.
Take a listen to Gigi's previous podcast episode here.
Shout-out: Zoom
Shout-out: Gigi's parents
Program mentioned: DE Program
Shout-out: DE Alumni Workshop
Shout-out: CU Aid
Shout-out: CUNA
Shout-out: Paypal
Shout-out: Venmo
Shout-out: Simon Sinek
Shout-out: Wonder Bread
Shout-out: Chad Helminak
Shout-out: Maggie Wolff
Shout-out: Max Ehrmann
Place mentioned: Washington, DC
Shout-out: White House Federal Credit Union (now Department of Commerce FCU)
Shout-out: Congressional Federal Credit Union
Shout-out: NCUA
Shout-out: Gigi's husband, Chris
Shout-out: Jill Nowacki
Shout-out: MasterClass
Shout-out: Bill Cheney
Shout-out: Peloton
Shout-out: Podcast mic
Shout-out: Jane Goodall
Book mentioned: The Four Winds: A Novel by Kristin Hannah
Book mentioned: Killers of the Flower Moon: Adapted for Young Readers: The Osage Murders and the Birth of the FBI by David Grann (full version available November 2021)
Artist mentioned: Sting
Artist mentioned: The Police
Album mentioned: The Dreams of the Blue Turtles by Sting
Place mentioned: Albany, New York
Previous guests mentioned in this episode: Bill Cheney, Jill Nowacki (episodes 4, 18, 37, 64, 82, 101, & 113)
In This Episode:
[01:54] – Gigi Hyland explains the meaning behind "This happens because of us", and relates this idea to the current times of the pandemic.
[04:47] – Intentionality is based on a North Star, or guiding principle. How does Gigi describe the North Star of credit unions?
[06:28] – Gigi and Randy discuss the vastly different realities of how the pandemic impacted multiple industries. How can credit unions leverage empathy?
[09:01] – Gigi gives scenarios to illustrate leveraging empathy and effective communication.
[11:19] – Listen to what Gigi is excited to see in the next three to five years within the National Credit Union Foundation and credit union field.
[13:16] – Gigi emphasizes the need to develop data for more effective impact measurement.
[15:01] – From Gigi's perspective, credit unions have the opportunity to reevaluate their "Why?", which gives insight to actions stemming from that place.
[17:08] – What lesson can credit unions learn from the brand Wonder Bread?
[19:47] – Gigi expresses her thoughts on being aware of other ways of living, and encourages everyone to reflect on making the world more generous.
[22:47] – Listen to GiGi reference a personal story when talking about vulnerability in leadership.
[24:20] – These are the qualities that Gigi  gravitates towards and the ones she avoids when being mindful of who she surrounds herself with.
[26:03] – How did Gigi move from Law to Credit Unions?
[28:46] – Gigi discusses where she gathers her inspiration from.
[30:21] – One part of being a leader is helping others see their own potential as leaders.
[32:05] – To relax, Gigi enjoys bird watching, yoga, and cooking.
[33:37] – Gigi talks about the new discoveries and rediscoveries she found during the pandemic while she had more time on her hands.
[36:12] – Listen to Gigi talk about growing as a person, shifting through different roles, and being embraced
[38:25] – Gigi channels her inner show radio host, and gives an inside look at the book club she is part of.
[40:42] – Jane Goodall is a woman leader that Comes to mind when Gigi hears the word "success".
[42:00] – Gigi says we are all in this together, and we are stronger together.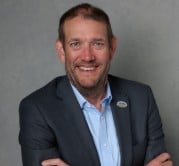 Randall Smith is the co-founder of CUInsight.com, the host of The CUInsight Experience podcast, and a bit of a wanderlust. As one of the co-founders of CUInsight.com he ...
Web: www.CUInsight.com
Details