The CUInsight Experience podcast: Jeff Olson – Stay relevant (#57)
"Title doesn't make you a leader." - Jeff Olson
Welcome to episode 57 of The CUInsight Experience podcast with your host Randy Smith, co-founder of CUInsight.com. This episode is brought to you by our friends at CO-OP Financial Services. CO-OP is your trusted payments processing partner whose mission is to drive the credit union movement forward.
In today's episode, I'm speaking with Jeff Olson. Jeff is the President and CEO of The Credit Union Association of the Dakotas. I've enjoyed getting to know Jeff over the past couple years and was excited to get him on the show. 
We talk about the Credit Union Social Good platform, how it got started, and how it has evolved. He gives us his insight on how credit unions can stay relevant today, his path to CUAD, and how the inspiration has changed with time on the job.
Jeff says that his leadership style is a combination of inspiration and results, he likens the style to that of a coach. He speaks about what he's learned when it comes to board relations and what he likes to tell new leaders. His goal of paying it forward and mentoring others was from the type of mentors he had as he was growing up, and a piece of advice from his father that has followed him wherever he goes.
Listen in to this episode with a leader in our movement as he shares the lessons he's learned along the way. You never know where you'll find that nugget of knowledge that will be that catalyst to propel you forward. Enjoy!
Subscribe on: Apple Podcasts, Spotify, Google Play, Stitcher 
Books mentioned on The CUInsight Experience podcast: Book List
How to find Jeff:
Jeff Olson, President and CEO of the Credit Union Association of the Dakotas
jolson@cuad.coop
www.cuad.coop
LinkedIn | Twitter 
Show notes from this episode:
Shout-out: to our friends at CO-OP Financial Services, our first sponsor of The CUInsight Experience podcast. Thank you!
Check out all the work Jeff and his team are doing in the Dakotas here.
I've been a long time fan of the CU Social Good platform. You've got to check this out and submit the great things your credit union does everyday.
Also give CU Social Good a follow on Facebook and Twitter.
Shout-out: Jill Nowacki
Shout-out: Robbie Thompson
Shout-out: Credit Unions for Kids
Shout-out: AACUL and CUNA
Shout-out: Jim Nussle (our first guest on the podcast)
Shout-out: David Miller
Book mentioned: Start With Why by Simon Sinek
Shout-out: Marvel Ebenhahn
Shout-out: Governor George A. Sinner
Shout-out: Greg Michlig
Shout-out: Bo McDonald
App mentioned: BizXpenseTracker
Album mentioned: Darkside of the Moon by Pink Floyd
Book mentioned: Any books by Vince Flynn, Brad Thor or Dan Brown
Shout-out: Dick Ensweiler, Dan Egan
Previous guests mentioned in this episode: Jill Nowacki (episodes 4, 18 & 37) and Jim Nussle
You can find all past episodes of The CUInsight Experience here. 
In This Episode
[01:54] – Welcome to the show, Jeff!
[02:43] – Jeff speaks about the CU Social Good Campaign and how it got started.
[06:54] – What challenges do you see credit unions face as you travel around? What is egg lending?
[10:05] – Jeff talks about how Credit Unions can stay relevant in today's market.
[11:58] – In a year from now, what will you be the proudest of that you have accomplished in the Dakotas?
[13:13] – He tells us why he took the position with The Union Association of the Dakotas.
[15:02] – How has the inspiration changed with time on the job?
[16:01] – Jeff says that his leadership style is a combination of inspirational with results style. He feels like he is more of a coach.
[16:52] – He explains the inspirational quotes he tells his team all of the time.
[18:22] – How have you cultivated the ability to make tough decisions?
[19:08] – Jeff discusses the leadership myth's he wants to debunk.
[20:10] – He talks about some hacks when dealing with boards that he likes to tell new leaders.
[21:31] – What mistakes do you see young leaders making today? What mistakes did you make when you started out?
[22:30] – "Hey, knucklehead, if you are going to do something, do it right." Is the advice that was instilled in him from his father.
[24:17] – Jeff tells us about some mentors he had growing up and how he pays it forward today by mentoring.
[25:58] – What do you do to recharge? What hobbies do you have?
[27:44] – Jeff speaks about his high school years and what he did to get involved.
[28:16] – What did you want to be when you grew up?
[29:38] – Coffee and exercise are things that are part of his daily routine.
[30:15] – Biz expense tracker and outlook are the apps he uses the most.
[30:52] – What is your favorite album of all time?
[31:29] – Is there a book that you have gifted a lot?
[32:20] – Being more patient and listening better has become more important.
[33:12] – When he hears the word success, he thinks of Dick Ensweiler.
[34:13] – His final advice is to shut up more, be patient, be kinder, and look for opportunities to serve others.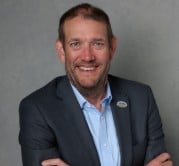 Randall Smith is the co-founder of CUInsight.com, the host of The CUInsight Experience podcast, and a bit of a wanderlust. As one of the co-founders of CUInsight.com he ...
Web: www.CUInsight.com
Details