The CUInsight Experience podcast: Jenny Blake – Shake the snowglobe (#109)
"If change is the only constant, let's get better at it." - Jenny Blake
Thank you for tuning in to episode 109 of The CUInsight Experience podcast with your host, Randy Smith, co-founder of CUInsight.com. This episode is brought to you by our friends at PSCU. As the nation's premier payments CUSO, PSCU proudly supports the success of more than 1,500 credit unions.
Today, my guest is Jenny Blake, author, career and business strategist, international speaker, podcaster, and the keynote for our next Mini-Con Series event, CHANGE. Listen in as we discuss pivoting, finding space to think more strategically as a leader and her ideas around being heart-centered, not only as an industry but in life.  
We start the conversation with tips on moving forward as leaders and being intentional about making space to think strategically. Jenny shares that any good leader must have the ability to rethink, reimagine, recalibrate, and reflect to effectively lead a team. She believes the global pandemic forced everyone to give themselves permission to think differently and face life's inevitable changes, both professionally and personally.   
Jenny discusses the many great leaders in her community and how they exhibit servant leadership. She takes us on a deeper dive into the importance of finding like-minded peers and creating spaces that are safe and full of grace as we all navigate through this time of uncertainty. Jenny believes that this safe space is not a luxury but mandatory. She also shares her method of maintaining a generous and purpose-driven leadership style.  
From the rapid-fire questions, we learn about Jenny's most recent "aha" moment that helped her rediscover creativity. Jenny shares her insight on how podcasting has aided in her professional development and why it's a good tool for introverts. We also learn why Jenny has decided to take two words out of her vocabulary. Plus, we chat about her most recent purchase that keeps her active and where she finds joy outside of the office. Enjoy my conversation with Jenny Blake!  
Subscribe on: Apple Podcasts, Spotify, Google Play, Stitcher 
Books mentioned on The CUInsight Experience podcast: Book List 
How to find Jenny:
Jenny Blake, Author & Founder of Pivot Method®
www.pivotmethod.com
jenny@pivotmethod.com
LinkedIn | Twitter | Instagram | YouTube | Facebook
Show notes from this episode:
A big shout-out to our friends at PSCU, an amazing sponsor of The CUInsight Experience podcast. Thank you!
Take a listen to Jenny Blake on the Free Time podcast here!
Hear more from Jenny at the CUInsight Mini-Con Series: CHANGE! Register here.
Interested in the Pivot Podcast with Jenny Blake? Click here.
Check out Jenny's books: Pivot: The Only Move That Matters is Your Next One and Life After College: The Complete Guide to Getting What You Want.
Shout-out: Oprah
Shout-out: Google
Shout-out: Gero Leson
Shout-out: Dr. Bronner's Magic Soaps
Shout-out: Seth Godin
Shout-out: Simon Sinek
Book mentioned: Leaders Eat Last: Why Some Teams Pull Together and Others Don't by Simon Sinek
Shout-out: Jenny's husband
Shout-out: Jenny's dog, Ryder
Place mentioned: New York City
Shout-out: Jill Nowacki
Shout-out: Antonio Neves
Term mentioned: CRM (Customer Relationship Management)
Book mentioned: This Is the Voice by John Colapinto
Event mentioned: CUNA GAC
Shout-out: Microsoft
Term mentioned: FOMO (Fear Of Missing Out)
Term mentioned: FONT (Fear Of Not Trying)
Shout-out: John Maxwell
Shout-out: Jenny's mom
Shout-out: Randy's mom
Shout-out: Peloton
Spotify playlist mentioned: Deep Focus
Spotify playlist mentioned: Deep Focus 2.0
Album mentioned: Ten by Pearl Jam
Artist mentioned: Jerry Cantrell
Artist mentioned: Eddie Vedder
Term mentioned: Equanimity
Shout-out: Tim Ferriss
Article mentioned: 11 Reasons Not to be Famous by Tim Ferriss
Book mentioned: Outrageous Openness: Letting the Divine Take the Lead by Tosha Silver
Book mentioned: The 4-Hour Workweek: Escape 9-5, Live Anywhere, and Join the New Rich by Tim Ferriss
Shout-out: Neil Pasricha
Previous guests mentioned in this episode: Antonio Neves, Jill Nowacki (episodes 4, 18, 37, 64, 82 & 101) 
In This Episode:
[02:31] – Welcome to the show, Jenny!
[04:53] – Jenny speaks about her book and how everyone got a black belt in pivoting last year.
[07:40] – Jenny believes that change chooses you.
[10:06] – Jenny discusses how she finds the space to think strategically.
[11:51] – "Your surge capacity is depleted, which is why you feel so exhausted."
[14:16] – How do you live your life purpose-driven and by your own moral compass?
[17:20] – Jenny shares that she thinks of Seth Godin when she thinks about a great leader.
[21:06] – What makes you feel alive? What lights you up?
[24:56] – Jenny discusses what brings her joy about her podcasts.
[28:23] – Jenny speaks about what she enjoys podcasting and how it's impossible to hide.
[32:10] – Listen as they talk about getting to know each other by what they put out in the world.
[34:32] – Playing with her puppy frisbee is what she does to unwind when she has time off.
[35:18] – What was your motivation to leave your corporate job and go out on your own?
[38:00] – Jenny shares what she said no to recently that she is so glad she did.
[40:05] – Jenny talks about how she cut out something she was doing to concentrate on what she really wanted to do.
[43:53] – Jenny speaks about something she bought during the pandemic that she can't believe she lived without.
[45:33] – Jenny shares what she was like in high school and that she didn't get into too much trouble.
[48:08] – Is there a book you think everyone should read?
[48:48] – What is the best album of all time?
[49:43] – Jenny says she removed the word success from her vocabulary, but she admires Oprah and Tim Ferriss.
[54:12] – Jenny shares some final thoughts with the listeners.
[54:52] – Thank you for being on the show!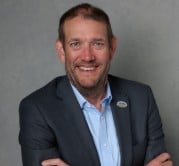 Randall Smith is the co-founder of CUInsight.com, the host of The CUInsight Experience podcast, and a bit of a wanderlust. As one of the co-founders of CUInsight.com he ...
Web: www.CUInsight.com
Details