The CUInsight Experience podcast: Jill Nowacki – Culture of empowerment (#64)
"Leaders can come from all walks of life, all levels of experience, and all different backgrounds." - Jill Nowacki
Thank you for tuning in to episode 64 of The CUInsight Experience podcast with your host Randy Smith, co-founder of CUInsight.com. This episode is brought to you by our friends at CO-OP Financial Services. CO-OP is your trusted payment processing partner whose mission is to drive the credit union movement forward.
In this episode, I'm discussing changing trends in the workplace and the war for talent with Jill Nowacki, Founder and President/CEO of Humanidei, a firm specializing in providing human capital solutions for credit unions. A regular guest on the show, as well as my human, Jill and I discuss an intriguing new report from Accenture and the different perceptions in the workplace between people in leadership positions and their employees. 
Listen in as Jill shares her thoughts on flexible work environments for employees; the need for diversity, equity, and inclusion in recruiting; and attracting and retaining talented leaders. We also talk about the need for credit unions to source talent differently, and how Humanidei is helping to position credit unions as the "destination of choice" for employees.
Additionally, in the Leadership and Life Hacks section of the podcast, Jill and I chat about the importance of credit unions in regards to economic capacity, building a business from scratch, and why Jill believes everyone she meets is a mentor. You won't want to miss out on this informative and very entertaining conversation. Enjoy! 
Subscribe on: Apple Podcasts, Spotify, Google Play, Stitcher 
Books mentioned on The CUInsight Experience podcast: Book List 
How to find Jill:
Jill Nowacki, President and CEO of Humanidei 
jill@humanidei.com
www.humanidei.com
LinkedIn | Twitter | Humanidei on Twitter | Instagram 
Show notes from this episode:
Shout-out: to our friends at CO-OP Financial Services, our first sponsor of The CUInsight Experience podcast. Thank you! 
Check out all the work Jill and her team are doing at Humanidei here.
Jill is one of the more popular Community contributors. Check out her writing here.
Learn more about Accenture's Getting to Equal 2020 report here.
Shout-out: Harvard Business Review
Shout-out: To me and the season finale of the podcast that Jill was our guest host. Listen here
Shout-out: Lauren Culp
Shout-out: Jackson Bolstad
Shout-out: Robbie Young
Shout-out: John Pettit
Shout-out: David Miller
Shout-out: Tom Kane
Shout-out: Sam Paxson
Shout-out: Tracie Kenyon
Shout-out: Mark Zook and the Maps Community Foundation
You can follow Jill and my travels on Instagram at @trip_around_the_sun
Shout-out: Jill's dad – Gordy
Shout-out: Randy's mom 
Shout-out: Jill's son – Crosby
Shout-out: Sodexo
Wine mentioned: Chilled Rose
Book mentioned: Me and White Supremacy by Layla F. Saad
Book mentioned: Ohio by Stephen Markley
Previous guests mentioned in this episode: Jill Nowacki (episodes 4, 18 & 37), Randy Smith, Lauren Culp, Tom Kane, Sam Paxson, Tracie Kenyon
You can find all past episodes of The CUInsight Experience here. 
In This Episode:
[02:08] – Jill, it's great to have you back on the show!
[03:15] – Jill shares the conversation they have been having at home about the workforce.
[03:59] – The new report from Accenture shows that a culture of equality and empowerment matters. 
[06:31] – How does trust come up in the conversations you have with credit unions?
[08:26] – Jill shares a Harvard Business Review article and what she took from it.
[09:30] – What can credit unions do to make themselves more desirable to new talent?
[11:32] – Jill chats about wanting to see credit unions source talent differently in the next year.
[12:35] – How is Humanidei changing this issue?
[13:20] – The purpose of building an inclusive culture is to create a place where every individual can bring their greatest strengths and talents.
[14:55] – What inspired you to Humanidei last summer?
[16:39] – Jill speaks about how her inspiration has changed with time on the job.
[17:38] – Jill shares how her leadership style has changed since she has been starting this company from scratch.
[20:05] – How have you cultivated in yourself the ability to make tough decisions?
[21:06] – Jill wants to debunk common myths about what it takes to be an effective leader.
[22:10] – Jill speaks about mistakes that she has seen leaders make and what mistakes she had made when she was starting her career.
[23:37] – Is there a life lesson or a piece of advice that you were given that you use now in your career?
[25:02] – Jill shares why she believes mentors are so important.
[27:03] – She talks about having self-doubt, pushing through, and becoming a more confident individual.
[29:06] – Jill chats about a typical workday and what a perfect workday would be.
[30:38] – Is there an accomplishment you have had, inside or outside of credit unions that makes you proud?
[32:22] – Jill discusses her work-life balance and what she likes to do to recharge.
[33:59] – What were you like in high school, and do you remember the first time you got into memorable trouble?
[34:47] – Jill shares what she wanted to be when she was a kid.
[36:22] – If you were on a desert island, what kind of wine would you want?
[36:44] – What book do you think everyone should read?
[37:53] – Jill says that making sure she has more time with her son has become more important.
[39:12] – When you hear the word success, what is the first workplace that comes to mind?
[40:15] – Thank you, Jill, for being on the show today!
[40:29] – Do you have any final thoughts or asks for our listeners today?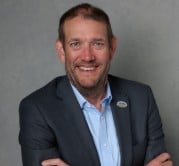 Randall Smith is the co-founder of CUInsight.com, the host of The CUInsight Experience podcast, and a bit of a wanderlust. As one of the co-founders of CUInsight.com he ...
Web: www.CUInsight.com
Details