The CUInsight Experience podcast: Jim Hayes – People focused (#130)
"For credit unions as a whole, our industry revolves around people." - Jim Hayes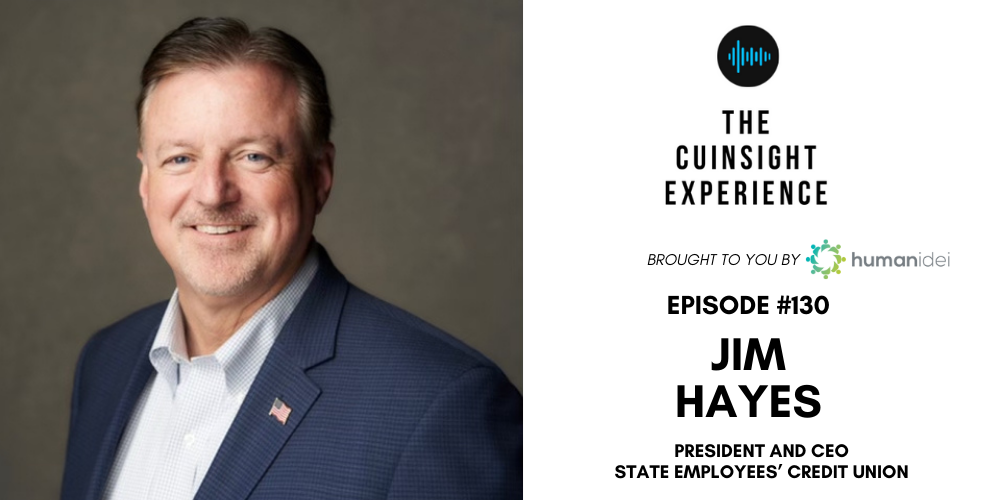 Thank you for tuning in to episode 130 of The CUInsight Experience podcast with your host, Randy Smith, co-founder of CUInsight.com. This episode is brought to you by Humanidei. Humanidei helps credit unions build inclusive cultures that attract, develop, and retain talent.
My guest on today's show is Jim Hayes, President & CEO of State Employees' Credit Union (SECU). SECU is one of the largest credit unions in the country, and Jim shares that the team is all about serving their 2.6 million members. Jim explains that while SECU has a strong technology focus, the strength of the credit union is truly in its people.
During this episode, Jim and I chat about how the people at his credit union are the exciting part, and the ways he is amazed by the team. He shares that key to his success has been surrounding himself with leaders who he considers smarter than himself. In an ideal employee, Jim looks for a team player who is more interested in team success than individual success. He remarks that he doesn't want a team full of individual superstars and instead favors collaborative and team-focused leaders with a "we over I" mentality.
Jim and I also discuss emotional intelligence and empathy in this conversation. Jim encourages leaders to create an atmosphere where people can takes risks and feel safe to fail. Listen as Jim explains what it takes to build a strong culture and climate that helps people be successful wherever they're going in life. He also shares his approach to giving effective feedback, his take on a remote workforce, and his approach to strong board-CEO relationships. 
Tune in to hear Jim share the best advice he's ever received, the books he recommends every leader read, and the person he thinks of first when he hears the word success. Enjoy my conversation with Jim Hayes!
Subscribe on: Apple Podcasts, Spotify, Stitcher 
Books mentioned on The CUInsight Experience podcast: Book List 
How to find Jim:
Jim Hayes, President & CEO of State Employees' Credit Union (SECU)
https://www.ncsecu.org/
LinkedIn 
Show notes from this episode:
A big shout-out to our friends at Humanidei, an amazing sponsor of The CUInsight Experience podcast. Thank you!
Want to hear more from Jim? Click here.
Place mentioned: Raleigh, NC
Place mentioned: Maui, HI
Shout-out: Credit Union Executive Society (CUES)
Shout-out: CUES Symposium
Shout-out: Deloitte
Shout-out: Office of Thrift Supervision (OTS)
Place mentioned: California
Place mentioned: Arizona
Shout-out: National Credit Union Administration (NCUA)
Shout-out: Jim Blaine
Shout-out: Mike Lord
Shout-out: Andrews Federal Credit Union
Shout-out: Jamie Dimon
Shout-out: Warren Buffet
Shout-out: Dale Carnegie
Shout-out: United States Army
Shout-out: Kenneth Orgeron
Shout-out: Jamie Dimon
Shout-out: Jim's son
Place mentioned: Alabama
Artist mentioned: Eagles
Album mentioned: Their Greatest Hits by the Eagles
Book mentioned: Emotional Intelligence by Daniel Goleman
Book mentioned: Crucial Conversations: Tools for Talking When Stakes Are High by Kerry Patterson, Joseph Grenny, Ron McMillan, and Al Switzler
Shout-out: Jim's mom's husband, Paul
In This Episode:
[00:38] – Jim Hayes talks about the serendipitous chain of career transfers that helped him stumble into the credit union space.
[02:16] – What does Jim think about his current position? Are any changes coming?
[04:51] – People are the core of the credit union industry.
[06:37] – Jim talks about the benefits of emotional intelligence.
[08:06] – To build a strong team, have a selection of people around you that are smarter than you and are team players.
[09:50] – Jim talks about how his military training influenced how he gives feedback. He suggests making it a casual conversation.
[12:18] – Jim explains why he required his entire executive team to present to the board of members directly.
[15:12] – Promote leadership that creates an environment where people can thrive.
[16:43] – Give room for people to fail to some extent. Jim talks about taking reasonable risks.
[18:28] – Jim suggests that it's okay for people to depart from company cultures that they don't fit well with.
[20:12] – Leaders should communicate more often to make sure remote teams don't disconnect from the company culture.
[23:01] – What is Jim's approach to taking action in an appropriate and timely manner? Jim reminds everyone that the world moves quickly.
[25:46] – Jim shares the amazement he felt during his first week at SECU, and talks about finding happiness at work and at home.
[28:43] – What did a manager say to Jim that made him more mindful about his work-life balance? What is Jim's personal mission?
[31:29] – Jim talks about jamming to the Eagles and why anything on emotional intelligence is worth reading.
[33:25] – Being content with life is a form of success.
[35:14] – Thank you for listening, be well friends.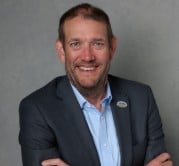 Randall Smith is the co-founder of CUInsight.com, the host of The CUInsight Experience podcast, and a bit of a wanderlust. As one of the co-founders of CUInsight.com he ...
Web: www.CUInsight.com
Details