The CUInsight Experience podcast: Kevin Bethune – Human potential (#116)
"How do you show up when it matters to your members?" - Kevin Bethune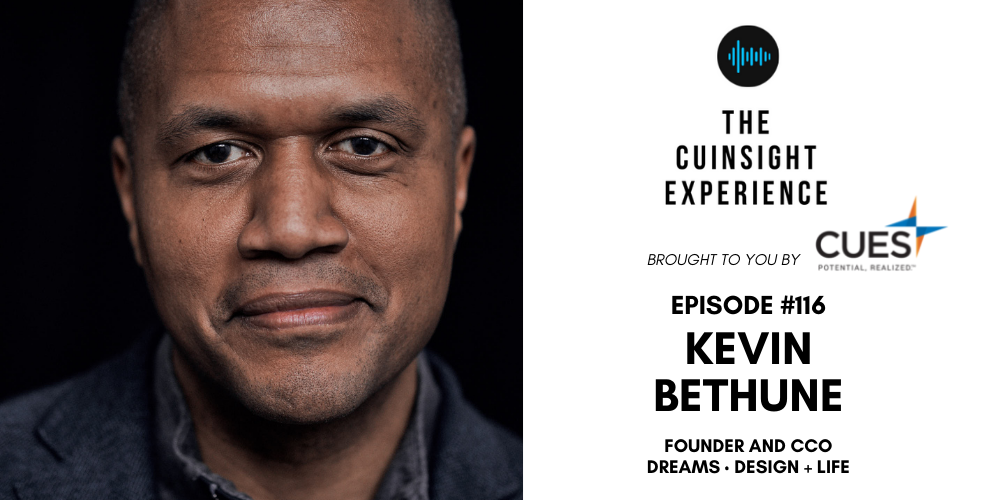 Thank you for tuning in to episode 116 of The CUInsight Experience podcast with your host, Randy Smith, co-founder of CUInsight.com. This episode is brought to you by our friends at CUES. CUES is the leading talent development solutions provider to the credit union industry.
My guest on today's show is Kevin Bethune, Founder & Chief Creative Officer at dreams • design + life. Kevin will be our keynote speaker for the upcoming CUInsight Mini-Con: GROW. In this episode, Kevin chats about his career journey and the many leadership lessons he's learned along the way. We also dive into how credit unions can best position themselves to adapt to the digital transformation and still keep members first.
From engineering to designing, Kevin's career journey includes a host of pivots and exploration. He shares his passion for embracing curiosity and believes multidisciplinary convergence is necessary to identify leadership potential and serve communities holistically. Kevin shares that to be a strong leader, you don't have to be the strongest voice in the room but you must always be willing to serve.
As we dive deeper into how Kevin maintains purpose, he shares that human potential starts with understanding who the efforts and contributions are serving. Kevin says it's easy to get consumed in market funnels and clicks, when instead, the people should remain the focus. He explains that this is something credit unions do well and what will keep them relevant in the overall financial services market. Throughout the conversation, Kevin encourages credit unions to seek opportunities that foster even better human connection and continue to give members the confidence to move forward.
During our rapid fire questions we learn what Kevin was like in high school, what he enjoys doing outside of the office, and the great people he surrounds himself with to reach the next level. As we wrap up the show, Kevin encourages leaders to ask themselves, "Where is the future going?" This answer will help executives and teams refocus on strategic thinking and prepare themselves for shifts that come along the way. Enjoy my conversation with Kevin Bethune! 
Subscribe on: Apple Podcasts, Spotify, Google Play, Stitcher 
Books mentioned on The CUInsight Experience podcast: Book List 
How to find Kevin:
Kevin Bethune, Founder and Chief Creative Officer of dreams • design + life
hello@dreamsdesignandlife.com
www.dreamsdesignandlife.com
LinkedIn | Twitter | Instagram | YouTube | Facebook 
Show notes from this episode:
A big shout-out to our friends at CUES, an amazing sponsor of The CUInsight Experience podcast. Thank you!
After listening to our show, check out the CUES podcast here.
Check out all that Kevin and his team are doing at dreams • design + life here.
To learn more and register for CUInsight Mini-Con Series, click here.
Want to get Kevin's book, click here to purchase!
Shout-out: Nike
Shout-out: David Miller
Shout-out: Apple
Shout-out: Amazon
Shout-out: MIT Press
Shout-out: Kevin's wife & son
Place mentioned: Los Angeles
Shout-out: Jill Nowacki & Jill's son Crosby
Shout-out: Peloton
Shout-out: Randy's dog
Shout-out: Kevin's puppy
Shout-out: Dr. D'Wayne Edwards, Pensole Design Academy
Place mentioned: Portland, Oregon
Book mentioned: Reimagining Design: Unlocking Strategic Innovation (Simplicity: Design, Technology, Business, Life) by Kevin Bethune
Book mentioned: Rules of the Red Rubber Ball: Find and Sustain Your Life's Work by Kevin Carroll
Album mentioned: A Love Supreme by John Coltrane
Previous guests mentioned in this episode: Jill Nowacki (episodes 4, 18, 37, 64, 82, 101, & 113) 
In This Episode:
[02:43] – Where does Kevin start when exploring human potential?
[04:32] – Kevin gives his thoughts on common mistakes when adding a digital experience.
[06:11] – Looking beyond metrics, Kevin explains what creates an empathetic and holistic experience.
[08:19] – Here are the things Kevin believes creates a seamless experience for members.
[09:59] – Kevin reminds everyone we are susceptible to change, but there are moments to anticipate when the change will come.
[12:59] – Among everything in life, what are the traits Kevin looks for in the connections he invests in.
[15:01] – As a lifelong learner, Kevin describes how he makes time to continue learning.
[17:00] – Kevin explains the importance of an ownership mindset in a career, and his thoughts on exploring growth.
[19:20] – In Kevin's mind, the word "purpose" translates to the word "promise".
[21:20] – How can a credit union show up when it matters to members? Kevin gives strategic sample questions for guidance.
[23:40] – Kevin talks through the different chapters of his career with curiosity being his constant.
[25:59] – Kevin believes that a great leader serves, and knows when to be an example.
[27:57] – Kevin encourages people to stay true to personal curiosity and being in alignment with a greater picture.
[30:11] – Kevin shares his high school memories, and how his parents influenced his approach to life.
[32:11] – Kevin suggests his favorite reads in relation to career and creativity. He also mentions his upcoming book.
[35:11] – How did Kevin's mentor lead him to designing shoes?
[38:10] – Kevin wants everyone to think about this question.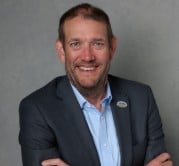 Randall Smith is the co-founder of CUInsight.com, the host of The CUInsight Experience podcast, and a bit of a wanderlust. As one of the co-founders of CUInsight.com he ...
Web: www.CUInsight.com
Details