The CUInsight Experience podcast: Steph Sherrodd – Focused vision (#46)
"Great leaders are surrounded by a village of great leaders." - Steph Sherrodd
Steph Sherrodd is our guest on episode 46 of The CUInsight Experience podcast with your host Randy Smith, co-founder of CUInsight.com. Steph is the President and CEO of TDECU in Houston, the largest credit union in Houston and the 4th largest in the state of Texas. Their purpose is to improve the lives of their members, employees, and communities.
Steph is very passionate about developing team members to become leaders of the future and adapting to the changes to make sure they get the greatest talent in the right positions. She knows from her experience that great mentors are necessary when making great leaders. Steph feels that when employees see other employees being developed, getting promoted, and working on great projects, it tends to lead a culture of positivity for advancement.
She speaks about how being involved with national credit union boards allows her to see what's going on outside of her credit union. She gets exposed to other parts of the industry, best practices, new technologies, and new perspectives to bring back locally. Being around other top leaders across the country helps keep her mind sharp, keeps her energized, plus it increases brand awareness.
Steph believes that credit unions need to find a compelling way to tell their stories and let people know all the good they do to help their communities. She chats about the ways building a team has changed and that leaders need to have experience with change management. She says that young leaders tend to make the mistake of thinking the job is about doing when it is actually about building.
Listen to this insightful conversation from someone with a lot of experience and knowledge in the credit union industry, and we are lucky that she is taking the time to share with us. Get ready to take notes because this is an episode you can learn from. Enjoy!
Subscribe on: Apple Podcasts, Spotify, Google Play, Stitcher
How to find Steph:
Steph Sherrodd, President and CEO of TDECU
www.TDECU.org
ssherrodd@tdecu.org
Linkedin | Facebook | Twitter | Instagram 
Show notes from this episode:
Check out all the amazing work Steph and her team are doing at TDECU.
Shout-out: Denise Wymore at NACUSO where Steph is currently on the board.
Shout-out: to our friends at CUES.
Shout-out: Mollie Bell
Shout-out: Tansley Stearns
Question Steph asks often: "What does great look like?" for Cy Wakeman's book – No Ego.
Shout-out: John Spence
Album mentioned: Queen – Greatest Hits
Book mentioned: Man's Search for Meaning by Viktor Frankl (one of my all-time favorites too)
Sorry Steph about you Astros. It was one heck of a World Series to watch.
Previous guests mentioned in this episode: Tansley Stearns, Mollie Bell, John Spence, Jill Nowacki (episodes 4, 18 & 37)
You can find all past episodes of The CUInsight Experience here. 
In This Episode:
[01:36] – Steph, welcome to the show!
[02:37] – She talks to us about mapping development for the team members to help them succeed.
[04:22] – Developing employees allows a feeling of positivity in the workplace; it's not just another dead-end position.
[05:52] – They discuss having a learning and growth plan to help the development cycle.
[06:34] – Steph explains the credit union's vision and how that ties to the development of leaders.
[07:48] – How does your credit union benefit by you being involved nationally?
[09:57] – Steph says that focus on what offers the most value and keeping it simple for the members and employees.
[11:58] – She talks about finding the right niche in the marketplace, and finding a compelling way to tell the credit union story is a way to keep them relevant in the future.
[13:27] – She says what motivated her to take the position at the credit union is to enable the members to sleep better at night.
[14:33] – Has your inspiration changed with your time on the job
[16:03] – Her leadership style has evolved in the way she builds a team and working with the team.
[18:07] – Having change management experience is crucial in the industry today.
[18:30] – The most significant strength her team has is their enthusiasm and optimism.
[18:58] – "What does great look like?" and "Don't ever confuse activity with results" are two quotes that she uses a lot.
[19:59] – What mistakes do you see young leaders make today?
[21:31] – She holds onto advice from a former leader who said, relationships don't happen in meetings, its what happens outside the sessions that make you more productive
[22:21] – How do you clear your head if you are hitting a wall and can't come up with the answer
[23:19] – She keeps her message fresh by being consistent and tying it back to what they are doing and where they are.
[24:45] – When she has a day off, she cycles with friends and runs.
[25:52] – The first time she got into memorable trouble was jumping into wet concrete.
[26:40] – She works out every day, or her routine gets messed up, and she needs coffee.
[27:11] – Best album of all time?
[27:46] – Favorite book that you give out the most?
[28:20] – Perspective on the gift of time has become more critical, and having a clean house has become less important.
[29:24] – When she hears the word success, she thinks about her husband.
[31:06] – Steph's final thoughts are GO ASTROS!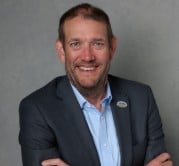 Randall Smith is the co-founder of CUInsight.com, the host of The CUInsight Experience podcast, and a bit of a wanderlust. As one of the co-founders of CUInsight.com he ...
Web: www.CUInsight.com
Details