The CUInsight Network podcast: Artificial intelligence in lending – Upstart (#24)
Featuring Jeff Keltner, SVP of Business Development at Upstart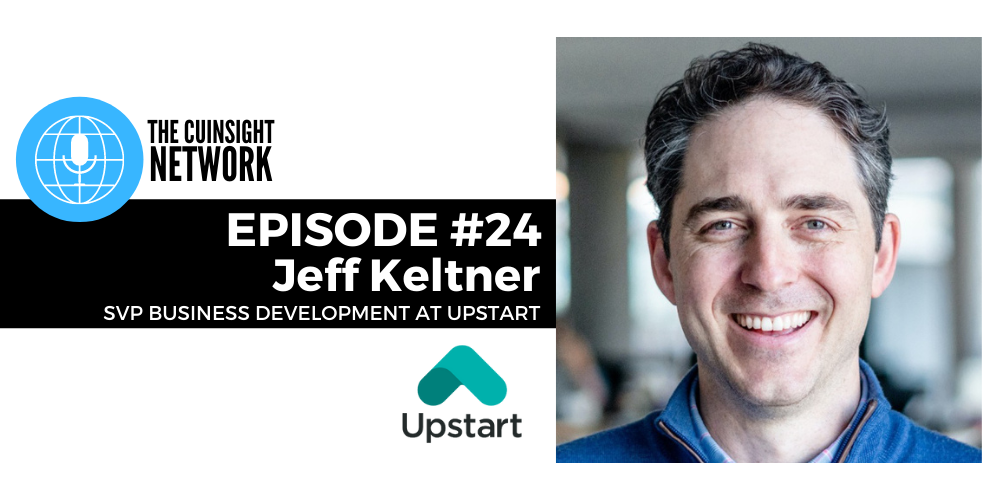 Thank you for tuning in to episode 24 of The CUInsight Network, with your host, Lauren Culp, Publisher & CEO of CUInsight.com. In The CUInsight Network, we take a deeper dive with the thought leaders who support the credit union community. We discuss issues and challenges facing credit unions and identify best practices to learn and grow together.
My guest today is Jeff Keltner, SVP of Business Development at Upstart. Upstart is a leading artificial intelligence (AI) lending platform designed to improve access to affordable credit while reducing the risk and costs of lending for their lender partners. They leverage AI to empower credit unions to an inclusive, frictionless member experience in lending.
Jeff shares that more people are creditworthy than we think. Artificial intelligence and machine learning can help a lender understand who is truly creditworthy and how much risk a loan actually represents. Upstart enables financial institutions to use AI in lending with over 800 different variables, both traditional and non-traditional (including occupation, field of work, and stability of income, for example), in their underwriting process, better understanding those in the subprime pool and identifying hidden prime borrowers. This process improves funding rates and reduces friction for borrowers in all demographics. 
We chat about inclusive lending and the mission of credit unions to serve the consumer, not just maximize profits. Jeff explains the importance of an transformed digital experience for each lending product, and the need to optimize the whole process from end-to-end rather than digitizing a legacy experience. He believes the financial institutions that will win are those that can leverage artificial intelligence technology and digital transformation, while still providing the human touch where needed. 
In our rapid-fire questions, we learn a hobby Jeff has picked up, a book he recommends, and the beverage he's been enjoying recently. Tune in to hear his perspective on work success and family success, and much more. Enjoy my conversation with Jeff Keltner!
Find the full show notes on cuinsight.com.
Connect with Jeff:
Jeff Keltner, SVP of Business Development at Upstart
jeff@upstart.com
www.upstart.com
LinkedIn | Facebook | Twitter   
Show notes from this episode:
What an amazing interview with Jeff! Check out all the exceptional work his team is doing over at Upstart here.
Want to hear more from Jeff Keltner? Click here.
Shout-out: David Girouard
Shout-out: Google
Shout-out: Consumer Finance Protection Bureau (CFPB)
Shout-out: Amazon
Shout-out: Facebook
Shout-out: Marie Kondo
Term mentioned: Tenkara Fishing
Shout-out: Elon Musk
Shout-out: Tesla
Shout-out: SpaceX
Shout-out: Jeff's dad and mom
Shout-out: Jeff's children and family
Shout-out: Spotify  
Artist mentioned: Beatles
Artist mentioned: AC/DC
Artist mentioned: Metallica
Artist mentioned: Pearl Jam
Artist mentioned: Broadway 
Book mentioned: Thinking in Bets: Making Smarter Decisions When You Don't Have All the Facts by Annie Duke
Shout-out: Paul Gu
In this episode:
[00:48] – Jeff Keltner says his fascination with applying technology to real world issues led him to the credit union space.
[02:21] – How does UpStart enhance credit unions?
[04:46] – Jeff explains which variables can expand access to lending.
[06:33] – Can credit unions use alternative data points? What are examples?
[09:30] – Where are the opportunities for credit unions to lead the financial services industry in inclusive lending?
[11:55] – Is AI a huge part of building frictionless lending?
[14:17] – Jeff talks about UpStart finding places to ease friction and automate the lending process.
[15:54] – Jeff encourages credit unions to optimize for the product, and not to underestimate the human touch.
[18:50] – Jeff gives his thoughts on leveraging AI technology, and being responsive to the changing credit union field.
[20:49] – Knowing how to integrate a human touch with technology in a savvy way brings an innovative edge. 
[23:44] – Jeff explores the future of embedded finances into other daily activities of consumer transactions.
[25:33] – Jeff shares his thoughts about tea, a specific type of fishing, Elon Musk, and his dad.
[28:19] – What music and books are Jeff consuming?
[31:05] – Thank you Jeff, and thank you for listening!
Lauren Culp is the Publisher & CEO at CUInsight.com. She leads the growing team at CUInsight, works with organizations serving credit unions to maximize their brand and exposure, connects with ...
Web: https://www.cuinsight.com
Details