The CUInsight Network podcast: Automation & collaboration – CU NextGen (#53)
Featuring Anthony Arizola, Sales Executive at CU NextGen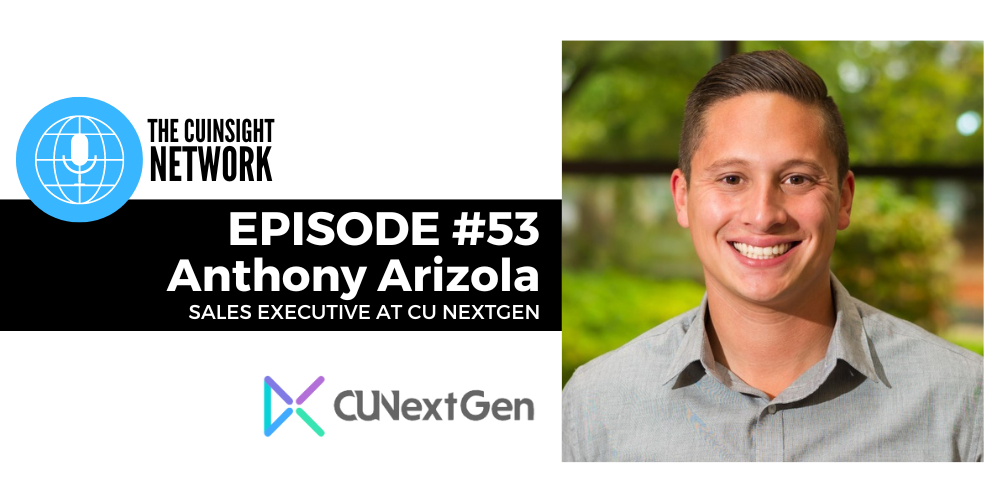 Thank you for tuning in to episode 53 of The CUInsight Network, with your host, Lauren Culp, Publisher & CEO of CUInsight.com. In The CUInsight Network, we take a deeper dive with the thought leaders who support the credit union community. We discuss issues and challenges facing credit unions and identify best practices to learn and grow together.
My guest on today's show is Anthony Arizola, Sales Executive at CU NextGen. Anthony began his career in the credit union industry during high school and has been passionate about it since. CU NextGen is a CUSO dedicated to bringing next generation technology to credit unions such as no-code development, robotic process automation, and artificial intelligence. CU NextGen's goal is to improve service delivery to members and to streamline efficiencies of day-to-day operations.
During our conversation, Anthony talks about using automation and collaboration to build better member-centric experiences. The team at CU NextGen have financial service backgrounds and understand how limited access to resources can affect operations; therefore bringing more solutions. As we look to the future, CU NextGen is committed to collaborating with credit unions by creating think-tank sessions and bringing new digital solutions. CU NextGen empowers credit unions to build customized solutions for smooth workflows that benefit members and employees.
As we wrap up the episode, Anthony talks about cheering for the Detroit Lions, spending time with his family and friends, and listening to podcasts. Enjoy my conversation with Anthony Arizola!
Connect with Anthony:
Anthony Arizola, Sales Executive at CU NextGen
anthony.arizola@cunextgen.com
www.cunextgen.com
Anthony: LinkedIn
CU NextGen: LinkedIn | Instagram | Twitter | Facebook | YouTube 
Show notes from this episode:
What an amazing interview with Anthony! Check out all the exceptional work his team is doing over at CU NextGen here.
Want to hear more from Anthony? Click here.
Place mentioned: Grand Rapids, MI
Shout-out: Anthony's grandmother
Shout-out: Xtend CU
Shout-out: Nick Oostveen
Shout-out: Talentech
Shout-out: CU*Answers
Shout-out: Anthony's wife
Shout-out: Hayley Harrison
Shout-out: Clark Duncan
Shout-out: Adventure Credit Union
Shout-out: ClaySys
Shout-out: Detroit Lions
Shout-out: Anthony's father
Shout-out: Matthew Stafford 
Shout-out: Anthony's daughters
Shout-out: Disney (Theme Parks)
Shout-out: Monopoly
Shout-out: Game of Life
Podcast mentioned: Business Wars
Podcast mentioned: The Morning After
Book mentioned: How to win friends and influence people. How to stop worrying and start living by Dale Carnegie
Book mentioned: Business Made Simple: 60 Days to Master Leadership, Sales, Marketing, Execution, Management, Personal Productivity and More by Donald Miller
Book mentioned: QBQ! The Question Behind the Question: Practicing Personal Accountability in Work and in Life by John G. Miller
In this episode:
[00:42] – Anthony Arizola originally dreamed of working in the NFL.
[03:24] – "How can I get back into that?"
[05:08] – Anthony says his wife encouraged him to enter this professional position that led to CU NextGen.
[07:42] – Deliver solutions by leveraging tech.
[09:34] – Building customized solutions for credit unions.
[11:10] – How does CU NextGen share industry knowledge with credit unions?
[14:00] – How do companies keep business operations member-centric?
[16:33] – Anthony makes a trip to this city every Sunday. What is the trip for?
[19:28] – Anthony spends free time doing board games, cafes, basketball, and more.
[22:19] – Find the right partnerships that work best for long term success.
Lauren Culp is the Publisher & CEO at CUInsight.com. She leads the growing team at CUInsight, works with organizations serving credit unions to maximize their brand and exposure, connects with ...
Web: https://www.cuinsight.com
Details