The CUInsight Network podcast: Community impact – CUCollaborate (#25)
Featuring Sam Brownell, Founder & CEO at CUCollaborate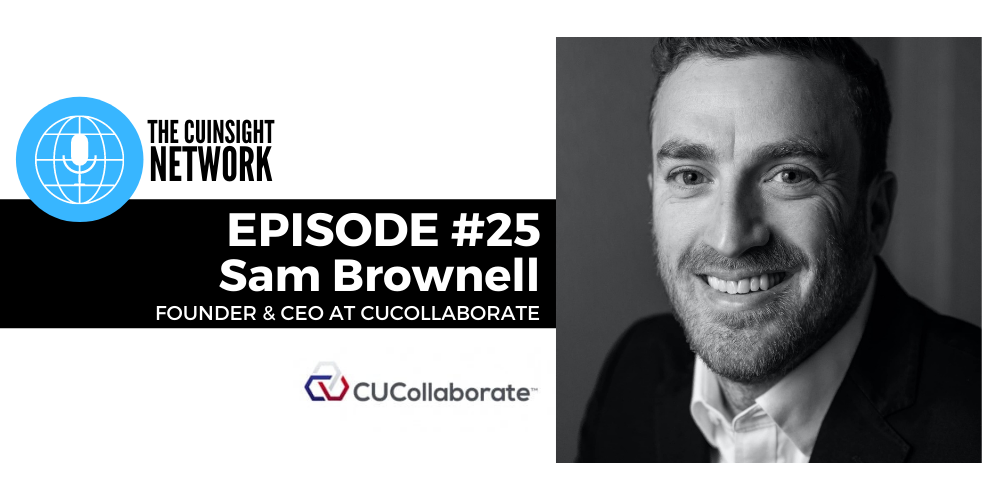 Thank you for tuning in to episode 25 of The CUInsight Network, with your host, Lauren Culp, Publisher & CEO of CUInsight.com. In The CUInsight Network, we take a deeper dive with the thought leaders who support the credit union community. We discuss issues and challenges facing credit unions and identify best practices to learn and grow together.
My guest today is Sam Brownell, Founder & CEO at CUCollaborate. CUCollaborate is a consulting, software development, and digital marketing company that helps credit unions grow. Their consulting services range from field of membership expansion to branch strategy to low income designation strategy. Everything CUCollaborate does is with the goal of helping credit unions grow and succeed in making community impact.
Sam shares that when he thinks of defining success for credit unions, quantifying impact for members and communities is top of mind. He explains that when credit unions frame their thinking around maximizing impact and better members' lives, it's easy to justify the need for growth. 
We chat about field of membership expansion opportunities and best practices. Sam gives background on key considerations credit unions should keep in mind for entering new markets. In this conversation, we also discuss the concept of de novo credit unions, lending to underserved consumers, and CUCollaborate's focus when it comes to innovating for the future.
In our rapid-fire questions, Sam shares the NFL player who comes to mind when he hears of the word success, his attempts to disconnect from technology, and more. Enjoy my conversation with Sam Brownell!
Connect with Sam:
Sam Brownell, Founder & CEO at CUCollaborate
sbrownell@cucollaborate.com
www.cucollaborate.com
LinkedIn | Twitter   
Show notes from this episode:
What an amazing interview with Sam! Check out all the exceptional work his team is doing over at CUCollaborate here.
Want to hear more from Sam Brownell? Click here.
Place mentioned: Ohio
Shout-out: Denison University
Shout-out: Jon Jeffreys
Shout-out: Chris Tissue
Shout-out: Callahan & Associates
Shout-out: Georgetown University
Shout-out: National Credit Union Administration (NCUA)
Resource mentioned: Chartering and Field of Membership Manual
Shout-out: iPhone
Shout-out: Apple Watch
Shout-out: Tom Brady
Shout-out: Michael Jordan
Place mentioned: Boston, MA
Shout-out: New England Patriots
Shout-out: Milwaukee Bucks
Shout-out: Spotify  
Artist mentioned: INXS
Artist mentioned: Chvrches
Shout-out: The Dan Patrick Show
Book mentioned: The Lean Startup by Eric Ries
Book series mentioned: The Expanse by James S. A. Corey
Book series mentioned: The Murderbot Diaries by Martha Wells
Shout-out: FICO
In this episode:
[00:37] – Sam Bronwell grew up having sports dreams, and later fell into worker co-op initiatives.
[02:30] – How does CUCollaborate empower credit unions?
[05:15] – Sam speaks on defining success for credit unions, along with measuring community impact.
[08:08] – Where are the opportunities for credit unions to expand membership?
[10:53] – Sam describes what is helping credit unions serve low-income communities.
[12:52] – Are there alternatives to responsibly lending to low-income communities?
[15:49] – What is a De Novo credit union?
[18:03] – Sam talks about trends he's observed in the financial services space around promoting.
[20:13] – Sam talks about trends he's observed in the financial services space around articulating a credit union's value proposition.
[21:54] – Sam talks about the time he tried living without technology, and  his favorite sports.
[24:18] – Sam shares which books he thinks everyone should read, and what he does for fun.
[26:48] – Credit unions, Sam wants your feedback on an idea.
Lauren Culp is the Publisher & CEO at CUInsight.com. She leads the growing team at CUInsight, works with organizations serving credit unions to maximize their brand and exposure, connects with ...
Web: https://www.cuinsight.com
Details