The CUInsight Network podcast: Industry support – CUNA Mutual Group (#27)
Featuring John Cassidy, Director of Credit Union System Relations at CUNA Mutual Group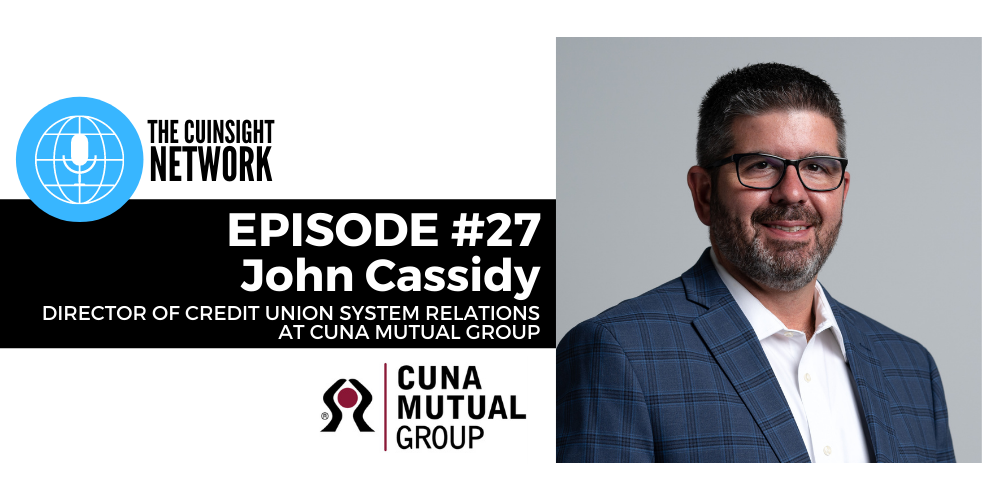 Thank you for tuning in to episode 27 of The CUInsight Network, with your host, Lauren Culp, Publisher & CEO of CUInsight.com. In The CUInsight Network, we take a deeper dive with the thought leaders who support the credit union community. We discuss issues and challenges facing credit unions and identify best practices to learn and grow together.
My guest today is John Cassidy, Director of Credit Union System Relations at CUNA Mutual Group. CUNA Mutual Group built an ecosystem designed to help credit unions succeed, and their strategy is designed on the belief that a brighter financial future should be accessible to everyone. They have a strong commitment to making financial products easier to own through simple and affordable solutions, helping credit unions meet their members' needs. CUNA Mutual is there for credit unions and their members in the moments that matter. 
John is especially proud of CUNA Mutual's relationships with credit unions and the overall system and the ways CUNA Mutual demonstrates that they are truly a partner with credit unions. CUNA Mutual Group builds, buys, and partners with others to provide capabilities that credit unions need. He shares that CUNA Mutual Group has donated millions to programs and campaigns that are important for the credit union mission, including the Credit Union Awareness Program, the Bridge the Gap Campaign, and Financial Well-being for All, among others. 
John expresses his thoughts on how credit unions can meet the diverse needs of consumers and especially the importance of serving multicultural consumers. He advocates for investment in diversity, equity, and inclusion and shares both CUNA Mutual's stance as well as other notable programs moving the industry forward here. Listen as John talks about the Multicultural Center of Excellence, the growing CDFI fund, and political advocacy work.
In our rapid-fire questions, John shares which genres of music he listens to these days, his favorite toothbrush, and the sport he coaches. You'll also hear about the leader he thinks of when he hears the word "success." Enjoy my conversation with John Cassidy!
Connect with John:
John Cassidy, Director of Credit Union System Relations at CUNA Mutual Group
john.cassidy@cunamutual.com
https://www.cunamutual.com/
LinkedIn | Twitter | YouTube   
Show notes from this episode:
What an amazing interview with John! Check out all the exceptional work his team is doing over at CUNA Mutual Group here.
Want to hear more from John Cassidy? Click here.
Place mentioned: Maui, HI
Shout-out: CUES
Shout-out: CUES Symposium
Shout-out: Credit Union National Association (CUNA)
Shout-out: CUNA's Governmental Affairs Conference (GAC)
Place mentioned: New York
Shout-out: New York Credit Union Association
Place mentioned: Wisconsin
Place mentioned: Charleston, SC
Shout-out: Latitude 32 Credit Union
Place mentioned: Madison, WI
Shout-out: Bob Trunzo
Shout-out: Gary Singleton
Program mentioned: Credit Union Awareness
Shout-out: World Council of Credit Unions (WOCCU)
Shout-out: Worldwide Foundation for Credit Unions
Shout-out: Bridge the Gap Campaign
Shout-out: African American Credit Union Coalition (AACUC)
Program mentioned: Financial Well-being for All
Shout-out: Opal Tomashevska
Shout-out: Inclusiv
Program mentioned: Community Development Financial Institution (CDFI)
Shout-out: Credit Union Women's Leadership Alliance (CUWLA)
Shout-out: CuneXus
Shout-out: ForeverCar
Shout-out: CarSaver
Shout-out: Walmart
Shout-out: CMFG Ventures
Shout-out: Angela Russell
Shout-out: Renée Sattiewhite
Shout-out: CUNA Mutual Group Discovery Conference
Shout-out: George Floyd
Shout-out: Consumer Finance Protection Bureau (CFPB)
Shout-out: Rodney Hood
Shout-out: National Association of Federally-Insured Credit Unions (NAFCU)
Shout-out: Sonicare Toothbrush
Shout-out: Spotify
Shout-out: Pandora
Artist mentioned: Zac Brown Band
Shout-out: Malcom Gladwell
Book mentioned: Talking to Strangers by Malcolm Gladwell
Shout-out: John's son and daughter
Shout-out: John's 4th grade basketball players
Program mentioned: Credit Union Development Educators (CUDE)
Previous guests mentioned in this episode: Bob Trunzo, Renée Sattiewhite, Rodney Hood
In this episode:
[00:47] – John Cassidy says he started in marketing, then got lucky getting his first job in the credit union field.
[02:07] – How did John end up at CUNA Mutual Group?
[03:40] – A brighter financial future should be accessible to everyone.
[05:42] – How does CUNA Mutual Group give back in terms of system support?
[07:22] – John talks about partnerships to lobby for funding CDFIs, as well as supporting the work of CUWLA.
[09:14] – CUNA Mutual Group builds, buys, and partners to provide capabilities that credit unions expect.
[11:32] – What is the Multicultural Center of Excellence?
[13:32] – John shares how credit unions can participate in the work of CUNA Mutual Group to improve the credit union ecosystem.
[16:00] – CUNA Mutual Group engages with credit union councils to receive authentic feedback on what is or isn't needed.
[18:47] – Listen to John talk about sonicare toothbrushes and why he admires Bob Trunzo.
[21:22] – John says country music is starting to grow on him.
[23:03] – John encourages everyone to be good to each other.
Lauren Culp is the Publisher & CEO at CUInsight.com. She leads the growing team at CUInsight, works with organizations serving credit unions to maximize their brand and exposure, connects with ...
Web: https://www.cuinsight.com
Details