The CUInsight Network podcast: Market optimization – VisiFI (#39)
Featuring Roger Willey, Chief Revenue Officer at VisiFI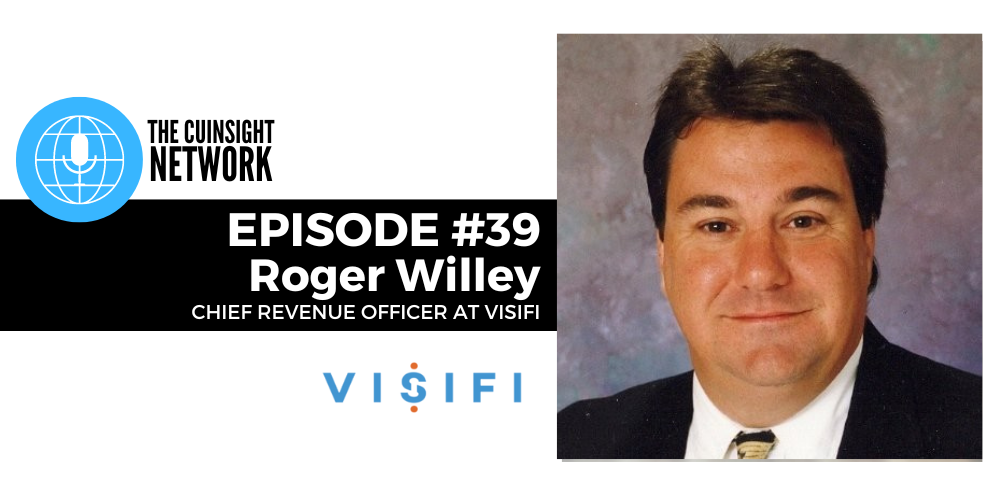 Thank you for tuning in to episode 39 of The CUInsight Network, with your host, Lauren Culp, Publisher & CEO of CUInsight.com. In The CUInsight Network, we take a deeper dive with the thought leaders who support the credit union community. We discuss issues and challenges facing credit unions and identify best practices to learn and grow together.
My guest today is Roger Willey, Chief Revenue Officer at VisiFI. With four decades of experience, VisiFI is a technology provider and CUSO supporting approximately 120 credit unions. Roger began his career when consumer behavior was a rising topic, and has since seen it become a critical business objective. He considers himself a business growth strategist that uses data to help credit unions grow their market share. The core mission at VisiFI is to help credit unions embrace technology and create a digital environment to lead and expand the relationship with their members into easy to use and seamless experiences.
In this episode, Roger discusses the necessary measures credit unions must take to adapt to new trends, support longevity, and connect with members. He talks about opportunities to develop data, intelligence, and member service. Listen to Roger share his thoughts on the unique leverage credit unions have over big banks and how credit unions can adapt to market changes and grow within different environments.
Tune in to hear how you can use the value proposition of credit unions as a competitive advantage and why this message needs to be shared with consumers worldwide. Roger explains how complexity in credit union models adds cost and risk. We discuss VisiFI's plans on innovating for the future to meet various needs of clients and members. Roger believes the methodology for business growth does not change; but the market, products, and the unique value proposition do change, requiring credit unions to be more agile. Ultimately, Roger encourages listeners to embrace storytelling and find ways to adapt in this digital landscape. 
As we wrap up the episode, Roger talks about a recent purchase he can't live without, the Rolling Stones, and traveling with his wife as empty nesters. Enjoy my conversation with Roger Willey!
Connect with Roger:
Roger Willey, Chief Revenue Officer at VisiFI
roger.willey@dedagroup.it
https://visifi.com/
Roger: LinkedIn
VisiFI: LinkedIn | Twitter | Facebook | YouTube
Show notes from this episode:
What an amazing interview with Roger! Check out all the exceptional work his team is doing over at VisiFI here.
Want to hear more from Roger Willey? Click here.
Place Mentioned: Trento, Italy
Shout-out: IBM 
Shout-out: BlockBuster
Shout-out: Kodak 
Shout-out: AOL
Shout-out: Netflix
Shout-out: Wells Fargo
Shout-out: Citibank
Artist Mentioned: Rolling Stones
Shout-out: Roger's wife
Shout-out: Roger's children
Place Mentioned: New Orleans
Book mentioned: Building a StoryBrand: Clarify Your Message So Customers Will Listen by Donald Miller
In this episode:
[00:43] – Roger Willey wanted to be a professional football player when he was a child.
[03:33] – Roger describes what makes VisiFI special.
[05:05] – Roger says that the digital environment levels the playing field for the industry.
[08:04] – Can credit unions catch up with the data and technology of big banks?
[10:33] – Roger talks about how digital transformation changed which companies held the most influence, like the shift from BlockBuster to Netflix.
[12:31] – What is the one thing that Roger says big banks can't replicate?
[14:47] – With VisiFI, credit unions can focus on growth instead of being overwhelmed with multiple tech vendors.
[16:46] – How can credit unions keep up if there's always something new changing the scene?
[19:00] – Roger is excited to make a difference in the industry.
[20:39] – Complexity in credit union models adds cost and risk.
[23:25] –  What does Roger admire most about the Rolling Stones?
[25:55] – If you are a credit union CEO or credit union marketer, Roger suggests that you read this book.
[28:02] – Roger encourages credit unions to continue their great service.
[29:49] – Do what you can to adapt to the market.
Lauren Culp is the Publisher & CEO at CUInsight.com. She leads the growing team at CUInsight, works with organizations serving credit unions to maximize their brand and exposure, connects with ...
Web: https://www.cuinsight.com
Details