The CUInsight Network podcast: Niche opportunities – Your Marketing Co. (#38)
Featuring Bo McDonald, President at Your Marketing Co.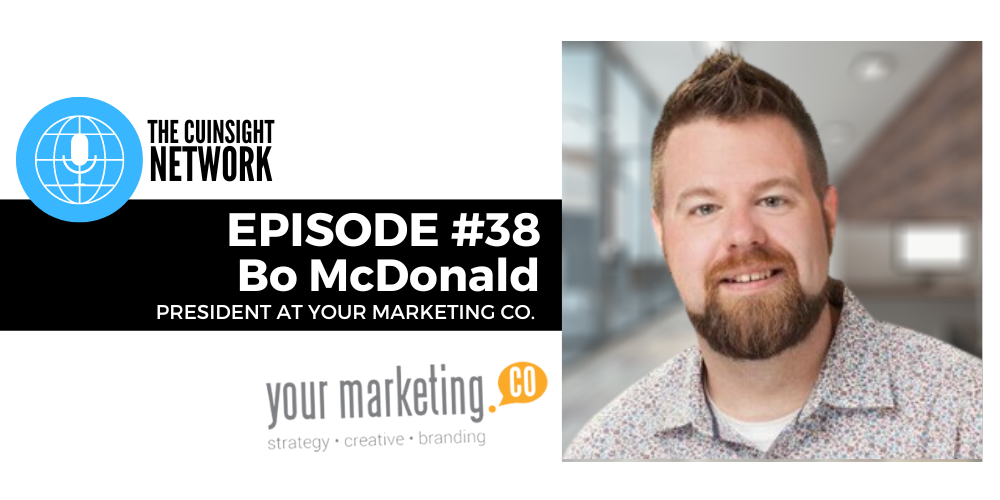 Thank you for tuning in to episode 38 of The CUInsight Network, with your host, Lauren Culp, Publisher & CEO of CUInsight.com. In The CUInsight Network, we take a deeper dive with the thought leaders who support the credit union community. We discuss issues and challenges facing credit unions and identify best practices to learn and grow together.
My guest today is Bo McDonald, President at Your Marketing Co. The core mission at Your Marketing Co. (YMC) is to help credit unions strategize and uncover unique opportunities. The YMC team finds niches within the credit unions they work with to focus marketing efforts on ideal members. Bo also shares the one rule he gives credit unions on the first day of working together that is necessary for continued growth. YMC offers strategic planning, branding, and marketing for credit unions that seek innovation, relevancy, and growth. 
In this episode, Bo speaks about taking the necessary measures to refine or revamp a credit union's brand. He expresses the importance of being intentional and asking questions to gain perspective when creating a marketing plan and making changes. Listen to Bo share key insights about the future of financial services when it comes to the member experience and redefining what marketing is.  
Tune in to hear how you can ask more precise questions of your members and staff to solve the actual problem and improve marketing results going forward. According to Bo, marketing is constantly changing and will continue to change from what is trending right now. He discusses the value in providing ease in services, evaluating marketing plans regularly, and inspiring change.
As we wrap up the episode, Bo talks about antique rocking chairs, his favorite radio station that brings him joy, and one of his favorite books that he even shares with clients. Enjoy my conversation with Bo McDonald!
Connect with Bo:
Bo McDonald, President at Your Marketing Co.
bo@yourmarketingco.com
https://yourmarketing.co
Bo: LinkedIn | Twitter
Your Marketing Co.: LinkedIn | Twitter | Facebook | Instagram
Show notes from this episode:
What an amazing interview with Bo! Check out all the exceptional work his team is doing over at Your Marketing Co. here.
Want to hear more from Bo McDonald? Click here.
Shout-out: Randy Smith
Shout-out: Facebook 
Shout-out: TikTok
Shout-out: Snapchat 
Place mentioned: Asheville, NC
Shout-out: Robbie Young
Shout-out: John Legere, T-Mobile
Shout-out: WWOZ radio
Place Mentioned: New Orleans, LA
Shout-out: New Orleans Saints
Shout-out: Hamburger Helper
Book mentioned: Necessary Endings: The Employees, Businesses, and Relationships That All of Us Have to Give Up in Order to Move Forward by Henry Cloud
Book mentioned: Change Is Good…You Go First: 21 Ways to Inspire Change by Mac Anderson and Tom Feltenstein
Previous guest mentioned: Bo McDonald
In this episode:
[00:43] – Bo McDonald talks about the middle school dream he achieved. What did he want to do?
[02:44] – What are the three traits of successful credit unions that Bo observed?
[05:12] – Ask questions to find which members you are and are not readily equipped to manage.
[07:56] – How can you remove the fear of change?
[10:25] – Bo talks about the time he went undercover to better understand the member experience of credit unions.
[12:54] – Everyone wants less friction in business interactions.
[15:16] – Bo is in need of an antique rocking chair.
[16:52] – This mobile CEO is who Bo thinks is successful.
[18:32] – Bo talks about listening to New Orleans jazz, letting things end, and one of the only times most people don't want to be first.
[21:01] – Words to remember: "can't" never did a thing.
Lauren Culp is the Publisher & CEO at CUInsight.com. She leads the growing team at CUInsight, works with organizations serving credit unions to maximize their brand and exposure, connects with ...
Web: https://www.cuinsight.com
Details