The CUInsight Network podcast: Portfolio management – 2020 Analytics (#37)
Featuring Dan Price, President at 2020 Analytics.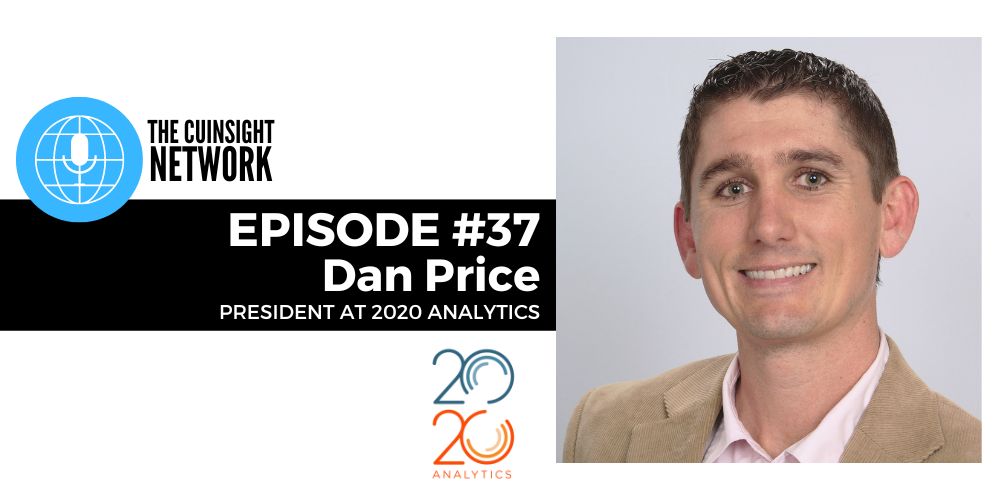 Thank you for tuning in to episode 37 of The CUInsight Network, with your host, Lauren Culp, Publisher & CEO of CUInsight.com. In The CUInsight Network, we take a deeper dive with the thought leaders who support the credit union community. We discuss issues and challenges facing credit unions and identify best practices to learn and grow together.
My guest today is Dan Price, President at 2020 Analytics. Dan was a guest on the podcast last year and in this episode we dive right into the state of the economy, CECL, and rising interest rates. Dan shares insights on how credit unions and members are affected by these factors along with inflation and housing affordability. He believes credit unions are well positioned to help borrowers in this economy as well as continue building trusting relationships. The team at 2020 Analytics aims to help credit unions grow assets, improve returns, and save time. Dan shares his specialized insight of data management and algorithms for credit unions in this period of economic uncertainty.
In this episode, Dan speaks about the power of data and properly managing a diversified portfolio. Learn how data tracks the ripple effect of economic setbacks, such as the correlation between interest rates, unemployment, and delinquency. Dan explains that credit unions have the ability to be flexible when it comes to member purchasing power. He offers suggestions that maintain high-quality member service and also keep the pipeline open. 
Tune in to hear how 2020 Analytics plans to innovate for the future. Listeners will hear Dan emphasize the importance of using data to focus on creating convenience for borrowers. He also shares his thoughts on trends around risk management, member experience, and how credit unions can prosper in a bull market.
As we wrap up the episode, Dan gives a huge shout out to his children, shares what he enjoys about Spotify's algorithm, and explains how he handles work-life integration. Enjoy my conversation with Dan Price!
Connect with Dan:
Dan Price, President at 2020 Analytics
dprice@ttadata.com
https://ttadata.com/
Dan: LinkedIn | 2020 Analytics: LinkedIn  
Show notes from this episode:
What an amazing interview with Dan! Check out all the exceptional work his team is doing over at 2020 Analytics here.
Want to hear more from Dan Price? Click here.
Shout-out: Florida
Shout-out: Dan's children 
Shout-out: Spotify
Artist mentioned: Drake
Previous guest mentioned: Dan Price
In this episode:
[00:43] – Dan Price talks about the direct and indirect global impacts of the pandemic.
[02:45] – Dan points out the connection between interest rates, inflation, and housing affordability.
[05:08] – What problems could arise sooner than later in this imbalanced economy?
[07:49] – In terms of portfolios, credit unions have the ability to explore flexibility around member purchasing power.
[10:24] – What is Dan's advice to monitor strategic risks?
[13:06] – Dan shares what amazes him about his kids, especially his teenage son.
[15:09] – Work hard. Play hard.
[16:57] – Dan shares his approach to work-life integration.
[18:30] – Serve your members while also maintaining and monitoring your loan portfolio.
Lauren Culp is the Publisher & CEO at CUInsight.com. She leads the growing team at CUInsight, works with organizations serving credit unions to maximize their brand and exposure, connects with ...
Web: https://www.cuinsight.com
Details