The CUInsight Network podcast: Strategic guidance – On The Mark Strategies (#32)
Featuring Taylor Wells, Experience Director at On The Mark Strategies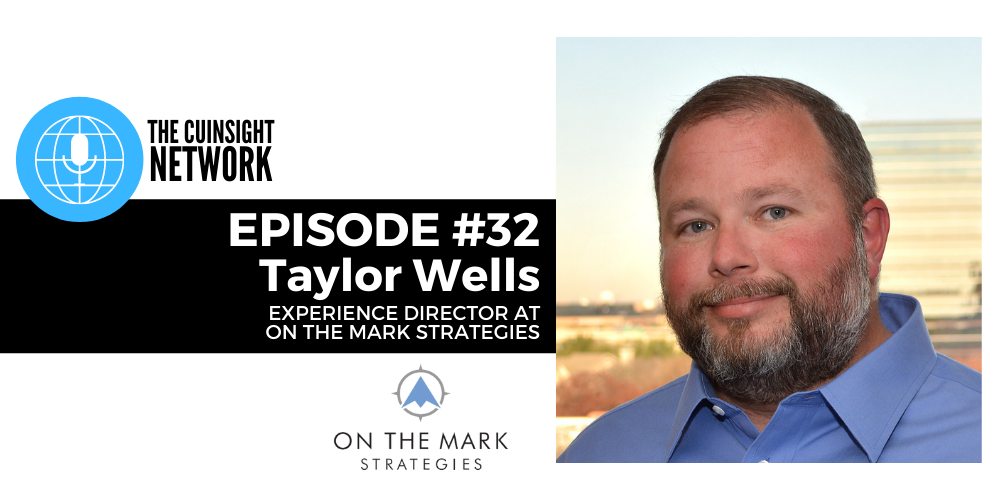 Thank you for tuning in to episode 32 of The CUInsight Network, with your host, Lauren Culp, Publisher & CEO of CUInsight.com. In The CUInsight Network, we take a deeper dive with the thought leaders who support the credit union community. We discuss issues and challenges facing credit unions and identify best practices to learn and grow together.
My guest today is Taylor Wells, Experience Director at On the Mark Strategies. The core mission at On the Mark Strategies is to guide credit unions in their strategic planning, branding, and building their member experience so they can succeed. The team has many years of credit union experience and truly believes in helping credit unions thrive in a competitive environment. On The Mark Strategies differentiates itself through its  core values, the three E's: Engage, Educate, Entertain. 
In this episode, Taylor discusses the significance of the member experience and how On The Mark Strategies can help credit unions create a customized, authentic, and consistent experience for both employees and members.  Taylor shares the ways his team works with credit unions to understand and improve their member experience across multiple channels. He explains that the team starts with data collection and demographic work to understand the current state of the member experience and hosts multi-day workshops for the credit union team to recreate their ideal member experience. 
During our conversation, Taylor speaks to the disconnect between front and back-office employees and ways to generate buy-in from all levels of the organization.  He also shares the effects hiring, growth, and retention can have on the member experience. Taylor recommends credit unions also look outside of the industry to bring in new talent, while not overlooking ways they can promote from within.  To maximize ROI and brand impact, Taylor advises credit unions to align their community involvement and charitable donations with their brand values and target audiences.  As we wrap up the conversation, Taylor calls out the importance of actionable strategic plans, organizational health, effective marketing, and more.
Tune in to hear Taylor talk about his growing hat collection, his favorite Michael Jordan quote, and the book he recommends everyone read. Enjoy my conversation with Taylor Wells!
Connect with Taylor:
Taylor Wells, Experience Director at On the Mark Strategies
taylor@markarnold.com
https://www.markarnold.com
LinkedIn | Instagram | Twitter 
Show notes from this episode:
What an amazing interview with Taylor! Check out all the exceptional work his team is doing over at On the Mark Strategies here.
Want to hear more from Taylor Wells? Click here.
Place mentioned: Midland, TX
Place mentioned: San Angelo, TX
Shout-out: Neighborhood Credit Union (formerly Dallas Postal Credit Union)
Shout-out: Mark Arnold 
Shout-out: Stetson
Shout-out: Boston Scally Co.
Shout-out: Michael Jordan
Shout-out: LeBron James
Shout-out: Taylor's wife
Shout-out: Taylor's children
Shout-out: Atlanta Braves
Shout-out: John Pettit
Shout-out: Spotify
Artist mentioned: Bad Company
Artist mentioned: Deep Purple
Artist mentioned: Aerosmith
Book mentioned: The Happiness Advantage: The Seven Principles of Positive Psychology That Fuel Success and Performance at Work by Shawn Achor
Book mentioned: Lonesome Dove by Larry McMurtry
In this episode:
[00:40] – Taylor Wells grew up thinking he would be a baseball player; then he fell into marketing and branding.
[03:25] – What are the three Es? Taylor explains the core values of On the Mark Strategies.
[05:20] – Taylor emphasizes why knowing your member experience helps credit unions create a better framework.
[08:01] – How can credit unions include the back office into their member experience framework?
[10:10] – Credit unions need to be open to training talent coming from the wider retail world.
[12:12] – Approach employee recognition from a generational perspective.
[13:35] – Taylor gives his take on community involvement being aligned with brand identity.
[15:53] – How can credit unions create a realistic and actionable strategic plan?
[18:22] – Taylor questions how the industry brings value that makes credit unions relevant.
[20:23] – Taylor is going to have a wall full of Boston Scally caps.
[22:00] – This quote is why Taylor connects Michael Jordan to success, and Taylor shares what music feels like spring this year.
[24:03] – Taylor suggests books to read, and gives his ideal scenario for unwinding on a day off.
[26:17] – Do you really know what your members think about their member experience?
Lauren Culp is the Publisher & CEO at CUInsight.com. She leads the growing team at CUInsight, works with organizations serving credit unions to maximize their brand and exposure, connects with ...
Web: https://www.cuinsight.com
Details