Every now and then, life provides a little extra. Call it a blessing or a bonus. It's that something which seems to work in one's favor. Mine recently came in the form of catching dinner with my niece while on a business trip. Her schedule is very busy, as she is a Marketing Communications Leader for one of the largest companies in the world. We had a great time catching up and while we were talking business, she threw out a little nugget I felt compelled to share.
She told me about a very large sensor initiative her firm is undertaking. Their goal is to better track and measure the performance of large industrial processing systems, such as power generator plants. Then she hit me with it… The power of 1%. She said that if they could add a sensor to measure just one blade on one turbine at one power plant — which generates electricity for 400,000 homes — they could make at least a 1% improvement in energy efficiency which would, in turn, cover another 4,000 households!
I sat back and smiled. At that moment I felt so proud of my niece and her accomplishments. As I was traveling back to my hotel, I started to think about our clients and their efforts to improve their vendor management programs. What if we applied the power of 1%? Instead of looking at the overall state of vendor management and the immense undertaking it will be to structure and organize it in a meaningful way, maybe we should take a step back and apply the power of 1%. Seek to make a 1% improvement every day in your vendor management program. For your top 100 vendors, maybe organize contracts for just one vendor, today. Then the next day, another. And the day after that, one more. Do this for a little over three months and you'll have improved contract management for this group of vendors by 100%. For some of you, this may be for all of your vendors. Pretty cool huh?
The power of 1% is a refreshing idea and I am so glad my niece shared it with me. I believe it will take the pressure off you as you take on this immense challenge. Each day will bring a sense of accomplishment and before long you'll be proud of your financial institution's vendor management program.
Now if I could only apply the power of 1% to my weakness for desserts…hmm. Maybe not.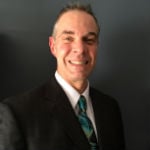 As Senior Business Advisor, Risk Management Services Steve is responsible for helping Strohl Risk Solutions customers succeed. Steve leans on his twenty-eight (28) years of experience to help financial institutions, ...
Web: www.strohlrisksolutions.com
Details