The top 5 #AskCEOBill questions and answers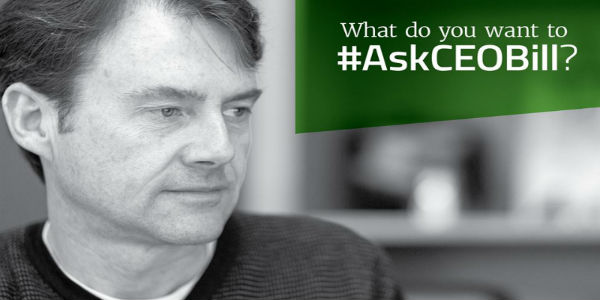 by: Alana Coticchia
I recently had the opportunity to sit down with Hyland, creator of OnBase, President and CEO, Bill Priemer for an hour-long social media chat hosted on our Facebook page. We gave our customers, partners, employees and the media the chance to ask Bill anything. From the daily challenges he faces to who he thinks will win the Super Bowl, nothing was off the table.
If you weren't able to attend the event live, you're in luck. Here are the top five Q&As from the #AskCEOBill chat:
1. Tracy W., Hyland customer: Our university recently moved all email to Google, and with that move there has been a big push for people to use Chrome as their default browsers. This obviously has caused challenge and confusion for our OnBase users on campus. Also, we're seeing more and more people using Google Drive and Docs instead of Office products. What is your plan related to Chrome support for the Web client, OnBase/Gmail integration and OnBase/Google Drive integration?
Bill: Regarding Google Drive capabilities, we have created a number of integration points and have an active development team tasked with supporting and improving Google integration capabilities. For example, we've added the ability to promote documents from Drive into the OnBase repository, to leverage Google Drive as a viewer for both reading and editing office documents and then saving them back into OnBase.
Regarding Gmail, we have an integration that allows users to send documents out via their Gmail account.
continue reading »