What's your social media plan?
Social media. When you hear those words, do you get excited? Or do you cringe? To be honest, I sometimes do both. The marketing world has almost completely shifted this direction. So if you aren't engaged in social media efforts, or your efforts are haphazard, you might be lost in the shuffle.
So, what can you do? Well, first, breathe. And then let's walk through a high-level approach to a strategy for social media.
Define your audience. Really think about this. As a credit union, you likely serve a range of members and need to define each demographic you serve. Who are they? Are there variations by audience that you need to consider? Which targets are you most trying to reach? Write up a description of each specific audience. Give them a name and lifestyle. It helps determine the best method and message to reach them.
Define your strategy. Again, put some real thought into this. What do you hope to accomplish with your social media? If you can't articulate it, it won't be successful. What methods and messages are you looking to get out there? Define your timeline, resources available and budget in order to get a good perspective.
Know the various platforms. Determine the audience connection and understand the specifics of each platform. Who is where? What platforms are most impactful to the audiences you are trying to reach? What works on Instagram may not resonate on Twitter, etc. Develop a strong understanding of what platforms have success with the audience you are trying to reach – if they aren't on a platform, don't spend a lot of time and money there. That way you are best managing the resources you have available to achieve your goals.
Define your budget. Understand paid versus organic. Organic is a by-product of your members engaging and pushing your content out there naturally – like commenting on posts, re-tweeting, liking, etc. However, organic reach is shrinking and you have to develop a strategy to push your content to ensure your audience will even see it. Know and get what you pay for.
Build a fluid plan/calendar. Populate your strategy with a mix of content that engages across different touch points – promotion, news, engagement, contests, tips, etc. All of these combined can have a more pronounced impact thank any one on its own. Allow for flexibility and revisions to your plan but maintain your strategic vision.
Continually revisit and revise. Dedicate the proper resources to be able to engage and respond with your various audiences. Dedicate time throughout the year at different intervals to evaluate the plan and make adjustments as needed. Social media is a fast-moving, ever-changing beast. So what works today likely won't next year. Anticipating change will help you stay ahead of the game.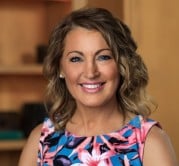 As Director, Public Affairs, Patti provides strategic communications support for the advocacy priorities of GoWest Credit Union Association and its member credit unions. She also helps support relationships with trade ...
Web: https://gowestassociation.org
Details