Words of wisdom from my first Immersion
Last week I got to attend my first Trellance Immersion Conference in Ft. Lauderdale. Trellance (formerly CSCU) is a brand that has really intrigued me. Credit unions are great at adding products, services and projects but seldom have the guts to STOP doing something. Another way to put it is a new phrase I learned from their opening keynote speaker Erik Qualman (equalman) and author of Socialnomics. Trellance had enough data to make the courageous move or "course correct" by shedding their payments systems business and going "all in" on data analytics.
They are truly leading by example. We just published the NACUSO Quarterly Review that focused on Big Data/Data Analytics because WE had enough data from our last event to know this is a hot topic with CUSOs and credit unions alike. I'll be honest when I first stared hearing the phrase repeatedly I was hard pressed to clearly define what it means.
As adults we are cynical learners and will most likely let new information (read new paradigms – showing my age with that word) in if we can relate it to something we already know. Here was my "aha" moment during the Trellance Conference. "No other company on the planet has harnessed the power of data analytics better than Amazon. Like them or not, they are beyond smart on how to serve you."
I was fortunate that my brother Carl (super geek) turned me onto Amazon early (in the late 90's). In those early days we were called Amazonians and the first couple of years my loyalty was rewarded at Christmas with a thank you card FROM Jeff Bezos and some Amazon SWAG.
Everyone knows the story now, they started in a garage in Seattle in 1994 selling only books online. What many people don't know is his original vision for the company. His tagline read the World's Largest online bookseller" but his goal was to be the biggest online retailer in the world.
He named the company Amazon for two main reasons. Back then search engines (pre Google machine) gave results in alphabetical order. And Amazon is the largest river in the world. The arrow on the logo (that also looks like a smile) points from the A to the Z in the word Amazon. Which is a subtle reminder of their vision to sell everything from A to Z. I cannot think of many companies that have that kind of vision in an unknown category.
Another thing that Erik Qualman said in his keynote was "If you're not getting pushback, you're not pioneering." Credit unions hate pushback, especially from the regulators. There was also a lot of "encouragement" to fail fast – something we also do not like to do … except some of us maybe … it's just very slowly, so it's hard to tell.
What made Amazon different from the FIRST online bookstore – the Portland tourist attraction Powell's Books – was the ability to post a review. He was building a data analytics empire. His goal was to lose money as he built this infrastructure, and even though he was very forthcoming of his strategy, Wall Street didn't like it and in the year 2000 the headlines read Amazon dot Bomb as analysts predicted their demise. Today Amazon is the largest e-commerce marketplace in the world. The stock price today is trading at $1846.88 per share, Jeff Bezos is worth $150.7 billion, and he just announced his next venture is to go to the moon and build a new world. Makes sense for such a visionary.
The most compelling statement came on the last day – from Nate Wentzlaff, M360 Product Owner for Trellance. "Amazon would KILL for the data we have on our members. Think about it?" We have ALL of their purchase history, their credit report/score, demographics, assets, employer information and a long history of that data to boot. But what are we really doing with it? Not nearly as much as we could be, or should be, to better serve our members. Our decision processes have changed. Decisions historically were more difficult because you didn't have enough information. Today you may have too much information. Knowing what to do with information is key.
Qualman concluded with this sage advice "Welcome to the blue sky age. The major shift is, If you can dream up something, you can literally do it today. Word of mouth is on digital steroids. Your best members always come from word of mouth. Historically it's been slow, but now it's at scale and it's quick. Your members become your best sales people if you're doing it well."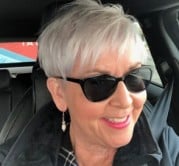 Denise started her credit union career over 30 years ago as a Teller for Pacific NW Federal Credit Union in Portland, Oregon. She moved up and around the org. chart ...
Web: https://www.zest.ai
Details