3 reasons to fall in love with credit unions
October brings some of my favorite things: pumpkins, fall foliage, the World Series, key college football matchups (since the Big 10 doesn't play any real games until mid-season), and the annual International Credit Union Day® (ICU), which translates into a month long fete. It is a time to celebrate credit unions, their unique achievements and – most importantly – their members.
ICU has been widely recognized since 1948 (yes, the year the Cleveland Indians last won the World Series). Thankfully, this is an annual celebration, not one that takes decades upon decades to come around. So let's take a look at what credit unions are celebrating this year. 
Credit unions embrace their uniqueness
Since the opening of the first U.S. credit union in 1909, credit unions have prided themselves on providing financial services for people left unserved or underserved by traditional financial institutions. Today, consumers have a cornucopia of banking options, but that has not slowed down the credit union stride.
Instead, credit unions have capitalized on their distinctions – and the credit union difference is notable.
Earlier this month, we participated in a unique credit union event, the CU Water Cooler Symposium. Just as credit unions are not your typical financial institution, the #CUWCS is not your typical industry conference. Hosted in an Alamo Drafthouse in Kansas City, the event fostered conversations and insights about credit union culture, marketing insights, and technology trends.
This different approach to industry events – which embodies the entire credit union movement – has proven to be successful and enriching for attendees.
Credit unions are on top
Today, the credit union movement is stronger than ever. Membership is growing, reaching over 101 million this past summer in the U.S.
These members are directing more and more savings to credit unions. In fact, credit unions broke deposit records and loan originations reached an all-time high during second quarter 2015, further positioning them on top of a large financial savings haystack.
Credit unions invest in their members through technology
Just like Midwestern home owners invest in leaf blowers to make their lives easier each fall, credit unions leverage technology to make life easier for their employees and banking experiences superior for their members.
They capitalize on innovative technology like enterprise content management (ECM) to improve member service and reduce operating costs. By using ECM to capture information electronically and automatically route it through processes, notifying key stakeholders along the way, credit unions increase the speed and accuracy of important processes like member onboarding, loan application reviews, and wire transfers. With a true focus on members, credit unions take advantage of things like fast and accurate service; dividend payouts; and innovative, easy to use services and products.
To me, ICU Day is significant because it helps share an important message about credit unions: they're not a lesser banking alternative. They're longstanding, proud, and innovative financial institutions that quickly adopt technology to ensure they provide the best member service possible.
This autumn, I encourage you to raise your pumpkin spiced latte to our strong and vibrant credit union industry!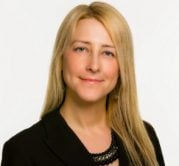 Michelle Shapiro has more than a 15 years of experience in the banking industry to her role as Financial Services Industry Expert at Hyland Software. Her mission is to share ...
Web: www.onbase.com
Details