4 Steps to Earning Your Seat At the Big Table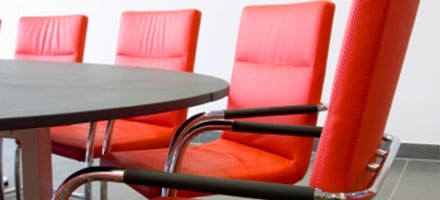 By Randy Schultz, Weber Marketing Group
Yes, I said earning your seat. I talk to marketers every day at conferences, workshops, presentations, and on the phone, and they all ask the same questions, "How do I get the respect I deserve?" Or my favorite, "Why can't I can't get anyone to listen to me?" Really? My first thought is if you are worrying about your seat, you're likely not doing your job. And if you're not doing your job, you're never going to see that seat.
"The staff doesn't even respect us," one will say. While another adds, "Oh yeah, well my Board just thinks I'm sitting in here talking on the phone and designing statement inserts all day." My question back to you would be – "What are you doing to change any of this?"
I can tell you from talking to those who you want to be seated with, what the perception of many marketers has been for years, and sadly, changing slower than any of us would like to see. Here are my top three observations from "the Big Table":
1. "They've been here for three years and I'm not sure they can even read a Call Report." (And if you're asking yourself what that is, you best read on)
2. "I don't believe they know anything about ratios, cost of funds or what we need to do to make money."
3. "I've never seen anything from them but tactical ideas on how to carry out a loan campaign that would tell me there is a strategy behind it that parallels where we want to grow as an organization. There is nothing proactive about our marketing."
Here are four simple steps that can get you headed down the path and into the room where that Big Table is sitting.
Read a book. That sounds really simple doesn't it? Then why aren't you doing it? Ask yourself, "What should my organization be thinking about to get ahead and differentiate ourselves?" Books like Dan Ariely's "Predictably Irrational," or "Delivering Happiness" (about Zappos) by Tony Hsieh. Or, some light reading about a brand experience like "The Trader Joe's Adventure," by Len Lewis. No – you don't see any "How to Run A Successful Marketing Campaign" books here. We're part of bigger world, people! Get out in it and learn from ideas outside our industry.
Find a mentor. I've had a few in my many years in financial marketing. One of them, my boss and friend, Mark Weber. Seek out people you admire and talk to them…and L-I-S-T-E-N to their stories. If it's your boss – talk to him about your interest in learning how you can impact your organization at a higher level, and that you believe a great way to do that is by sitting at the Big Table to see how they work. It's your job to seek out a mentor or two or three. They will not come to you – no matter how great you believe your potential is.
Go back to school! Does that sound harsh? You have so many opportunities to advance your life and marketing skills. Do it within the professional organizations that you have right in front of you: CUES, CUNA, NAFCU, BAI, ABA, AMA (gotta love acronyms, right?). My point is, they all have schools, webinars, and opportunities to learn from some of the best and brightest minds the financial industry has to offer. Use them for all they're worth – because they will make you worth much more in so many ways.
Share yourself. How big is your personal and professional network? That's what all of this is about…going back to school, linking in with people you know and the people they know. And find people outside your circle. If you want to be at the Big Table, expand your network to include those people, and their people, and their people's people. Share what you are working on, pain points you are dealing with, expectations you have of yourself as you grow. I suspect you're out at events, active in your community service organizations like Rotary, that you believe in something so passionately that you are part of a non-profit that aligns with your values? That's your network. Use it!
Focus. If there is one thing we have trouble with ourselves, and many times our organization as well, it's staying focused. We're torn in a dozen different directions every day, so how do we keep any focus on ourselves to grow, learn, and earn our seat at that Big Table? I've done this for years, and it's worked pretty well. Try this:
Write it down. Sounds simple enough, doesn't it? Write down the one thing you are going to do that will get you to read a book, find a mentor, go back to school and share yourself. DO NOT put it in your desk. DO fold it up and put it in your pocket (not your wallet, not in a drawer, not on the fridge or wall. In your pocket). Pull it out every day, read it, and make it happen.
Earning your seat is about being of value and earning trust. It's an everyday thing you'll want to build on for the rest of your life.
Randy has more than 30 years of financial industry marketing experience.  His unique "out-of-the-box" approach to exceeding clients' expectations has garnered him numerous industry accolades. Having worked as a marketing ...
Web: www.strumagency.com
Details