Benchmarks: How Many Of Your Consumers Should Be Using eStatements?
by Ron Daly
Recently, a number of clients have written us emails asking for the "industry standard" of eStatement penetration. While there are any number of results in your typical Google search, we wanted to offer our clients and, in turn, our blog readers a thoughtful answer. So we took the number of eStatement users each of our clients had, compiled our data into an Excel spreadsheet, ran some of the averages and came up with some numbers we think are quite interesting.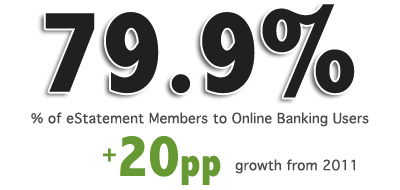 Yep, you're reading that correctly – nearly 80% of online banking users have eStatements. These folks manage their money online and take advantage of eStatements. This number grew twenty percentage points in one year, leading us to believe that more and more people are making the connection between electronic documents and smart money management.
continue reading »