Boundaries before burnout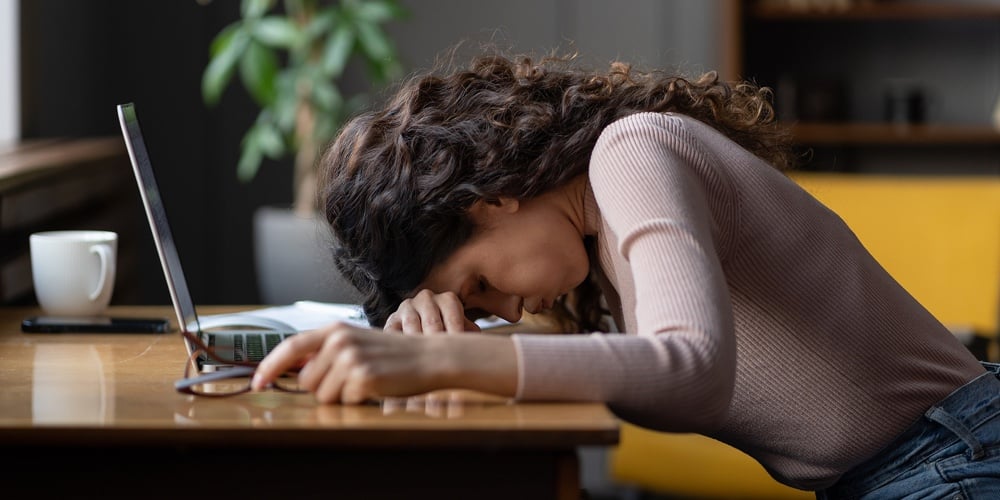 Have you heard of Quiet Quitting?  A TikTok video with over 2 million views is trending on the subject and it is making some big waves in the hearts and minds of the workforce.
Quiet quitting is pushing back from the grind and hustle to figure out what's next at work. It's managing and putting boundaries in place through awareness and using energy to safeguard exhaustion. I know… employee engagement is already a challenge.
At the core of quiet quitting is choosing a life beyond career. Some are suggesting why give an organization all of you for the sake of your career. The hustle and grind rhetoric laced in glamour is no longer stylish, so to speak. I personally think quiet quitting has been brewing for some time now. Perhaps a recalibration of mindset and heart. For many, the toll of the pandemic and 'life-ing' during uncertain times is heavy. With job losses, inflation and economic twists and turns, looking at life differently is at the forefront. Life over grind. Mental health over exhaustion. Boundaries over burnout.
I first learned of quiet quitting watching the morning news.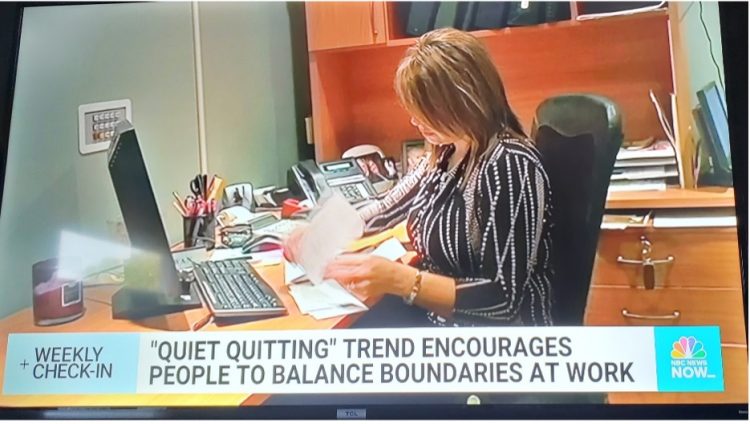 The therapist being interviewed stated, there are many factors to consider why employees choose to quit on payroll. It may not necessarily be slacking on the job, or inspiration for the work, but a form of energy management and boundaries alignment. According to the therapist, some have chosen to reduce their workload to gain balance as a protective mechanism to avoid burnout and stressors. They're quitting earlier and managing projects and time more holistically. Some are declining and saying 'no' to more on their plate. It's taking a more conscious effort to manage their mental well-being, align values and put boundaries in place that incorporate work-life integration.
However, there is another group that has quietly quit while looking for employment, low pay, career opportunities or unrealistic workloads.
As leaders and managers it's important to understand what is being communicated. In my opinion, it's more than a trend or TikTok video going viral – it's the power of the employee voice. The undercurrent of what is not being said, is the culprit of quiet quitting. So what do you do? Communicate! It may be time to look at your culture from the lens of fulfillment, structures and systems, opportunities and mental health. Here are some questions to consider:
Are you truly operating from an unrealistic framework? What I mean by unrealistic … are you expecting your leaders and team members to give more than you've been pouring back into them? Is the work balanced?
Do you have a burnout culture? 
Do you know what interests or sparks each person?
At the heart of the above questions is 'burnout.' Are you listening to what the managers and leaders are saying or have not said? Burnout can be subtle or sudden. To ensure you're not cultivating a burnout culture it may be a good idea to ask how engaged and what values and boundaries are important to each person.
Reminder … people quit before they physically hand in their resignation papers.
LaVada Humphrey is a Consultant and Speaker, serving the credit union industry. She specializes in leadership, workplace engagement, coaching, and conflict resolution. LaVada believes the workplace should be a safe ...
Web: https://www.purerising.com
Details