Brand and marketing lessons from Winnie the Pooh
As a lifelong fan of Winnie the Pooh, I was super excited to hit the theater for a recent showing of Disney's Christopher Robin. In short, the film tells the tale of an older Christopher Robin who has left the tranquility of the Hundred Acre Wood for life as an adult in post-World War II London. Far from the innocent and lively child he was, Christopher Robin is burdened with the drudgery and tedium of adult life and requires a fresh introduction to old friends like Pooh, Piglet, Tigger and company to recapture his spirit and save his family.
After I got over a couple of the weepy spots in the movie (I'm not ashamed to admit I cried a couple of times) a lifetime of exposure to Winnie the Pooh in literature (author A.A. Milne) and film led me to think about brand and marketing lessons we can learn from certain Pooh-isms (bits of wisdom from the rumbly-tumbly bear himself).
Wisdom from Pooh: "It is more fun to talk with someone who doesn't use long, difficult words but rather short, easy words like "What about lunch?" 
Application for You: Consumers feel exactly the same about your bank or credit union's marketing collateral. Stop trying to impress people with a bunch of inside jargon and/or text that goes on and on and on. People simply do not read as much as they used to and are much more accustomed now to shorter bits of text with accompanying pictures or graphics. Avoid those long, difficult words and stick with short, easy ones.
Wisdom from Pooh: "If the person you are talking to doesn't appear to be listening, be patient. It may simply be that he has a small piece of fluff in his ear." 
Application for You: Good marketing and branding messages take time to permeate the minds and hearts of consumers. Don't lose heart if your messages don't seem to have an immediate effect. This applies to both internal staff and external consumers. Remember that branding in particular is a marathon, not a sprint, and the best results are obtained with steady forward progress over time. Be patient and wait for the small piece of fluff in the ears of staff and consumers to blow away.
Wisdom from Pooh: "Sometimes the smallest things take the most room in your heart."
Application for You: Everything in branding matters. From the boardroom to the bathroom. Every single granular detail like the health of your landscaping, peeling paint, cluttered desks and trash in the parking lots. On the flipside, your brand can also make a name for itself by doing the small things consumers simply no longer receive in our competitive yet impersonal retail environment. Seemingly small things like friendly hellos, smiles, eye contact, using their names and a degree of branded language that fits your financial institution can make a huge difference. These small things can occupy a large room in the hearts of your consumers.
Winnie the Pooh often referred to himself as "a bear of very little brain." The more I reread his stories and think about his wisdom, the more I understand that brain does not always translate to wisdom. A stout little bear in a idyllic wonderland created in the heart of a young boy offers wisdom aplenty for those who can take the fluff out of their ears to listen.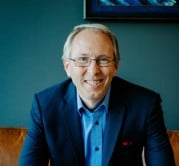 Mark Arnold is an acclaimed speaker, brand expert and strategic planner helping businesses such as credit unions and banks achieve their goals with strategic marketing insights and energized training. Mark ...
Web: www.markarnold.com
Details