Credit union net worth – enough already!
Have we lost our way?  Have we forgotten who Net Worth belongs to?  Have we forgotten about the uniqueness of the cooperative model?  There is much discussion in the credit union industry about the very questionable reasons for mergers and the shrinking number of credit unions.  However, there is little discussion about what can or should be done.  How about we talk about something that can be crucial to help smaller credit unions survive and thrive – Net Worth?
We'll leave aside NCUA's recently approved CCULR that applies to CUs over $500M and focus on smaller credit unions.
Can we agree on a few things first?
The cooperative model is unique. We know credit unions are owned by our members, the very same members we serve and the very same members to whom we must answer.  We do not answer to stockholders, and we must meet the challenge of doing what's best for our member-owners while being financially healthy.
Net Worth is our members' money, they own it. The purpose of Net Worth is to keep only what is necessary to protect against risks.
Hoarding excess Net Worth from its owners serves no purpose when it can be strategically utilized to help ensure the institution survives and thrives.
Basic stuff, no?  But do you think and operate with these basic tenets in mind?  Do you brag about your high Net Worth?  If so, shame on you.
Let's look quickly at the data and then walk through how to strategize (yes strategize) around Net Worth.  Specifically, how to determine a range to operate within and how to get there.
What does the data show?
Net Worth and year-over-year growth metrics for credit unions by asset size and other key ratios as of September 2021 are telling:

Smaller institutions have strong Net Worth positions overall yet are struggling to be successful in the key areas of the business that will keep them relevant.  Enough already!  Determining the excess Net Worth is the first step in assessing what is available and appropriately utilizing it and not hoarding it.
Determine an appropriate range to operate within
You can have in-depth, sensitivity analysis prepared but let's start with the basics.  Evaluate each of the common risks areas and assign a range of risk factors for each.  This essentially allocates Net Worth to each of the risks.  Include the impact from high asset growth.  The goal is not to nail down an exact number but get a feel what the range of Net Worth is that the credit union should safely operate within.  Below is one hypothetical approach: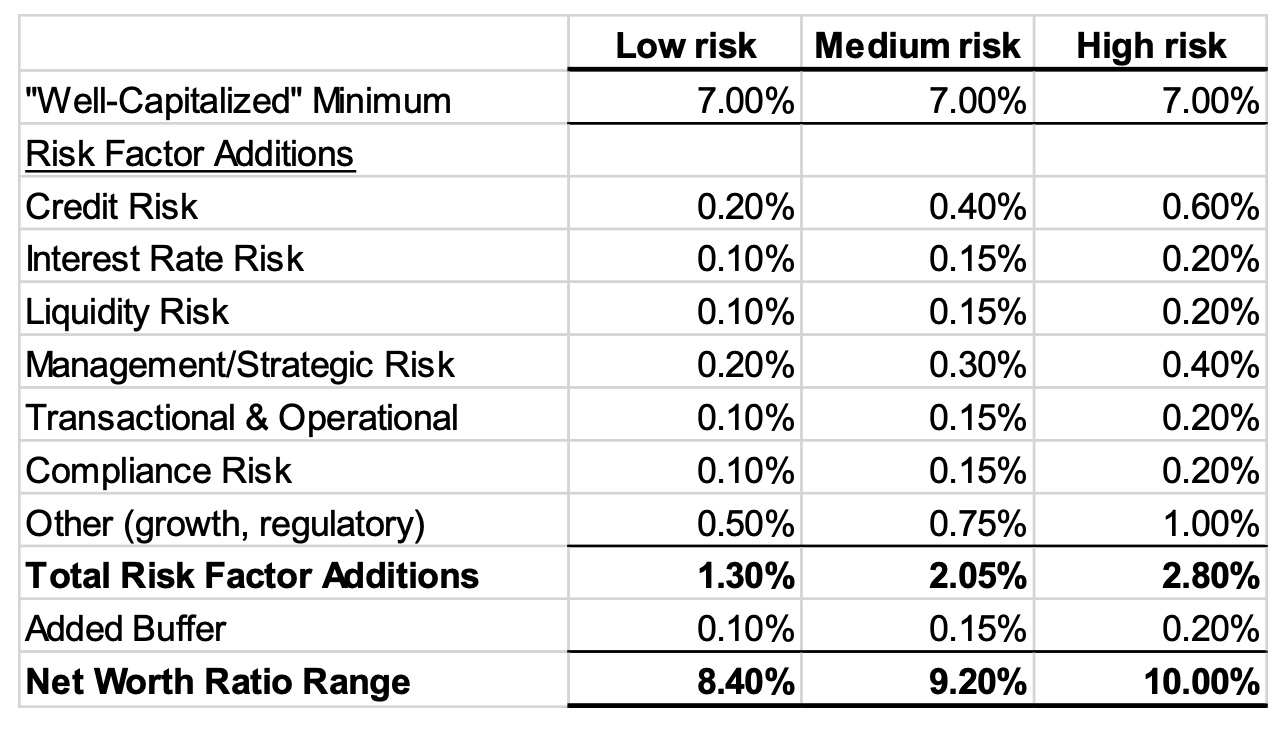 In this example, the credit union should target a Net Worth between 8.40% and 10.00%.  If the credit union has Net Worth of 10% and every high risk occurs, Net Worth would be 7%.  Obviously, the likelihood of that happening is remote.  Further, assessing each risk as low, medium, or high can help further define a Net Worth ratio to target.
Develop a strategy to get there
If the credit union is above the targeted Net Worth ratio or the range to operate within, it's time to get to work and determine how to return any excess to the member-owners.  Have a healthy debate amongst the board and management on the strategic options.  These options could include driving loan volume with better rates, investing in new technologies and services, providing a giveback and a combination of all these strategies.
Consider developing a budget or long-term plan with lower ROA that brings Net Worth to its target.  It's a "win-win" for the credit union and the member-owners.
Change
Change is never easy.  Stepping out of our comfort zones and implementing these strategies will grow relationships with member-owners and improve your relevancy.
Directors and Management, ask yourselves:
What is your Net Worth, and do you know what it should be?
Have you worked together to determine an appropriate range to operate within?
Have you discussed strategic initiatives to return excess Net Worth to your member-owners, if needed?
Let's remember the purpose and role of Net Worth.  Develop plans to strategically utilize excess Net Worth to help ensure your institution survives and thrives.
If you need help, Aux is available to guide you through this process.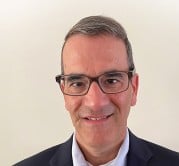 Rich has over 38 years of finance and accounting experience, including 17 years in the credit union industry, the last 13 as the CFO for a large credit union in ...
Web: https://auxteam.com
Details