DEI champions: Burning out or burning bright?
In the summer of 2020, the DEI profession was among the fastest growing occupations in America. Fortune 500 companies were adding first-ever, executive-level DEI leaders, and credit unions were, too. The only problem? While the title was there, many of these roles were under-resourced, under-valued, and mis-understood. People were being tasked with the role of "DEI" without their own training to navigate the change management needed to succeed and in organizations where the authority and resources to make change happen were lacking. Even in those organizations that were serious about the strategic integration of diversity, equity, and inclusion, the emotional burden that people would carry—in a time when so many of the DEI practitioners were themselves hurting—was heavy and too big to shoulder alone.
According to a recent study conducted by LinkedIn, the role of the Chief Diversity Officer is among the shortest-tenured and highest turnover C-level positions, with an average term of less than 3 years. As the head of DEI, you're likely given the difficult task of dealing with what can be considered polarizing subject matter. The individuals leading DEI need to be bolstered, supported, and resourced in order to succeed.
What if I told you there is a group of professionals who work in diversity, equity, and inclusion in credit unions all across the country who serve as that support network for one another? Who come together regularly to share their challenges and celebrations in DEI work? Who offer support and tools in the face of obstacles? Who engage in deep discussion on how to better serve members and employees with strategic integration of practices that improve diversity, equity, and inclusion in your organization?
And what if I told you that you could be part of that group or could give this resource to someone who needs it in your organization?
In the summer of 2020, Humanidei founded a DEI Practitioner Network when we recognized a gap in the industry. With DEI quickly gaining steam across the corporate landscape, there were suddenly industry professionals being thrust into positions where they were called to lead efforts on inclusion and diversity at their respective credit unions. When we observed how many of these individuals were left to fend for themselves without the proper support, we created a peer resource group for credit union leaders who were at the helm of DEI efforts. The network offered a safe space for people to share ideas and resources, encourage the efforts of others, and to connect with other credit union leaders in the DEI space. Launching during the height of the coronavirus pandemic, the DEI Practitioner Network held monthly meetings in a virtual format. This not only ensured the safety of network members, but also opened the door for participation across the nation.
The DEI Practitioner Network has continued to meet and grow since its inception. It has attracted professionals from credit unions of varying sizes and locations. Members have shared items like communication tools to support transgender employees, processes for launching employee resource groups (ERGs), and constructive conversation on the use of credit scores in equitable lending and employment practices. Even as we continue to read headlines about corporate DEI initiatives that are losing steam, about the Great Resignation disproportionately impacting women and people of color (often the demographics of the DEI leaders at most credit unions), and a lack of measurable progress for many DEI efforts, this Network has allowed us to see how some of the best and brightest lights in the credit union system's diversity, equity, and inclusion growth are shining.
The DEI Practitioner Network is a living embodiment of the cooperative principle of "cooperation among cooperatives," creating tremendous value for the participants. With credit unions' adoption of the 8th Cooperative Principle of DEI, we know that the commitment to this work must hold firm: When we are tired, we must persist. When we are drained, we must find the energy. When we are uninspired, we must have hope. Joining with others using our cooperative, we may become the financial services providers who get financial inclusion right.
If this is a burden you are carrying for your credit union, you are not alone. There is a place for you to learn, to share, to grow, and to burn bright when you feel like you might be at risk of burning out.
For more information on the DEI Practitioner Network or to join, reach out to any of us at Humanidei. We would love to have you in our network!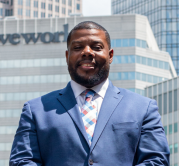 Carl Clark began his credit union career 13 years ago. Having worked in marketing within the public, private, and non-profit sectors, Carl has wide-ranging experience working with business and community ...
Web: https://humanidei.com
Details