Do the latest 2023 economic predictions have you asking 'What If'?
As the year winds to a close, we are caught between reflecting on the blur that has been 2022 and trying to get ahead of 2023. Even though experts are predicting a recession next year, there is still good news for credit unions. The recession is expected to be mild for credit unions, especially those that are using data to drive their strategies.
If you have not already taken the step to leverage your data for strategic decisions, it is time to get started. A solid analytics strategy, coupled with a robust data warehouse, will make it easy for you to obtain baseline reporting as well as answer the important question of "What if?"
Consider the following trends, and your ability to answer these associated questions:
What If… you raise loan rates? Lending is expected to slow in 2023 due to rising interest rates. Do you know what this means in terms of your bottom line? The decisions made around loan rates today will impact your business for years to come. Using a what-if model on top of your data warehouse will drive you to implement a sound rate strategy.
What If… you raise deposit rates? The National Credit Union Administration reports that liquidity risk is one of its highest priorities going into 2023. Most credit unions are currently in need of deposits to maintain sufficient liquidity, and increasing interest rates is one way to make that happen. But how high is high enough to bring in deposits—and how high is too high in terms of net income impacts? Applying a what-if model to your deposit portfolio will help answer these questions.
What If… your interchange income drops? Many credit unions rely on interchange as a key income source. But between changing consumer behavior as well as ongoing attempts to target interchange through legislation, this income source is at risk. Credit unions should be analyzing what portion of their income comes from interchange, and using a what-if model to consider what would happen if a portion of that income disappeared.
When you have access to your data in an easy-to-use data warehouse, performing these types of calculations is simple. But for many credit unions, the challenge lies not just with accessing the data, but with interacting with the data. This drives analysts to create massive spreadsheets that contain manual errors, rely on inefficient formulas, and quickly become outdated. A better solution is to leverage a user-friendly analytics tool that allows you to perform these calculations on up-to-date data at any time.
Lodestar Technologies empowers credit unions with several what-if models built right on top of their multi-source data warehouse and business intelligence solution. In addition to the baseline model, you also enjoy the ability to create your own custom scenarios at any time. Best of all, Lodestar is built and powered by industry experts from the financial industry who know your data and understand your challenges. If you are interested in learning more about how Lodestar can help you become more data-driven, visit us at lodestartechnologies.com or contact us at info@lodestartech.ca.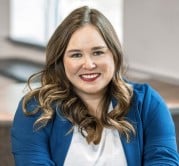 As an experienced leader in the industry, Andrea Brown enjoys sharing her passion with credit unions as they define—or refine—their analytics journeys. Andrea spent nearly a decade cultivating ...
Details