Dr. Seuss for Credit Unions 8: Don't Grinch Your Credit Union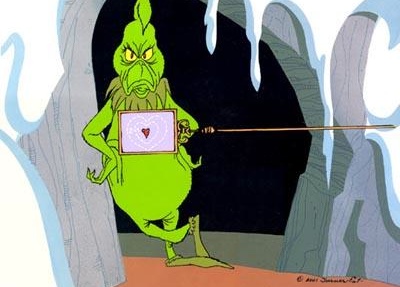 As a credit union executive you're overwhelmed. You're dealing with a lot. Surly regulators, mounting regulations, unmotivated employees, and more challenges than you've ever seen previously in your credit union career.
by Bo Mc Donald, Your Marketing Co
It happens. Sometimes you just lose your passion. Who can blame you? As a credit union executive you're overwhelmed. You're dealing with a lot. Surly regulators, mounting regulations, unmotivated employees, and more challenges than you've ever seen previously in your credit union career. You've become the Grinch and lost your enthusiasm. The mission of your credit union has taken a back seat to pleasing auditors and growing the bottom line. Not for profits sake, but just to stay afloat.
Maybe you feel like your heart is two-sizes too small. Perhaps your brain is full of spiders and you've got garlic in your soul. It's time to have your "Grinch on top of the mountain" moment and come back to reality. Just like the Christmas that came to the Whos with no ribbons, tags, packages, boxes, or bags; your members will continue to "bank" with or without your credit union. You can sit in your cave, grinching about the state of the industry, or you can help carve the "roast beast" with your members.
Here are a few tips to help un-grinch yourself and get back to the basics of "people helping people":
Change your attitude on fees. It may seem contradictory; especially for some of the credit unions we work with who are reading this. "WHAT? You said to charge more or start charging a new fee?" True. If your credit union is faced with needing more income, perhaps it's time to take a look at some "good" fees. "Good" fees are those that your member chooses to pay. A "fee" to have a checking account is an example of a "bad" fee. However, a "fee" to go negative on an account is a good fee. You're providing an elective service to a member and doing them a favor. The more mandatory fees you add, the more you look like the guy in a three-piece suit flying from the 38th floor in a golden parachute. If you're looking to differentiate yourself from the banks and gain more share of the market, adding more "bad" fees isn't the way to do it. Remember that old saying "Not for Profit, but not for Charity?" Find that happy medium.
Treat employees as your most valuable resource, not a commodity. "But our employees aren't engaged, they just show up and do the bare minimum." So why haven't you replaced them yet? Last time I looked the unemployment rate in our country is still hovering around 9%. There are a lot of good people out there who would like to have that job. Stop making excuses and get the right people in the right seats in your organization. Your front line staff is the most important asset when it comes to marketing. You can spend $50,000 on a marketing campaign, or the same on an employee. I guarantee the right employee with the right attitude will produce an amazing amount of new loans for your credit union. Creating a unique team culture at your credit union where employees feel valued, and a part of an important mission will yield results beyond your wildest dreams.
Members are people with stories and dreams. Remind your staff that when a member comes in for a car loan, it's not really a loan that they need. It's a car. It's the car that will get them from home to work to earn a paycheck that will put food on the family table. It's the car that will get the family to the beach every summer and create lasting memories. It's not a mortgage that the member needs. It's the first house that creates an equal amount of excitement and nervousness with the largest purchase anyone will ever make for the first time. It's not a personal loan that the member needs. It's the loan to cover the cost for that engagement ring that some lucky young lady will be wearing and showing off to all of her friends and family. Stop making commodities of your products and your members. When you look at every member as a person with a story and a need, your members will remember your credit union and staff as the people who made that dream come true.
I challenge you to "un-Grinch" yourself and reset your priorities at your credit union. Put your members first and help make their dreams come true. Help them with their financial questions and struggles. Be their financial partner, and the rest of your worries will seem trivial. Put your team first, and treat them like people who have hopes, fears, and dreams. Remember the scene in the Grinch where he lifts up the sleigh with all of his might and finds the true meaning of Christmas? Let this be the moment that you lift up your credit union with all of your might, and be the shining light to your members and your community. Let your organization be the one that the community turns to when they have financial troubles that need to be cured and dreams that they wish to become reality.
Bo McDonald is president of Your Marketing Co. A marketing firm that started serving credit unions nearly a decade ago, offering a wide range of services including web design, branding, ...
Web: yourmarketing.co
Details