How reviews can help your credit union find new members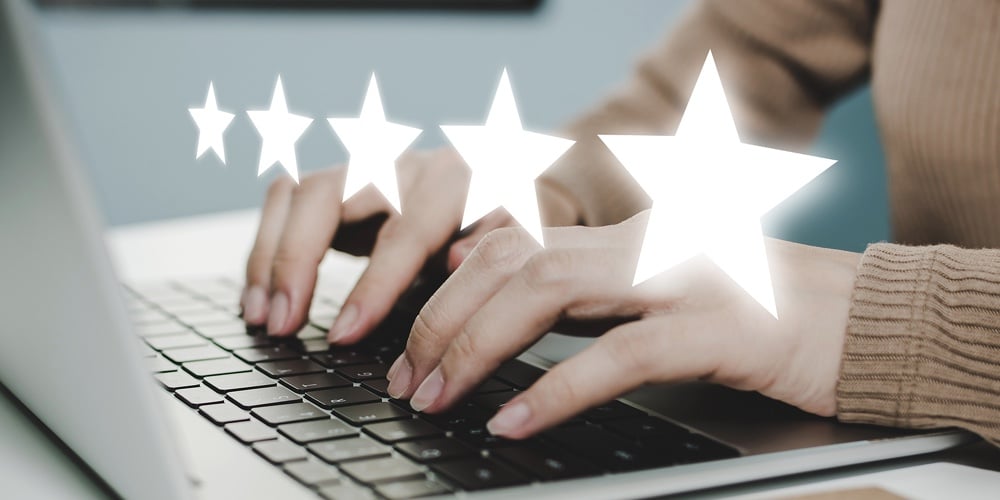 Your online reputation matters. And if potential members are reading online reviews that don't accurately reflect the customer experience you provide your existing members, you're likely losing to the competition.
Over 90% of consumers read online reviews before purchasing a service from a local business. Selecting a credit union is no different. In fact, 90% of loan and mortgage consumers do research on Google before selecting a provider. And after their search, those loan and mortgage consumers spend an average of $28,435. If your marketing efforts don't include prioritizing reviews, it's time to make a shift.
Here are three ways online reviews can help your credit union find new members:
Capture local searches
Consumers are searching for a credit union like yours—right on their mobile device. Searches that contain the phrase "bank near me" have increased by over 60% in the past two years. And those organic searches drive consumers to call financial services providers—64% of incoming calls come from organic search.
Local searches are critical for capturing new member leads.
In order to capture local searches, you must focus on two important areas:
Claim your Google My Business listing for each branch location
Make sure each branch location has a Google My Business listing with up-to-date information including: phone number, hours, photos, website address, etc. Search results prioritize relevancy in the ranking—ensure each location shows up when location is critical to the lead making the search online.

Request reviews for every branch location
Local reviews are vital to capturing local leads. A review that details the experience a member had at Branch A's location won't boost your search ranking for Branch B, nor will it influence the decision for a new member to choose your credit union. Local reviews are built for local search results—request reviews from every member to increase the quantity of reviews across each location.
Improve your search ranking
Over 80% of loan and mortgage customers (and over 90% of check cashing customers) do not have a specific business in mind when they begin their search online. And because 75% of all clicks go to the top three to five results, converting these organic leads should be a top priority. To convert more leads, you must improve your overall search ranking. And to improve your search ranking, you need to understand what goes into showing those top results.
Relevance (how close your business matches the search terms), distance (how close your business is to the searcher), and prominence (how well-known your business is overall—this includes both review count and average review score), all add up to showcase the top results in Google. However, results can be prioritized based on just relevance and prominence ratings, even if your business isn't the closest option to the searcher.
To boost your chances of showing up in the top three to five results, implement a review request program. Follow these best practices: 
Ask for review via text
9 out of 10 consumers want to engage with businesses via text (yes, even your credit union members!). And that's great news! Nearly all text messages are opened compared to just 20% of emails. Traditional methods of asking for a review fall flat—phone calls, emails, postcards in the mail, and even in-person asks. Ask for reviews after a member engages with you on a new product—signs up for a loan, opens a checking account, inquires about a mortgage. By asking via text, you're personalizing the ask, delivering right to consumers' preferred device, and increasing your chances of the member leaving you a review. Don't forget to include the link to the review request in your text!

Respond to online reviews
Just as important as the initial ask for a review is your job of responding to those reviews online. 90% of consumers who are reading reviews also read the responses (or note the lack of responses) from the business the reviews are about. Positive reviews are an easy target—thank your members for leaving you a review publicly. But negative review responses are the most important—acknowledge the experience of the member who left the review and address the issue.
Show up where members are looking
Adult consumers in the United States spend over 4 hours every day on their mobile device. New members are starting their search for a new credit union right from their phones. For financial planning and management research—mobile searches have increased by 70% in the last two years. Nearly 50% of all financial services phone calls originate from mobile search. And 52% of paid search phone leads come from a mobile device. It's clear that mobile is an important channel for new member leads.
To make sure you're showing up where new members are looking, show up in the right places online:
Prioritize Google reviews
Over 90% of consumers review Google reviews before they make a purchase or choose a local service. If you are just launching your review request program, prioritize reviews for Google. They'll boost your search ranking and your online reputation with new members.

Embed your reviews on social media platforms and your website
When consumers aren't specifically searching for a solution on their mobile device, they're spending time on social media. The average time spent on social media sites has increased to nearly two and a half hours per day. As part of your online presence, your social media posts should include testimonials and reviews of your credit union offerings and overall member experience. And it will pay off—70% of customers say that online reviews are more trustworthy than traditional advertising efforts. Online reviews can make a big impact on your new member growth!

To learn how reviews are impacting financial institutions more than ever before, check out the 2021 State of Reviews for FinServ report. You'll find over 40 statistics on how reviews directly influence consumer behavior and key insights on how to show up better online.