3 ways credit unions can use texting
The days of direct mail and email blasts have been over for some time, but most businesses (and financial institutions) haven't fully captured the power of consumers' favorite communication tool—their phones. While texting has been around for decades, its popularity has only increased. Nearly every consumer sends or receives at least one text per day, 98% of all text messages are opened, and 95% of texts are opened within the first three minutes or less.
The problem? Most credit unions aren't capitalizing on the natural opportunities to use SMS to enhance the member experience and to improve the member/credit union relationship.
Keep reading to find out how credit unions can use SMS and not just add convenience for consumers, but increase engagement and create connection:
Add convenience to member appointments
Member appointments—whether in person or online—can be difficult to schedule and even more difficult to coordinate with document downloads, specific login information, and checklists for what paperwork members need to gather at home before the meeting.
Instead of sending appointment requests and document updates back and forth through email—which only seems to get a 20% open rate—transition to texting. It's all around more convenient for consumers.
Add convenience to member appointments:
Offer to schedule appointments via text: As you interact with members in their loan journey or schedule an appointment to discuss the different services at your credit union, offer to schedule appointments via text. It's a natural way to collect opt-in permissions as members use the text-to-schedule option (either directly from your website or even via QR code from your in-person location). And with a growing texting list, you can reach out to members about other offers and services from your credit union.

Send documents and links via text: Whether it's ahead of the appointment, during your meeting, or even as a follow up, send documents and links via text. Those resources will be easier for members to find later and to pull up during an appointment. Plus, with a focus on how to make the member journey more personalized and convenient, your credit union will stand out as member-first and member-focused.

Send reminders about appointments or deadlines via text: Emailed appointment reminders are lost in busy inboxes and phone calls are ignored. Send reminders about appointments or deadlines via text instead. The open rate for texts is an incredible 98% and with personalized messages, including your member's name, you can use the opportunity to remind members about their appointment and continue to nurture the member/credit union relationship.
Send follow up messages or action items via text: Post-appointment follow ups are critical, especially for members securing a mortgage loan or an auto loan. Don't send those follow ups in a channel that won't be convenient. Send messages and action items (and those mortgage document checklists!) via text and you'll get more member engagement and you'll stay on top of your desired timeline.
Increase engagement with NPS surveys
Every credit union should be tracking their Net Promoter Scores (NPS). And with texting, it's a lot easier to increase engagement with survey requests. Used to predict business growth based on member experience, NPS helps you understand how your reputation equals revenue. When your members are happy, you can leverage those reviews and recommendations to earn more members. And when members share feedback about how they aren't happy, you can use those findings and patterns to make changes where necessary.
Increase engagement with NPS surveys:
Send NPS survey requests via text: Ditch the unopened email campaign and send your NPS survey request via text. You'll get a higher open rate and response rate. Include your survey link right in the text (and personalize the message with each member's name) and you'll remove any barriers for members so they can easily click on the link and take the survey.
Offer the opportunity for members to send feedback via text: Outside of the NPS survey, texting offers a great opportunity for members to send feedback directly to you. When they have a negative experience, instead of waiting for a poor review or a negative NPS survey, when a member already has a relationship with a credit union that utilizes texting, they can share their experience with their contact there.
Send offers and promotions about new services and products
Data shows that only 7% of consumers are highly engaged with their financial institution while more than 20% are completely disengaged. Communication methods like email and phone calls only make the gap of engagement wider. Texting offers a unique way to communicate with members, make messages personalized, and provide easy access to new offers and promotions.
Send offers and promotions about new services and products:
Deliver personalized promotions via text: Consumers report that they want to receive personalized offers and 75% say they want to receive personalized offers on their mobile device. Texting provides a great way to send new offers and product information, directly to members and even potential members.
Re-engage members who are disengaged: If your credit union is like the national average, 20% of your members are completely disengaged. Use an SMS campaign to re-engage those members by sending personalized offers via text. Personalized messages about the offers they already use and those that could enhance their financial experience are a great way to offer value to members that need a boost to reconnect with your credit union.
Looking for more ways to use SMS in your member journey? Check out this free eBook: The Modern Customer Journey—10 Ways to Text.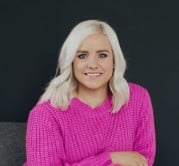 Raechel Duplain is an experienced SaaS product marketer and currently leads the Solutions Marketing team at Podium, a marketing and communication platform for local businesses. Raechel is an award-winning content ...
Web: https://www.podium.com/financial-services
Details