As data becomes more integrated into our daily lives, both personally and professionally, it is important to remember the distinction between data, analytics, and insights. While the three terms are often used interchangeably, in reality the meaning behind each word is much different.

Data is one of the most valuable resources a credit union has, but it does not necessarily become valuable until it is analyzed and transformed into insights. These insights lead to actions that generate revenue, mitigate risk, improve efficiency, and so much more.
Now that you have a clearer understanding of the difference between data, analytics, and insights, you can start to think about the way each of these resources are being leveraged at your financial institution. You are likely to find different business units are using data in different stages of maturity.
Stage 1: Data
With the amount of data available, nearly every department is using data in some capacity. Even if they are not using data, they are certainly producing it. In the early stage of analytics maturity, data is mostly used to prepare operational reports. This could include things like opened and closed account reports, staffing reports, contact center call volume reports, or similar types of reporting. Often, data is being pulled from a system, added into an Excel spreadsheet, and shared with others through the organization.
Stage 2: Analytics
What happens after the data is pulled, copied and pasted, and shared? Is a person, or group of people, reviewing these reports to see if something stands out? If so, that group is now using analytics rather than raw data. Credit unions often have challenges moving from operational data into analytics due to the time-consuming nature of preparing the multitude of reports requested on an ongoing basis.
The concept of analysis paralysis is real and is something many companies struggle with – not just credit unions. When a person is responsible for pulling and manipulating large amounts of data on a repetitive basis, it can be very difficult for them to then analyze that data. Their mindset has been to ensure the data is complete and accurate rather than to uncover the story being told. This is where a data warehouse and analytics platform can make a big difference. By streamlining and automating the preparation of reports, decision makers are able to change the way they interact with data. Instead of reviewing for accuracy, they are able to think about what the data means and how it can be used.
Stage 3: Insights
You may find that there are some departments taking the analysis of their data to the next level. However, this is still somewhat rare in the credit union space as it requires a level of data science and/or business intelligence tools that many institutions simply do not possess.
A multi-source data warehouse and sophisticated business intelligence tools can improve the quality, quantity, and availability of data. Combining data previously held in silos throughout the organization allows leadership to obtain a comprehensive view of member engagement, product performance, and many other key metrics.
In addition, many tools now have machine learning and artificial intelligence functionality built in, which allows the technology to analyze data in ways that simply are not possible for humans. The challenge with these tools, though, is that it takes an experienced data scientist to create meaningful and actionable insights.
How can you provide insights for everyone?
Every financial institution is at a different place in their analytics journey. The first step in moving towards an insights-driven approach is defining your data strategy. You'll want to understand the people involved, where you are in your journey today, and where you want to go. With these components defined, you will be able to outline a roadmap and realistic timeline to get there.
While it may take longer than desired to start turning your data into actionable insights, remember to celebrate every success along the way. Building a solid foundation with data for operational reporting is a critical milestone that must be achieved before moving into analytics. Likewise, having a solid understanding of how to interpret and analyze data is a requirement before you are able to turn data into insights. As they say, you must learn to walk before you can run.
If you are ready to start turning your data into insights, you may find that choosing a trusted strategic partner can jumpstart your progress. Lodestar Technologies provides the platform and the people needed to take your data journey to the next level. Lodestar's technology solutions include a multi-source data warehouse, best-in-class business intelligence platform, and purpose-built workflow modules. Their staff are data people at heart, with each employee boasting years of analytics experience in the financial services industry. Visit lodestartechnologies.com to learn more or download our free eBook to access more than 40 real-life use cases that have been deployed across Lodestar's client base!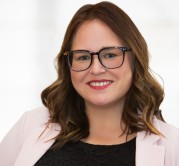 As an experienced leader in the industry, Andrea Brown enjoys sharing her passion with credit unions as they define—or refine—their analytics journeys. Andrea spent nearly a decade cultivating ...
Details