The CUInsight Experience podcast: Adrian Johnson – Culture of caring (#28)
"Live simply, care deeply, speak kindly, and give of your time and your treasure." - Adrian Johnson
Welcome to episode 28 of The CUInsight Experience podcast. Hosted by Randy Smith, co-founder and publisher of CUInsight.com. Today's guest is Adrian Johnson the senior vice president and chief financial officer of MECU of Baltimore. He is also the board chair of the African American Credit Union Coalition. We chat about the mission and purpose of the credit union in the Baltimore community and giving back. 
After leaving the banking world, Adrian found the credit union and loved the servant mindset and ability to give back to his community. He was hooked. He has spent his entire working life making a difference in the lives of the people in his credit union and his community. His work on the AACUC has helped increase the level of diversification in credit unions in his area, but his goal has not been met. 
Learn more about credit unions impact their surrounding communities and why the war for talent is heating up. Adrian has been in the business for more than 40 years and has innumerable insights to share.
Subscribe on: Apple Podcasts, Spotify, Google Podcasts, Stitcher
How to find Adrian Johnson:
Adrian Johnson, SVP and CFO of MECU of Baltimore
ajohnson@mecu.com
www.mecu.com
LinkedIn | Twitter 
Show notes from this episode:
Organization mentioned: African American Credit Union Coalition
Conference mentioned: AACUC Conference.
Shout-out: Dave Ramsey's Financial Peace University
Album mentioned: Michael Jackson's Off the Wall Album
Books mentioned: Proverbs in the Bible, The Tortoise and the Hare, Everyday Millionaires, and Growing Money
Shout-out: Bert Hash, Jr.
Previous guests mentioned in this episode: Maurice Smith
You can find all past episodes of The CUInsight Experience here.
In This Episode:
[00:28] – Welcome back to the show! Randy introduces Adrian Johnson, today's guest.
[02:18] – Adrian talks about the impact of MECU in Baltimore and the culture they create.
[03:37] – At MECU, the goal is to attract people who are service oriented and want to make a difference. Adrian shares how they are waging the war for talent.
[06:53] – The drive to help people was ingrained early on for Adrian and has gotten stronger as he's grown in his career.
[10:30] – What threats are credit unions facing?
[12:07] – Adrian joined the AACUC in 2002 and chats about the impact it has had on his life and career and the credit union world as a whole.
[15:27] – Randy shares one of his favorite credit union experiences, that happened at an AACUC event.
[16:26] – Reach out to Adrian if you want to get more involved with the AACUC.
[18:00] – Learn why Adrian started in the industry and why he has stayed.
[20:40] – As like many other credit union leaders, Adrian identifies as a servant leader.
[21:35] – The team would say Adrian is approachable, honest, a team player, and focused on team success.
[24:01] – Any mistakes he made or that he sees made over and over again?
[25:27] – "To whom much is given, much is required", "Be careful what you ask for because you just might get it!", and "Live simply, care deeply, speak kindly, and give of your time and your treasure." are phrases Adrian's team hears often.
[26:27] – His focus on diversification has led to a strong, teamwork driven team.
[27:50] – What advice has Adrian gone back to over and over?
[29:31] – Networking is very important and he doesn't hesitate to reach out to his contacts.
[31:56] – One on one's with his team and open lines of communication keep the credit union message fresh.
[34:06] – Adrian recharges by attending and watching sporting events and being outside.
[36:07] – Favorite Stadiums: Football – Dallas Cowboys Stadium, Baseball – Oriole Park at Camden Yards, Nostalgia – Wrigley Field, Fenway Park, Yankees Stadium
[39:14] – First time Adrian got in trouble was due to lying which has impacted his outlook on life.
[40:36] – Daily Routine? Listening to music and going through emails while drinking a bottle of water and eating a snack bar.
[41:34] – Favorite music? Loves Motown, but Michael Jackson's Off the Wall Album is his go-to.
[42:40] – Adrian recommends reading the book of Proverbs in the Bible, The Tortoise and the Hare, Everyday Millionaires, and Growing Money.
[44:51] – College education and a willingness to learn are so important as is changing lives through financial literacy.
[46:33] – When Adrian hears the word success, he thinks of his first CEO of his credit union.
[47:37] – Adrian's final thoughts!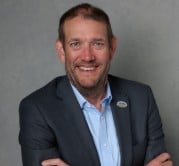 Randall Smith is the co-founder of CUInsight.com, the host of The CUInsight Experience podcast, and a bit of a wanderlust. As one of the co-founders of CUInsight.com he ...
Web: www.CUInsight.com
Details