The CUInsight Experience podcast: Hamza Khan – Future of work (#127)
"Change before change is required." - Hamza Khan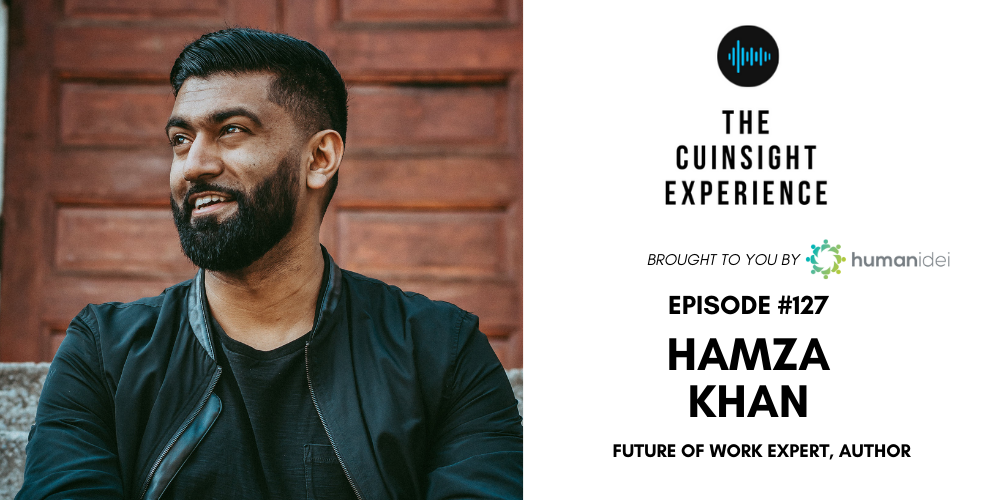 Thank you for tuning in to episode 127 of The CUInsight Experience podcast with your host, Randy Smith, co-founder of CUInsight.com. This episode is brought to you by Humanidei. Humanidei helps credit unions build inclusive cultures that attract, develop, and retain talent.
My guest on today's show is Hamza Khan, a global keynote speaker and best selling author who has unique insights into the future of work. Hamza Khan's clients have included some of the world's most dynamic companies and organizations, including Microsoft, PepsiCo, LinkedIn, Deloitte, Salesforce, TikTok, and over 100 colleges & universities. His insights have been featured by notable media outlets such as VICE, Business Insider, and The Globe and Mail. These world-leading organizations trust Hamza to enhance human potential and optimize performance, which is why he is also the keynote speaker of our next CUInsight Mini-Con event.
Work culture switched seemingly overnight with the uproar of the global pandemic. In actuality, Hamza shares that this reinvention and disruption is a longtime coming. He shares why he considers these modern times as a Great Awakening with the Great Resignation, anti-work movements, involution movement, and more. Hamza discusses actionable insights for both employers and employees to take on a values-based approach to adapting in this new future of work.
Hamza and I chat about recovering from overachieving, hustle culture, occupational burnout, the paradigm shift in leadership, and the evolution of workforce dynamics. Hamza also reviews the core four traits that modern leaders should acquire to perform well with the changing landscape of work. He explains that the number one reason organizations fail is avoiding the changing world around them. You'll also hear who Hamza thinks of when he hears the word success, books he thinks everyone should read, what surprised him recently, and more. Enjoy my conversation with Hamza Khan!
Subscribe on: Apple Podcasts, Spotify, Stitcher 
Books mentioned on The CUInsight Experience podcast: Book List 
How to find Hamza:
Hamza Khan, global keynote speaker and bestselling author
booking@hamzakhan.ca
www.hamzakhan.ca
LinkedIn | Instagram | Twitter
Hamza's books
Show notes from this episode:
A big shout-out to our friends at Humanidei, an amazing sponsor of The CUInsight Experience podcast. Thank you!
Want to hear more from Hamza? Click here.
To learn more and register for 2022 CUInsight Mini-Con Series, click here. 
Place mentioned: Canada
Place mentioned: Toronto, Ontario
Shout-out: University of Toronto
Shout-out: Ryerson University
Shout-out: Seneca College
Shout-out: Alterna Savings
Shout-out: Meridian
Shout-out: Splash Effect
Shout-out: SkillsCamp
Shout-out: Desjardins Credit Union
Shout-out: CUInsight Mini-Con Series
Shout-out: Gary Vaynerchuk
Shout-out: Tim Ferriss
Book mentioned: The 4-Hour Workweek: Escape 9-5, Live Anywhere, and Join the New Rich by Timothy Ferriss
Shout-out: Lost (TV Series)
Shout-out: Yerkes-Dodson Law 
Place mentioned: Greenville, SC
Shout-out: Franklin Templeton
Shout-out: Morgan Stanley
Shout-out: Moritz Erhardt
Term mentioned: Great Resignation (The Big Quit)
Shout-out: Microsoft
Shout-out: Royal Bank of Canada (RBC)
Shout-out: Airbnb
Shout-out: Antiwork, r/antiwork
Term mentioned: Involution (work movement)
Shout-out: Ray Crouse
Artist mentioned: George Strait
Song mentioned: When The Credits Roll by George Strait
Shout-out: Alvin Toffler
Shout-out: Jack Welch
Shout-out: General Electric (GE)
Shout-out: Fortune 500 
Shout-out: Marc Benioff
Shout-out: Gallup
Shout-out: State of the Global Workplace Report by Gallup
Shout-out: Carl Jung
Movie mentioned: The Matrix
Shout-out: Peloton 
Shout-out: Jill Nowacki
Book mentioned: Bible
Book mentioned: Quran
Place mentioned: India
Place mentioned: New Zealand
Shout-out: Spotify  
Album mentioned: My Beautiful Dark Twisted Fantasy by Ye (Kanye West)
Book mentioned: Blueprint: The Evolutionary Origins of a Good Society by Nicholas A. Christakis, MD, PhD
Book mentioned: The Dawn of Everything by David Graeber and David Wengrow
Book mentioned: Eleven Rings: The Soul of Success by Hugh Delehanty and Phil Jackson
Shout-out: Audible
Show mentioned: Barbershop
Shout-out: Shawn "Jay Z" Carter
Shout-out: Picasso
Shout-out: NFL
Shout-out: Roger Goodell
Previous guests mentioned in this episode: Ray Crouse, Jill Nowacki (episodes 4, 18, 37, 64, 82, 101, 113, and 126).
In This Episode:
[00:59] – Hamza Khan shares how he came across credit unions in higher education. How did he end up so interconnected with financial institutions?
[03:38] – Hamza is a recovering overachiever.
[06:22] – Listen to Hamza explain the Yerkes-Dodson Law and dealing with occupational burnout.
[09:15] – Randy recalls the moment he decided to transition out of positions that didn't make him happy despite the success of the roles.
[10:52] – This story is what made Hamza realize that overworking can cost too much.
[12:42] – What are Hamza's thoughts on transitioning to hybrid work?
[14:44] – Listen to Hamza's call to leaders and employees that is related to the Great Resignation.
[17:25] – Hamza talks about workplace dynamics and professional culture.
[19:47] – What should employers be looking for? What should employees be looking for?
[21:24] – What does a great modern CEO look like? 
[23:11] – Hamza emphasizes the need for leaders to be human centric.
[25:14] – Hamza warns of the stubborn need to persist with an idea that you should let go of.
[28:00] – Hamza talks about why he is interested in the many work movements happening currently. Why should you pay attention too?
[29:44] – Hamza shares his approach to managing energy, time, and attention.
[32:12] – Hamza describes the platinum rule, and the mantra that inspires his work.
[34:06] – What books would Hamza recommend reading?
[36:13] – Thank you for listening, be well friends.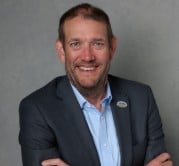 Randall Smith is the co-founder of CUInsight.com, the host of The CUInsight Experience podcast, and a bit of a wanderlust. As one of the co-founders of CUInsight.com he ...
Web: www.CUInsight.com
Details