The CUInsight Experience podcast: Laura Campbell – Push forward (#111)
"Do the best thing for the member." - Laura Campbell
Thank you for tuning in to episode 111 of The CUInsight Experience podcast with your host, Randy Smith, co-founder of CUInsight.com. This episode is brought to you by our friends at PSCU. As the nation's premier payments CUSO, PSCU proudly supports the success of more than 1,500 credit unions.
My guest on the show today is Laura Campbell, the CEO of Farmers Insurance Federal Credit Union. On this episode, we talk all about the importance of creating strong relationships with your board and how to be intentional with professional and personal development. Laura shares her journey through the industry to CEO and the many leadership lessons she's learned along the way. 
Our conversation includes changes Laura and her team had to implement over the last few months as we navigate this new normal. She shares that her focus was not to find completely different solutions but to implement small shifts that would be long-lasting. Laura believes that in order to be successful moving forward she must focus on the long-term goals and make sure she keeps the member's best interest at the forefront. 
Laura also shares leadership misconceptions and how important it is to show up for your team. She put in place "town halls" that allow employees to share their suggestions and experiences with executives and each other. Laura believes it is important to create these opportunities to promote growth and team efficacy. 
During the rapid-fire questions, we learn Laura loved all sports in high school, especially volleyball. She also shares her love for reading and traveling with her family. Listen to find out who she thinks about when she hears the word "success" and her favorite borrowed slogan. Enjoy my conversation with Laura Campbell!
Subscribe on: Apple Podcasts, Spotify, Google Play, Stitcher 
Books mentioned on The CUInsight Experience podcast: Book List 
How to find Laura:
Laura Campbell, CEO of Farmers Insurance Federal Credit Union
www.figfcu.org
laura@figfcu.org
LinkedIn | Twitter | Facebook | Instagram | TikTok | YouTube
Show notes from this episode:
A big shout-out to our friends at PSCU, an amazing sponsor of The CUInsight Experience podcast. Thank you!
Want to hear more from the Farmers Insurance Federal Credit Union team? Click here.
Shout-out: Small Business Administration (SBA)
Shout-out: Farmers Insurance Group
Term mentioned: Asset and Liability Management (ALM)
Shout-out: CO-OP Financial Services
Shout-out: DDJ Myers
Shout-out: Deedee J. Myers
Shout-out: Peter Myers
Shout-out: Apple Inc.
Shout-out: American Consumer Council (ACC)
Shout-out: George Floyd
Shout-out: Asian Americans and Pacific Islanders (AAPI)
Shout-out: Jill Nowacki
Shout-out: Chase Bank
Shout-out: Bank of America
Shout-out: CUNA
Campaign mentioned: Open Your Eyes Campaign
Shout-out: California Credit Union League
Place mentioned: Michigan
Shout-out: United Auto Workers (UAW)
Place mentioned: Iowa 
Shout-out: Laura's parents
Shout-out: FDIC
Shout-out: Members Development Company
Shout-out: Institute for the Future
Shout-out: CUNA GAC
Shout-out: Western CUNA Management School 
Shout-out: Starbucks
Shout-out: Laura's husband & daughter
Shout-out: Peloton 
Shout-out: McDonald's
Shout-out: Randy's mom
Shout-out: Chevrolet Cavalier
Shout-out: Joe Louis Arena
Book mentioned: Necessary Endings by Henry Cloud
Band mentioned: Metallica
Artist mentioned: Enya
Artists mentioned: Doobie Brothers
Previous guests mentioned in this episode: Jill Nowacki (episodes 4, 18, 37, 64, 82 & 101) 
In This Episode:
[02:16] – Laura, welcome to the show!
[03:25] – Laura discusses how the needs of their members have changed in the last year and how they handled the requests.
[06:14] – Is there anything you've changed over the last year that you will keep doing going forward?
[09:55] – Laura speaks about how she makes time for strategic planning.
[11:05] – Laura says that she and her team were determined to keep going forward with their long-term goals.
[12:19] – Laura shares who she surrounds herself with and what she has learned from them over the years.
[15:20] – Laura talks about how she brings her team in on the decisions she makes.
[17:59] – How do you keep the focus to make sure you are still serving all your members as you grow?
[20:25] – Laura discusses how she keeps her purpose front and center with everything that is going on in the world.
[23:48] – Laura believes that credit unions need to do better with their digital platform and to let people know what credit unions are.
[25:33] – Laura wanted to be a teacher when she grew up until she found out how much they make; instead, she got her degree in accounting.
[26:46] – What was your inspiration to become the CEO of Farmers Insurance Federal Credit Union?
[27:46] – Laura says that the inspiration hasn't changed since she became the CEO.
[28:51] – Laura shares some hacks to help others who want to bring in new things when others don't see what you see.
[31:50] – Laura says she was told that she had to play golf and drink coffee to be a good leader.
[32:21] – Reading is something Laura does to relax, and gardening gives her mind time to rest.
[34:06] – Laura speaks about something she said no to that she is glad she did.
[34:28] – Laura's big purchases lately were shoes and purses, but she doesn't need more.
[34:57] – Laura played volleyball in high school and loved all sports but doesn't remember ever getting into memorable trouble.
[35:46] – Is there a book you think everyone should read?
[36:49] – What's the greatest album of all time?
[38:16] – Katheryn Graham and Jamie Diamond are the people who come to mind when she hears the word success.
[39:04] – Just Do It is what Laura wants credit unions to do.
[39:25] – Thank you for listening!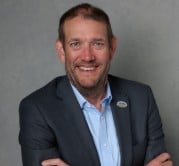 Randall Smith is the co-founder of CUInsight.com, the host of The CUInsight Experience podcast, and a bit of a wanderlust. As one of the co-founders of CUInsight.com he ...
Web: www.CUInsight.com
Details