The CUInsight Experience podcast: Lynette Smith – Willing to share (#26)
"Admit it, correct it, and put in place procedures to prevent it from happening again." - Lynette Smith
Welcome to episode 26 of The CUInsight Experience podcast. Hosted by Randy Smith, co-founder and publisher of CUInsight.com. Today's guest is Lynette Smith the president and CEO of TruEnergy FCU and serves on the boards of the African American Credit Union Coalition and the Metropolitan Area Credit Union Management Association. We discuss rebranding and determining when it is necessary for a business. We also talk about the 2011 CEO of the Year Award she received from NAFCU for leading a smaller credit union and how to keep those smaller credit unions relevant in the current market.
Lynette and I start off our conversation digging into the complete process of rebranding and all of the requirements you need to take into account. We discuss branding companies and their capabilities and distinctions. We also discuss the reason behind rebranding and the value that it brings when done appropriately. The undertaking is massive, but for True Energy FCU it was incredibly worth it.
We then begin our discussion on the challenges smaller credit unions face while trying to stay relevant in today's market. Lynette believes the biggest challenges are found in keeping up with compliance and technology. While there is admittedly value in updating technology, it is difficult to support the initial costs. In addition, we talk about the importance of credit union associations and the connections you make when you get involved.
Listen to this episode if rebranding is in your future. The information and insights Lynette shares are invaluable in understanding the requirements and the process. We also discuss keeping smaller credit unions relevant in today's market. You won't want to miss this!
Subscribe on: Apple Podcasts, Spotify, Google Podcasts, Stitcher
How to find Lynette:
Lynette Smith
President & CEO of TruEnergy FCU
lsmith@truenergyfcu.org
LinkedIn | Twitter | Facebook
Show notes from this episode:
Shout out: Simon & Associates
Organizations mentioned: African American Credit Union Coalition,  Metropolitan Area Credit Union Management Association, NAFCU
Internships mentioned: AACUC Summer Internship Program
Conferences mentioned: AACUC Conference
Album mentioned: Anthony Hamilton's songs
Book mentioned: Managing and Leading Well by Dan Berger and Anthony Demangone
Book mentioned: The Bible
Shout out: Martin Luther King Jr. and Mohammad Ali
Previous guests mentioned in this episode: Dan Berger, Maurice Smith, Doug Leighton
You can find all past episodes of The CUInsight Experience here.
In This Episode:
[00:03] – Welcome back to the show! Randy introduces Lynette Smith, today's guest.
[02:26] – We dive into the rebranding of TruEnergy FCU and the reason behind it.
[03:49] – Lynette talks about the process of rebranding in detail, from hiring a branding team to notifying the board.
[06:07] – The person responsible for coordinating the rebranding was their COO.
[06:50] – They were not able to use the same marketing firm for the branding change versus branding awareness.
[10:53] – Lynette discusses the beauty of the FAQ page they created and how it helped their customers.
[11:27] – We switch gears and discuss the challenges that the smaller credit unions face.
[12:23] – The biggest problem is keeping up with compliance and technology.
[13:06] – Can technology help the small credit unions?
[14:42] – Handling cyber threats and salary structures are also huge problems.
[15:44] – As a leader and CEO do you sell the idea that you can learn many skills?
[16:54] – We discuss the shrinking credit union industry and ways it can be fixed.
[22:27] – Leaders need to see a failing credit union before NCUA requires it be addressed.
[25:24] – Lynette discusses the African American Credit Union Coalition and it's importance in the industry.
[28:14] – Mentorship is a key foundation of the AACUC as is the internship program.
[34:35] – What inspired Lynette to take the role as CEO and President of Washington Gas Light FCU?
[36:32] – Has the inspiration change now that she has reached the role?
[37:42] – Lynette describes how she leads with inspiration and listening.
[39:00] – How has her leadership style changed with experience and changing roles?
[40:10] – It's okay to make mistakes from time to time as long as you admit it and correct it.
[41:46] – We discuss the big mistake people make when they are new to leadership.
[43:59] – The advice she took to heart as a child is to treat people right. Be open and honest with them.
[44:57] – Lynette talks about her network and how they help support her.
[46:50] – Lynette looks forward to spending time with family and friends and she likes to travel.
[48:26] – We start into the rapid-fire question discussing Lynette's daily routine.
[49:45] – Best album of all time? She talks about Anthony Hamilton and her favorite genres.
[50:36] – Lynette admits she doesn't read much but she enjoyed Managing and Lead Well as well as the Bible.
[51:39] – What has become more and less important as Lynette has gotten older?
[53:33] – Martin Luther King Jr. embodies success for Lynette.
[54:29] – Leaders need to take care of themselves first and then taking care of others becomes an easy task.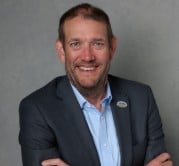 Randall Smith is the co-founder of CUInsight.com, the host of The CUInsight Experience podcast, and a bit of a wanderlust. As one of the co-founders of CUInsight.com he ...
Web: www.CUInsight.com
Details