The CUInsight Experience podcast: Mark Robnett – Change the change (#132)
"Digital transformation is about constantly reimagining how we can serve our members better." - Mark Robnett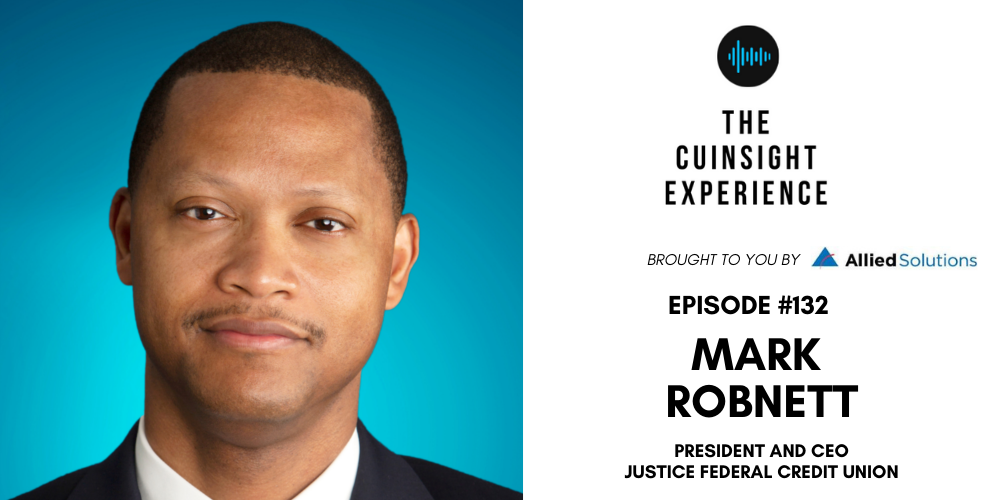 Thank you for tuning in to episode 132 of The CUInsight Experience podcast with your host, Randy Smith, co-founder of CUInsight.com. This episode is brought to you by Allied Solutions. Allied Solutions is focused on helping clients grow their bottom line, protect their business and members, and evolve to stay ahead of the competition.
My guest on today's show is Mark Robnett, President & CEO of Justice Federal Credit Union. Mark came up through his career with a technology background. In each new role, he grew his skills and experience through continuous learning, taking on the chief executive role at the credit union in 2018. During this episode, Mark shares that he is most excited about the credit union industry's strategic move to embrace fintech. We chat about how powerful technology is, and Mark explains the credit union's push to use business intelligence and data analytics to better understand their members.
In this conversation, Mark talks about the ways that digital transformation should be more than just a project. He believes that technology is an equalizer, allowing smaller organizations to seem larger because of their technology, despite the cost. Mark shares about the investment in his career that has had the most impact: seeking out and collecting great mentors. He recounts the ways he opens doors for more leaders like him in return.
Throughout this episode, Mark shares lots of quotes and sayings that resonate with him. We discuss what makes a good leadership team like a good stew, and the qualities that Mark looks for in members of his team. Optimism and trust make a good leader, in Mark's opinion. Tune in to hear his thoughts on organizational culture in a hybrid workplace, building an environment of trust, and knowing the right time to abort a new project. 
As we wrap up the show, Mark shares a leader who gave him impactful advice, the recent read he recommends, and his favorite album of all time. Enjoy my conversation with Mark Robnett!
Subscribe on: Apple Podcasts, Spotify, Stitcher
Books mentioned on The CUInsight Experience podcast: Book List
How to find Mark:
Mark Robnett, President & CEO of Justice Federal Credit Union
robnettm@jfcu.org
https://www.jfcu.org/
LinkedIn
Show notes from this episode:
A big shout-out to our friends at Allied Solutions, an amazing sponsor of The CUInsight Experience podcast. Thank you!
Want to hear more from Mark? Click here.
Shout-out: Chuck Fagan
Shout-out: PSCU
Shout-out: CUNA's Governmental Affairs Conference (GAC)
Shout-out: Fiserv
Shout-out: Standard Federal Bank
Place mentioned: Michigan 
Place mentioned: San Diego, CA
Shout-out: LeBron James
Shout-out: Symitar
Shout-out: Willis Towers Watson
Place mentioned: Nashville, TN
Shout-out: CUES
Shout-out: CEO Institutes
Shout-out: UAW
Shout-out: Vibe Credit Union (formerly Telcom Credit Union)
Shout-out: Michigan Bell
Shout-out: Consumers Credit Union
Shout-out: Consumers Energy
Place mentioned: South Carolina
Shout-out: Bank of America 
Shout-out: Capital One 
Shout-out: Navy Federal Credit Union
Shout-out: Warren Buffet
Shout-out: Dale Carnegie
Shout-out: Tom Williams
Shout-out: John Smith
Shout-out: Will Demyers
Shout-out: Michael Jordan
Shout-out: Scottie Pippen  
Shout-out: Detroit, MI 
Shout-out: Mark's son and daughter
Shout-out: Colin Powell
Artist mentioned: Michael Jackson
Album mentioned: Thriller by Michael Jackson
Book mentioned: The 48 Laws of Power by Robert Greene
Book mentioned: Thinking in Bets: Making Smarter Decisions When You Don't Have All the Facts by Annie Duke
Shout-out: Mark's mom
Previous guests mentioned in this episode: Chuck Fagan
In This Episode:
[00:44] – Mark Robnett says he was eager to work in technology after college.
[03:13] – How did Mark get to Justice Credit Union?
[05:58] – Mark explains how he first opened a credit union account at age 15.
[07:29] – Mark talks about the potential of credit unions strategically embracing fin tech.
[10:17] – Technology will continue to disrupt the credit union industry. Mark says credit unions must approach the future with optimism.
[12:37] – Mark encourages people to not underestimate the impact of having mentors.
[14:40] – Should people seek mentors or do mentors just appear throughout life? 
[16:41] – Good leadership is like a good stew. It takes a balance of different contributions.
[18:22] – How does Mark give feedback? He explains why bad news doesn't age well.
[20:25] – Mark talks about optimism and trust in leadership.
[23:08] – Have enough courage to make another change.
[24:41] – Mark discusses data versus opinion during times of conflict in group conversations.
[27:10] – Trust is needed within the evolving expectation of work and work culture.
[29:57] – Mark expresses his amazement witnessing his son pay forward the wisdom he teaches him.
[32:10] – Which prominent African American leader said this to Mark?
[34:13] – Mark shares what he wants to offer the world, his top music album, and his recent book choice about the decision-making process.
[36:08] – What happens when you believe?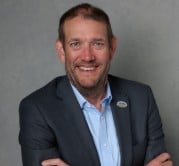 Randall Smith is the co-founder of CUInsight.com, the host of The CUInsight Experience podcast, and a bit of a wanderlust. As one of the co-founders of CUInsight.com he ...
Web: www.CUInsight.com
Details