The CUInsight Experience podcast: Paul Gentile – Innovative spirit (#141)
"To this day, I care about nothing more than my members and my employees." - Paul Gentile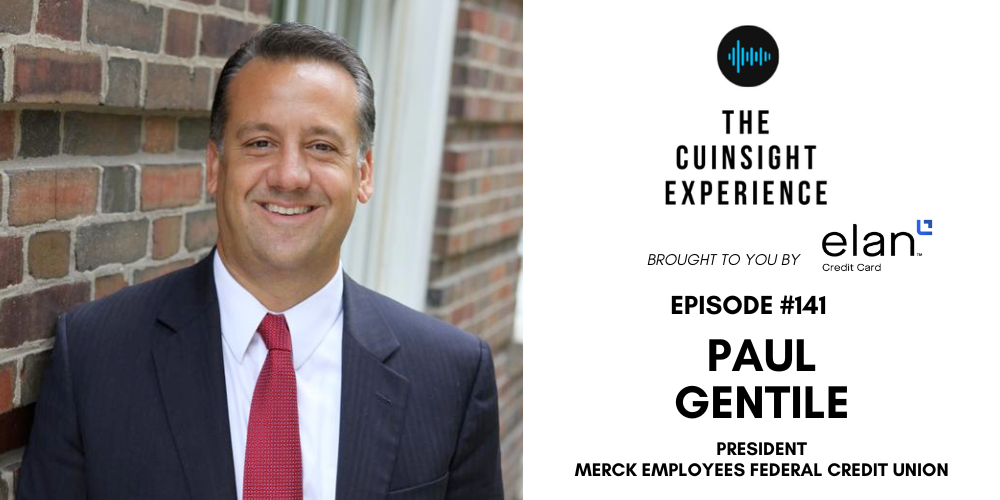 Thank you for tuning in to episode 141 of The CUInsight Experience podcast with your host, Randy Smith, co-founder of CUInsight.com. This episode is brought to you by Elan Credit Card. Elan partners with more than 250 credit unions to provide an outsourced credit card program, and offers merchant and mortgage services for credit union members and business owners.
My guest on today's show is Paul Gentile, President at Merck Employees Federal Credit Union (MEFCU). Paul became familiar with credit unions while working as a journalist at the Credit Union Times. His passion for growing consumer awareness of credit unions made him an ideal fit for many leadership roles in the industry. After years of engaging with credit unions and communities, his path led him back home to New Jersey, becoming the president of MEFCU. 
During our conversation, Paul discusses technology challenges credit unions face. He shares his outlook on the credit union IT landscape and the importance of evolving to avoid stagnation. Paul also talks about innovation, team interactions, and attracting new talent. He believes the credit union mission is our competitive advantage and with that we can continue to innovate and overcome technology challenges to exceed member expectations.
Paul and I chat about taking on new risks as it relates to the greatest investment he's made in his career. He also shares three critical characteristics he looks for when building a leadership team. We discuss the value of embracing mistakes and accountability when it comes to communicating feedback. Paul gives insights on what it takes to be a good leader and how listening to your members can help you innovate and improve current systems. Later in this episode, Paul discusses the benefits of a hybrid work environment and highlights the significance of personal interactions and culture. Tune in to hear Paul talk about the increasing trend of consolidation between credit unions and leagues while emphasizing the importance of independent advocacy. 
As we wrap up the show, Paul shares the best piece of advice he received from a mentor of his, the importance of family, and how Michael Jordan changed the way athletes are viewed. Enjoy my conversation with Paul Gentile!
Subscribe on: Apple Podcasts, Spotify, Stitcher 
Books mentioned on The CUInsight Experience podcast: Book List 
How to find Paul:
Paul Gentile, President at Merck Credit Union
paul.gentile@merck.com
www.merckcu.com
Paul: LinkedIn 
Show notes from this episode:
A big shout-out to our friends at Elan Credit Card, an amazing sponsor of The CUInsight Experience podcast. Thank you!
Want to hear more from Paul? Click here.
Place mentioned: New Jersey
Shout-out: Credit Union Times
Shout-out: CrossState Credit Union Association
Shout-out: CUNA
Shout-out: Cooperative Credit Union Association
Place mentioned: Washington, D.C.
Shout-out: World Council of Credit Unions
Shout-out: National Credit Union Administration
Shout-out: Todd Harper
Shout-out: CUES
Shout-out: Mike Welch
Shout-out: Dan Mica
Shout-out: Warren Buffet
Shout-out: Dale Carnegie
Shout-out: New Hampshire
Shout-out: Massachusetts
Shout-out: Delaware
Shout-out: Rhode Island
Shout-out: Paul's father
Shout-out: Paul's children
Shout-out: Bruce Springsteen
Shout-out: University of Delaware
Artist mentioned: George Thorogood & The Destroyers
Artist mentioned: Queen
Artist mentioned: Freddie Mercury
Books mentioned: Trailblazer: The Power of Business as the Greatest Platform for Change by Marc Benioff and Monica Langley 
Bourdain: The Definitive Oral Biography by Laurie Woolever
Shout-out: Michael Jordan
Shout-out: Jill Nowacki
Previous guests mentioned in this episode: Todd Harper, Jill Nowacki (episodes 4, 18, 37, 64, 82, 101, 113, 126, & 138)
In This Episode:
[00:42] – Paul Gentile learned about credit unions through his time as a journalist.
[03:05] – Paul describes the highlights of Merck Credit Union.
[04:51] – What does the IT landscape look like for credit unions?
[07:20] – At one point, third party partnerships are what made credit unions stand out in the financial space.
[09:01] – Paul talks about innovation, team interactions, and credit unions attracting new talent.
[11:32] – Who did Paul go to for second opinions?
[13:14] – It's easy to get comfortable in a role. Here's why you should challenge yourself.
[15:16] – To Paul, the most important trait in business is awareness.
[17:03] – Learn from mistakes and communicate.
[19:27] – "Nothing should be a surprise at a board meeting."
[22:19] – What did a member write to the board that made Paul laugh?
[24:45] – Paul believes in a hybrid balance of remote and in-person elements.
[26:31] – What are Paul's thoughts on consolidation?
[29:06] – Paul talks about his thoughts on political dialogue and what he loves about traveling with his family. 
[31:42] – "Trust, but verify."
[33:22] – Who does Paul think of as a successful person?
[34:56] – Paul encourages credit unions to start IT collaborations.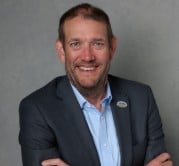 Randall Smith is the co-founder of CUInsight.com, the host of The CUInsight Experience podcast, and a bit of a wanderlust. As one of the co-founders of CUInsight.com he ...
Web: www.CUInsight.com
Details