The CUInsight Network podcast: Achieve growth – Cotribute (#43)
Featuring Philip Paul, CEO at Cotribute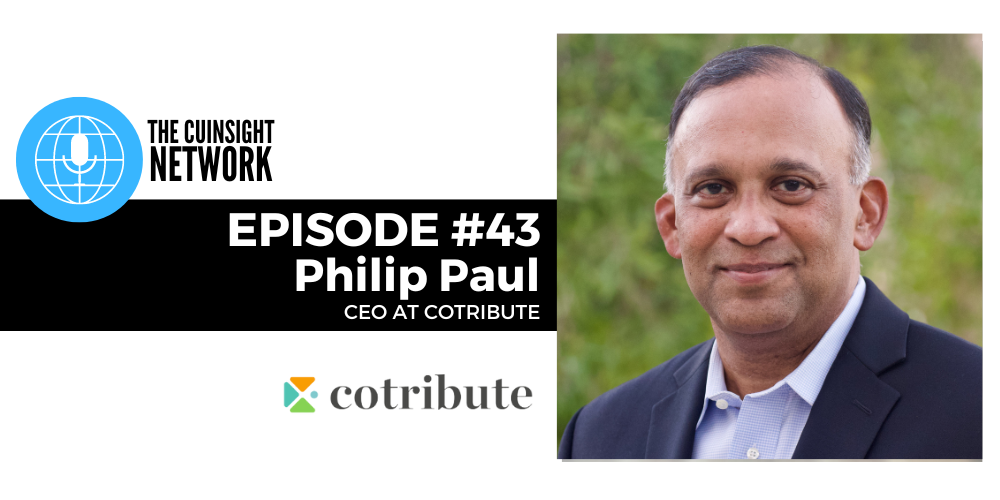 Thank you for tuning in to episode 43 of The CUInsight Network, with your host, Lauren Culp, Publisher & CEO of CUInsight.com. In The CUInsight Network, we take a deeper dive with the thought leaders who support the credit union community. We discuss issues and challenges facing credit unions and identify best practices to learn and grow together.
My guest today is Philip Paul, CEO at Cotribute. Cotribute is a digital growth platform helping credit unions grow efficiently by acquiring new members while retaining existing ones. Philip shares what inspired him to address business concerns through technology. Cotribute helps credit unions achieve operationally efficient growth using analytics, templates, and automations.
During our conversation, Philip talks about success through a thoughtful operational strategy. He shares insights on the reach, scale, and efficiency of digital member experiences. The team at Cotribute focuses on helping credit unions thrive and improve member services with automation and optimization. Philip explains the benefits of expanding digital channels for credit unions. He shares how credit unions can provide the right offerings, to the right members, at the right time in a way that's meaningful without losing human interaction that is so valued by members. Philip shares his vision when it comes to emerging trends in financial services and Cotribute's role in supporting credit unions.
As we wrap up the episode, Philip shares which Apple products he uses most, which podcast he listens to daily, and which sports he follows. Enjoy my conversation with Philip Paul!
Connect with Philip:
Philip Paul, CEO at Cotribute
hello@cotributemail.com
https://www.cotribute.com
Philip: LinkedIn
Cotribute: LinkedIn | Twitter 
Show notes from this episode:
What an amazing interview with Philip! Check out all the exceptional work his team is doing over at Cotribute here.
Want to hear more from Philip Paul? Click here.
Shout-out: Amazon
Shout-out: Google
Shout-out: Facebook
Shout-out: Apple Pay
Shout-out: American Express
Shout-out: iPad
Shout-out: Apple Pencil
Shout-out: Wright brothers
Podcast mentioned: Leadership Conversations with Nicky Gumbel
Book mentioned: Winning on Purpose: The Unbeatable Strategy of Loving Customers by Darci Darnell, Fred Reichheld, and Maureen Burns
In this episode:
[00:38] – Philip Paul says he originally wanted to be a race car driver.
[03:05] – How can credit unions leverage systems to improve operational efficiency?
[05:32] – When automation is done right, it can provide an amazing experience for members.
[07:28] – What can automation do for a credit union's internal systems?
[09:16] – Philip discusses how digital channels change the reach, scale, and experience of financial institutions.
[11:04] – What will Cotribute add to the industry's future?
[13:58] – Face these uncertain times with boldness, courage, and focus.
Lauren Culp is the Publisher & CEO at CUInsight.com. She leads the growing team at CUInsight, works with organizations serving credit unions to maximize their brand and exposure, connects with ...
Web: https://www.cuinsight.com
Details