The CUInsight Network podcast: Fight fraud – PSCU (#26)
Featuring Jack Lynch, Chief Risk Officer at PSCU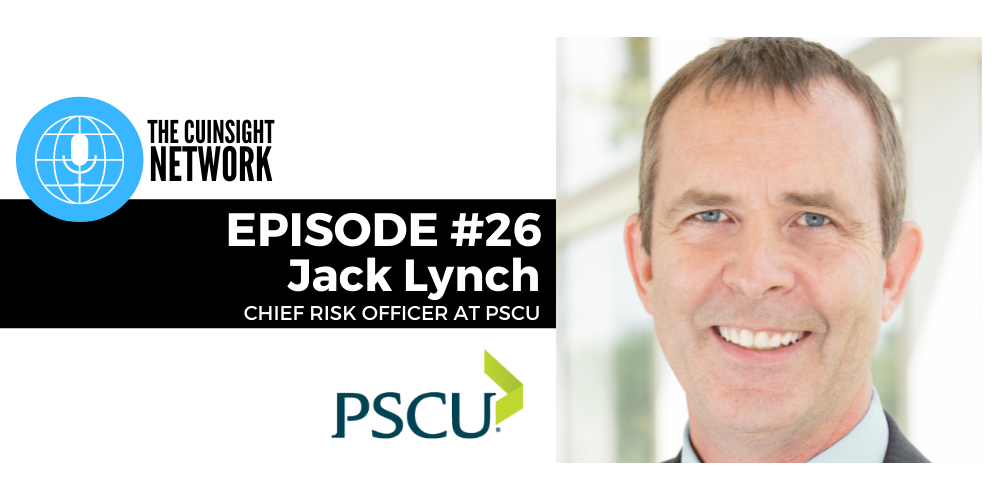 Thank you for tuning in to episode 26 of The CUInsight Network, with your host, Lauren Culp, Publisher & CEO of CUInsight.com. In The CUInsight Network, we take a deeper dive with the thought leaders who support the credit union community. We discuss issues and challenges facing credit unions and identify best practices to learn and grow together.
My guest today is Jack Lynch, Chief Risk Officer at PSCU and President at TriVerity. PSCU is the nation's premiere credit union organization (CUSO) that evolved from being a payment processor to being an end-to-end financial technology provider. They currently offer a full range of services such as risk management, data analytics, digital banking, contact center services and more. TriVerity is a PSCU company working as a full-service collection agency managing non-performing and charged-off loans with a comprehensive menu of third-party collection services.
During this conversation, Jack talks about the focus on helping credit unions digitally transform and serve the evolving needs of their members. Fraud attempts are on the rise after the pandemic sparked an increase of digital transactions. Jack explains ways that leveraging third-party CUSOs can help credit unions address the significant fraud challenges that consumers face. We chat about how credit unions can educate their communities and the best approach for credit unions of all asset sizes to protect their members.
Jack talks too about the sophistication of new fraud attempts, and the need for sophisticated tools to help fight these attempts. He shares his insights on risk tolerance, contactless cards, and data analytics. Gain insight on building an integrated, multi-layer approach of fraud management to become a more seamless, easy-to-use, and protected financial institution. By working together with CUSOs like PSCU, credit unions can address financial crimes in this digital world.
In our rapid-fire questions, Jack talks about a guitar model he can't get enough of, his thoughts on George Washington, and his interest in the oboe. Enjoy my conversation with Jack Lynch!
Connect with Jack:
Jack Lynch, Chief Risk Officer at PSCU and President at TriVerity
jlynch@pscu.com
https://www.pscu.com/
https://www.triverity.com/
LinkedIn | Twitter | Instagram | Facebook   
Show notes from this episode:
What an amazing interview with Jack! Check out all the exceptional work his team is doing over at PSCU here.
Want to hear more from Jack Lynch? Click here.
Shout-out: Carnegie Hall
Shout-out: Jack's dad
Place mentioned: Juneau, Alaska
Shout-out: Apple
Shout-out: American Express
Shout-out: eBay
Shout-out: Santa
Shout-out: Fender American Stratocaster
Shout-out: George Washington
Artist mentioned: Meg Myers
Artist mentioned: Céline Moinet
Artist mentioned: Chvrches
Artist mentioned: Depeche Mode
Artist mentioned: The Cure
Book mentioned: The Lord of the Rings by J.R.R. Tolkien
Shout-out: Peter Jackson
Shout-out: Jack's wife
Place mentioned: Florida
Place mentioned: Cancún, Mexico
In this episode:
[00:48] – Jack Lynch remembers his father being an advocate of credit unions.
[02:17] – Jack explains what he currently busies himself with.
[04:43] – More digital transactions means more chances for fraud attempts. How can credit unions manage fraud attempts?
[07:25] – Leverage partnerships to launch new innovations.
[10:08] – How far can fraud attempts go?
[11:47] – Jack suggests a holistic approach to fraud management rather than stopping at the technology portion.
[14:12] – Come to an agreement on a risk management approach. 
[17:01] – Are you aware of all the channels engaged in your fraud management strategy?
[19:17] – Jack talks about the future needs of members, and investing in data analytics.
[21:46] – How can a cooperative approach make fraud management easier?
[24:08] – Jack talks about two of his passions: music and history.
[26:23] – Here are Jack's recommendations for music and books.
[29:14] – Jack encourages everyone to remain positive and hopeful.
Lauren Culp is the Publisher & CEO at CUInsight.com. She leads the growing team at CUInsight, works with organizations serving credit unions to maximize their brand and exposure, connects with ...
Web: https://www.cuinsight.com
Details