CUInsight Minute with Alyssa Angurio – September 23, 2022
Our favorites from the week in sixty seconds.
Welcome to the CUInsight Minute, sixty seconds from our Community and Marketing Coordinator Alyssa Angurio with our favorite reads from the week.
Mentioned:
What is quiet quitting, really?
by OSCAR PORRAS, HUMANIDEI
There was a time in my career when I was showing up to the credit union and doing the bare minimum. I continued to open accounts, help members with loans, and did what was required. I was not showing up early, staying late, volunteering, or going the extra mile. Today, that kind of behavior might be defined as quiet quitting.
While there is no universally held definition of quiet quitting this increasingly common workplace practice might be best described as doing the bare minimum requirements of your job duties in order to stay employed, while not actually being engaged.
When I first saw this loose definition, my mind instantly wandered to that time in my career that I distinctively remember as a period when I was the most disengaged. What is interesting about quiet quitting is that it isn't actually walking out or protesting: It is simply doing what's required. This high visibility recent phenomenon, it turns out, is just doing the job you are being paid to do (and nothing more). In so many American workplaces, it has been normalized that performing in any manner less than above and beyond what you are paid to do is underperforming. The only way to meet expectations is to exceed them. [read more]
Keeping up with the consistency of change
by ZEPHYR JAEGER, ZOGO
As a credit union (CU), you're so much more than a place where people store their money. Your institution is a place of enlightenment, support, opportunity, and growth, and those qualities are always in flux. As the world and your community evolves, so too must the way you do business.
Retaining members, bolstering member loyalty, and attracting new members are all crucial ventures at a CU, and these days, ensuring the success of those ventures heavily relies on the adoption of new technologies. If there's anything that the world at large learned in the spring of 2020, it's that technology makes the impossible more possible than ever. As we've adapted to our more digital world, we've learned to work, play, and connect in exciting ways, sparking a workplace and educational revolution in the process. [read more]
Internationally acclaimed thought leader, organizational psychologist and #1 best-selling author of The Impulse Factor and Domino: The Simplest Way to Inspire Change, Nick Tasler will spend time with us discussing how leaders can apply a simple decision framework for transforming seasons of change into periods of unprecedented growth.
We'll talk about…⁠
Constructing building blocks of growth and innovation at your credit union⁠
Driving ideas towards strategic growth ⁠opportunities
Key measures that provide insight and direction into member growth and retention⁠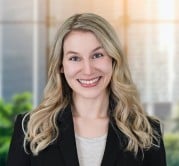 Alyssa Angurio is the Community & Marketing Coordinator at CUInsight.com, the leading digital trade publication serving credit unions. Alyssa oversees the valued Community of thought leaders and industry experts who ...
Web: https://www.cuinsight.com
Details