Increase media relations impact with visuals
It's a familiar scene. Budget cuts, increased responsibilities, less time to do more. I could be talking about nearly anyone. I am talking about the media. Their jobs are getting harder and more scrutinized.
So, as a public relations professional, what can you do to make their jobs easier, give them details and information they need, and help propel their stories to the frontline – benefiting you and them? Make your news compelling and usable with graphic elements included with your content. In the 2015 Business Wire Media Survey, more than 36% of the 400 journalists surveyed said they would be more likely to use a news release if it contained multimedia elements.
Here are three ways you can do just that when you are pitching, sending releases and generally communicating with them.
Infographics – incorporating infographics into your pitches and releases not only makes it easy to understand your supporting facts, it creates a visual that is both easy to post on their website, and give a prominent position in a story. It's also helpful to communicate large amounts of data in a way that doesn't seem so overwhelming. If you have access to a graphic designer, start working with them to develop smart infographics to support your pitches and releases. If you don't have access to a designer, consider looking into simple software options that can help you create your own graphics. A quick Google search will give you lots of options that are easy to use, and many are free.
Robust newsroom – create a space on your website for reporters to easily locate pertinent information about your organization. Included in that space should be a photo gallery with both lo and hi res versions of your photos. When you are sending out a release that includes photos, rather than attach them to the release (reporters love email, but hate attachments), embed a link to the photo or photos on your website. That way, they can access the photos, and determine the best format for their needs.
Slide Shows – if you are working with a lot of data, perhaps a survey or other form of presentation, consider putting it into a slideshow and link it on your newsroom of your website. The format works well in today's digitally focused world. Reporters can simply grab the slide show and place it into their story on their website. It creates active content for them, and provides great exposure for you. It also allows you to include much more information and data, without bogging the reporter down with an overwhelming press release.
Simply put, visuals are tremendous supporting elements to your media relations efforts. Reporters are looking for content and great stories that will reach their audience and you can help them. So, by doing a little research and putting in the effort to create supporting visual content, your message will reach further than ever before and create meaningful media relationships.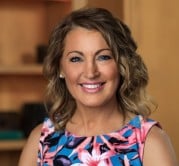 As Director of Public Affairs, Patti oversees all aspects of public relations and communications for the Association and member credit unions. She is responsible for developing and maintaining relationships with ...
Web: https://mwcua.com
Details