Onsite: 8 states, 4 days, 2 leagues. Inspired because the mission is possible
I went on a bit of a credit union road trip over the past few days and I loved every minute of it (pictures at the bottom of this post). Personally the greatest thing about being a part of the credit union movement is the people I have had the pleasure to meet. Since starting CUInsight.com in 2008 some of the best friends I have made are from around credit union world. When I received invitations from two of them to present and attend events at their leagues around the same time, I was in.
The first stop was Mystic Connecticut. Yes, the same Mystic that the movie Mystic Pizza was based on. Jill Nowacki, president and CEO of the Credit Union League of Connecticut, was hosting their leadership conference: Mission Possible. It was awesome to hear all the good going on with Connecticut credit unions first hand and the challenges too.
Chuck Fagan from PSCU had a great presentation talking about how important education is for the credit union movement. The number of people in the C-suite retiring over the next five years is staggering. Are you preparing your successors in your credit union to be ready to lead when called upon?
Tansley Stearns from Filene Research Institute had a fantastic breakout on innovation. Something the crew at Filene knows a little about. Tansley stressed the importance of innovation and talked about how fast change is happening in the financial services industry. A point Tansely made that stood out to me was how framing the question can change the way you think. In planning stop trying to answer the question what the credit union needs and start asking the question what the member need. Innovate to fill the members need and your credit union will grow.
I was honored to have the opportunity to speak with the group about communicating in 2015. I believe credit unions have the best story to tell but many do a horrible job telling it. We are much too modest. We live in the greatest age possible to spread our story; we just have to change the methods we go about doing it. I'll step off my soapbox for now.
After having a great time in Connecticut with Jill and her credit unions it was not head south to New Jersey to see president and CEO Greg Michlig, the crew at the New Jersey Credit Union League (Hi Yvette!) and 500 of their closest friends from the Garden State.
But first I had to take a detour; I had never been to Maine. So I drove north along the coast a few hours into Maine and had a delicious lobster roll for lunch. What a gorgeous drive through Connecticut, Road Island, Massachusetts, New Hampshire and Maine. I highly recommend it.
On to Jersey! What a great annual conference the New Jersey Credit Union League puts on. This year's theme was to Inspire. I loved getting to catch up with so many of our CUInsight.com contributors on this trip; Chuck Fagan, Dr. Michael Hudson, Neen James, Bo McDonald, Greg Michlig, Jill Nowacki, Jim Nussle, Dawn Poker, Tansley Stearns. Then you add in some of best people I know also in attendance and how could it not be an amazing event.
Keynote Neen James spoke about how time is the most valuable commodity we have and tips from her new book "Folding Time."
CUNA president and CEO Jim Nussle talk about the importance of the credit union community voice and the direction of CUNA. Jim told all in attendance that he can't do it alone, he needs the state leagues, the credit unions and the members to truly have a powerful voice in Washington.
NCUA board member J. Mark McWatters spoke with the group about regulation and improvements he feels need to be made going forward. His talk included RBC2, frequency of NCUA exams, the definition of small credit unions and much more.
Day two also included a keynote from Simon T. Bailey author of Shift Your Brilliance, which was informative and entertaining. Simon discussed what he learned working for Disney on how to treat members and make interactions a personal experience.
Take a minute and look up Neen and Simon online and watch one of their presentations. Will be worth your time and very insightful.
So the eight states were Connecticut, Road Island, Massachusetts, New Hampshire, Maine, New York, New Jersey and Pennsylvania (Philly airport) if you're counting at home.
The great part of what both Jill and Greg are doing at their respective leagues is they are providing value to the credit union off their states. It's advocacy and so much more. It is inspiring credit union leaders to grow their reach, develop their teams and promote how great cooperative financial institutions are.
As you can see in the pictures below I ran into some awesome people. Make sure you follow CUInsight on Instagram and Twitter to see all the happenings.
Next week Amanda and I will be at BAI Retail Delivery in Las Vegas. If you're there, track us down we would love to catch up. If you can't make it follow along on Twitter: @CUInsight and @AmandaCUInsight.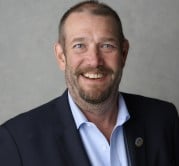 Randall Smith is the co-founder of CUInsight.com, the host of The CUInsight Experience podcast, and a bit of a wanderlust. As one of the co-founders of CUInsight he looks ...
Web: www.CUInsight.com
Details