The CUInsight Experience podcast: Whitney Anderson-Harrell – Not a dress rehearsal (#135)
"We're serving the underserved, doing things differently, making a difference for people." - Whitney Anderson-Harrell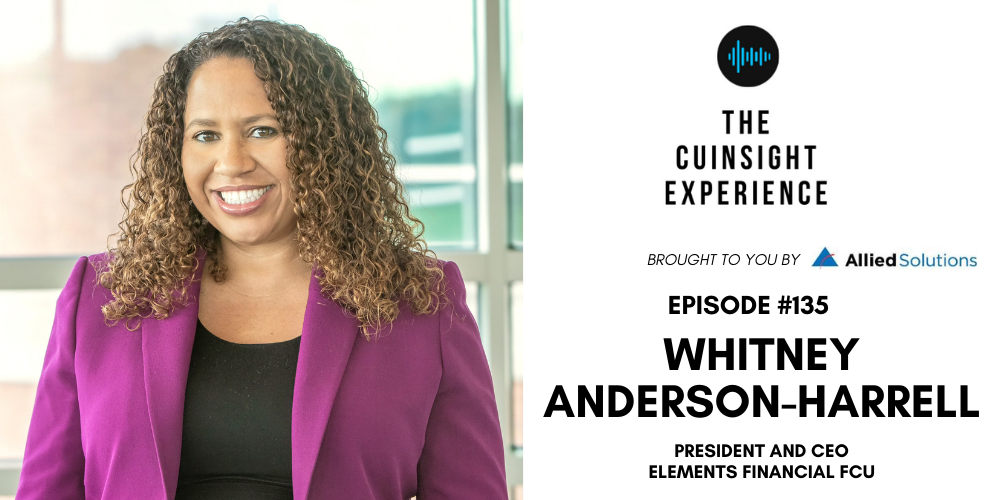 Thank you for tuning in to episode 135 of The CUInsight Experience podcast with your host, Randy Smith, co-founder of CUInsight.com. This episode is brought to you by Allied Solutions. Allied Solutions is focused on helping clients grow their bottom line, protect their business and members, and evolve to stay ahead of the competition.
My guest on today's show is Whitney Anderson-Harrell, President & CEO at Elements Financial FCU in Indianapolis. Whitney shares the unique story of her career journey from teller, to outside the industry, and finally back to credit unions. She expresses her excitement about the future of the movement and what credit unions should focus on to stay relevant. She also discusses the value of having and being a mentor to gain greater insight and opportunities throughout your career.
During our conversation, Whitney dives into the big investment she made in her career that she also considers a big catalyst for change. Whitney shares that when adding a new member to her team, she looks for integrity, loyalty, and trust. She finds it important to create a healthy environment where  solution-oriented conversations are encouraged. Throughout the discussion, Whitney shares her belief in challenging current ideas and listening to new ones to stay relevant and ultimately make the right decisions for members, employees, and the community. 
As Elements' newest CEO, Whitney shares how she built a foundation of trust with her leadership team through intention, direct communication, and asking questions. She finds this vital in gaining perspective and understanding what each employee values within the credit union. Whitney also finds it helpful to be direct when giving feedback and speaks on the benefits of having a direct conversation when necessary.     
Whitney and I chat about how she plans on growing Elements along with the credit union movement as a whole by exceeding member expectations. Tune in to hear Whitney's advice on when to pull the plug on an idea, balancing a hybrid work environment, technology in the credit union space, and more. 
As we wrap up the show, listen in as Whitney talks about her amazing family, her love of Motown, and one book she's been reading lately. Enjoy my conversation with Whitney Anderson-Harrell!
Subscribe on: Apple Podcasts, Spotify, Stitcher 
Books mentioned on The CUInsight Experience podcast: Book List 
How to find Whitney:
Whitney Anderson-Harrell, President & CEO at Elements FCU
wandersonharrell@elements.org
https://www.elements.org/
LinkedIn | Twitter | Facebook | Instagram
Show notes from this episode:
A big shout-out to our friends at Allied Solutions, an amazing sponsor of The CUInsight Experience podcast. Thank you!
Want to hear more from Whitney? Click here.
Place mentioned: Indianapolis
Place mentioned: Michigan
Shout-out: LAFCU
Shout-out: Michigan State University
Shout-out: Michigan State University Federal Credit Union
Shout-out: Kraft Foods
Shout-out: Walmart
Shout-out: Target
Shout-out: Ever Green 3C
Shout-out: April Clobes
Shout-out: Consumers Energy (formerly Consumers Power)
Place mentioned: Detroit, MI
Shout-out: African American Credit Union Coalition (AACUC) 
Shout-out: Renée Sattiewhite
Shout-out: Jill Nowacki
Shout-out: Lisa Schlehuber
Shout-out: Travis Credit Union
Shout-out: Whitney's daughters
Shout-out: Fast Company
Shout-out: Motown
Book mentioned: Subtle Acts of Exclusion: How to Understand, Identify, and Stop Microaggressions by Michael Baran and Tiffany Jana
Shout-out: Whitney's parents
Previous guests mentioned in this episode: April Clobes, Reneé Sattiewhite, Jill Nowacki (episodes 4, 18, 37, 64, 82, 101, 113, & 126)
In This Episode:
[00:48] – Whitney Anderson-Harrell says she was the first intern at this credit union.
[03:30] – Service and impact is what makes credit unions stand out. Whitney explains why credit unions should talk more about what they do.
[06:06] – Whitney talks about the difference between a mentor and an advocate. Listen as she touches on the importance of both roles.
[08:55] – How does Whitney show up as a mentor for her mentees?
[10:39] – Whitney says this decision was one of the best leaps she took in her career.
[12:53] – Whitney prefers a team that knows how to have healthy disagreements that are solution-oriented.
[15:36] – Build teams with intentional communication to collectively move forward.
[18:21] – Whitney emphasizes the need for direct communication.
[19:54] – Whitney says there is an advantage to having a "squeaky wheel" in the boardroom.
[22:45] – Credit unions must be more attentive to which risks to take and what new approaches to adopt.
[25:43] – Whether an idea works or not, you still need a plan.
[28:04] – Whitney talks about her wonderful daughters and balancing her priorities.
[29:57] – Follow your dreams, work hard, trust the process, and leave things better than you found them.
[31:31] – Whitney mentions which books she is reading these days.
[33:42] – What about Whitney's parents makes her think about success?
[35:28] – Thank you Whitney, and thank you for listening!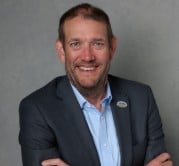 Randall Smith is the co-founder of CUInsight.com, the host of The CUInsight Experience podcast, and a bit of a wanderlust. As one of the co-founders of CUInsight.com he ...
Web: www.CUInsight.com
Details